Endless Summer
Apr 28, 2014 02:55PM ● By Style
Patrick's Point State Park
by Don Pritchard
As spring arrives and summer approaches, our thoughts begin to drift toward vacations: beaches, mountains, campfires, sunrises, sunsets, peace and quiet, and a break from the demands and pressures of work and responsibilities—even if only momentarily.
As young parents with limited resources, our family opted for camping. It was a great way to get away, have fun, find adventure, and most importantly, make memories. Our first campout was at
Yosemite
—filled with the excitement of bears at night, starry skies, hikes, a campfire and s'mores! It was tons of fun, but we were in search of one "special" place to build memories—a place we could return year after year.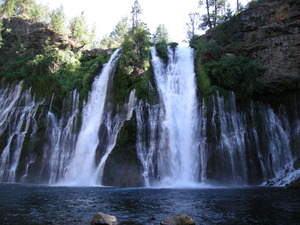 The following year, we found our way to
Burney Falls
—another amazing holiday filled with swimming, fishing, grandmas, friends, dust and, of course, campfires.
But it was the next year when we found our "spot":
Patrick's Point State Park
. This became the place where we built, and continue to build, family memories. For almost two decades now, we go annually at the end of July, when it's scorching hot in the foothills but cool and refreshing along the coast. We pack sweatshirts and coats while in 100-degree heat to prepare for impending foggy coastal mornings.
 Each of our kids brought a friend, and I became a mentor to many in the rudiments of "Camping 101." Every year we added something new to our equipment arsenal; within a few years we had the "Taj Mahal" of camping setups, and our seven days stretched into 10. We were hardcore tent campers, not wanting our experience to be cheapened by the luxury of RVs (only because we couldn't afford one!).
Looking back, it's so important that we make time and sacrifices to build memories that last a lifetime, memories that strengthen the family bond. With so many pressures and demands placed on the family, it's imperative we shore up its foundation with quality time.
Vacations don't have to be grandiose, thrilling, over the top, better than last year's, or put you in debt—what a family needs is family time.
It's my prayer for you that your summer vacation will be more than just a few days away. May it be time filled with memories that add volumes to the pages of your family diary—and ones that can be handed down to generations to come.
---
Don Pritchard is the pastor at Solid Rock Faith Center in Diamond Springs. He can be reached at

[email protected]

.