Carmel
Aug 01, 2013 02:43AM ● By Style
Photo courtesy of CarmelCalifornia.com
If you live in northern California, and perhaps anywhere in the U.S., you've heard that Carmel is a must-see destination.
With world-renowned golf courses just miles away, 17-Mile Drive, the Monterey Bay Aquarium and many more hot spots, Carmel (also known as Carmel-By-The-Sea) has much to offer…even more than I originally thought. Read on for some lesser known Carmel trivia and hidden gems not to be missed.
CELEBRITY CITY
From 1986-1988, Clint Eastwood served as mayor of this beach community. Appointed with 72.5 percent of the vote, this election brought out twice the amount of voters of typical Carmel elections. Why did a successful celebrity want to be mayor? He was tired of the bureaucracy and red tape of local city government when he was trying to construct a small building in downtown Carmel and decided, "'Bout time this town had a new sheriff" (that's for all you Eastwood buffs). He only served one term before returning to his acting career. Locals told us Eastwood still resides in Carmel and is often seen around town!

Hofsas House
BRING FIDO…AND THE FAMILY
Did you know Carmel is super dog-friendly? Yes, when you visit this upscale locale you don't have to leave your pooch at home. You can thank celebrity Doris Day, who's currently part owner of the Cypress Inn, for being instrumental in Carmel hotels allowing guests to bring their dogs. There are many pet-friendly hotels in the area, but one of our favorites is the Hofsas House. This quaint Bavarian-themed hotel is family run and allows pets in certain rooms. Have human family members to bring along? The Hofsas House can accommodate your whole clan, thanks to their family suites, which boast amenities like a full kitchen and—in select suites—private decks with gorgeous ocean views. The heated pool will keep the little (and big) ones occupied, too.
DID YOU KNOW?
Not only can you take a leisurely stroll down to the beautiful Carmel Beach, but booze and pets are permitted, too. Yes, not only are Carmel beaches dog friendly but alcohol-friendly as well. Stop by Salumeria Luca Italian Deli & Bakery and pick up a picnic lunch, then head down to the beautiful ocean and one-mile beachfront. Just remember: Going down to the beach is much easier than the trip back up!
If you're the heel-wearing type, be forewarned that wearing heels exceeding certain heights is illegal in the one square mile known as Carmel-By-The-Sea. Yep, that is not a typo—it is illegal to wear high heels! To avoid lawsuits because of cobblestone and uneven sidewalks, the city put a ban on heels. No worries, though—simply apply for a permit from city hall and carry it with you while you stroll the streets, heels in tow.  
When you pull up your hotel's address on Google don't think it's a mistake that you're not given a numbered street address; Carmel-By-The-Sea does not have numbered street addresses, which can make it very interesting trying to find your destination.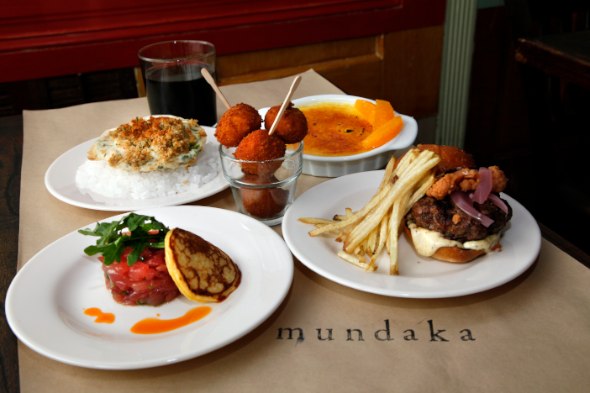 Tapas at Mundaka
A FOODIE'S FEAST
Once you find your hotel and get settled, you can walk to several local yummy restaurants. Looking for something different? Try Mundaka, a local Spanish-style tapas restaurant, which serves their dishes a-la-carte so you can try a myriad of delicious, authentic food. If you're looking for something a little more traditional, make the quick—and well worth it—drive over to Pacific Grove's Fandango Restaurant. Offering Mediterranean- and European-style cuisine, Fandango's extensive wine list is one of the largest in the world.
The Carmel Food Tour was our absolute favorite part of the trip. Be sure to take this walking tour at the beginning of your stay—so you can make note of the places to return to before your trip's end. Most importantly, make sure to go hungry and buy your tickets online in advance. The tour is full of amazing food paired with local wines…in other words—it sells out fast.
THE VALLEY AND VINO
A few minutes away from Carmel-By-The-Sea is Carmel Valley flowing with award-winning wine. One not to be missed is Holman Ranch's Estate Grown Pinot Noir. You can visit the ranch's tasting room, along with other local wineries' tasting rooms, in Carmel Valley. Holman Ranch also rents out their private estate for events, such as weddings, family reunions, group meetings and corporate retreats. This beautiful ranch offers amenities such as a pool, fitness center, and on-site guest rooms, not to mention the beautiful gardens and Carriage House. We were pleased to learn that no matter what event Holman Ranch is hosting, they will only hold one at a time, making your event even more special.
Whether you're a foodie, wine connoisseur, golf lover, the travel-with-your-dog type, or a beach bum, Carmel is sure to tickle your fancy.