Distinctive Dentists
Feb 28, 2011 04:00PM ● By Style
Presenting Style Magazine's Distinctive Dentists special advertising section.
Some of our area's best dentists and orthodontists have chosen to highlight their practice within the pages of the area's most read community magazine. Each month Style plans on choosing a different industry to give these businesses a unique opportunity to stand out and highlight their products and services. And when you visit these businesses, make sure you tell them you saw their profile in Style!
---
SPECIAL PROMOTIONAL SECTION
---

Periodontist - Gregory Steiner, D.D.S., M.S.
Gregory Steiner, D.D.S., M.S.
Periodontist Bone regeneration and Implants
Gentle Dental ~ Blue Oak
15 Sierra Gate Plaza | Roseville
916-786-6777  | www.sacramento.gentle1.com
Gentle Dental ~ Blue Oak, serving the Roseville community for 20 years, has the honor and privilege of working with a leading biotechnology company, Steiner Laboratories and periodontist, Gregory Steiner, D.D.S., M.S.  He brings the latest techniques in implant placement and regenerative medicine to meet your dental needs.  While all of our dentists are skilled in rebuilding smiles, Dr. Steiner specializes in rebuilding the facial structure as well.  He is often able to regenerate lost bone for patients that have been told, "….it can't be done."  
Dr. Steiner recognizes the future of dental care is restoring health with the goal of achieving ideal esthetics and optimum function. Facial appearance is a result of the bones and muscle that support our skin. When teeth are lost, the bone that supports the teeth and face shrinks. This can result in an inadequate amount of bone for implants and unfortunate changes in facial appearance.
If you have been informed that you do not have enough bone for implants, or you are unhappy with the option you've been given, our regenerative techniques can rebuild lost tissue and often return you to normal form and function. If you have been told your teeth cannot be saved due to bone loss, Dr. Steiner has pioneered methods of regenerating bone.  If you have been advised to have a graft material that uses cadaver, animal extracts or transplants from other parts of your own body, but are looking for another option, we use tissue engineering methods that work with your own regenerative cells.
We invite you to call for an opportunity to combine the skills of our excellent clinicians with a leading biotechnology company to create a custom solution designed around your treatment goals.
For more information on Dr. Steiner's regenerative techniques, visit The Bone Institute at www.steinerlabs.com.
---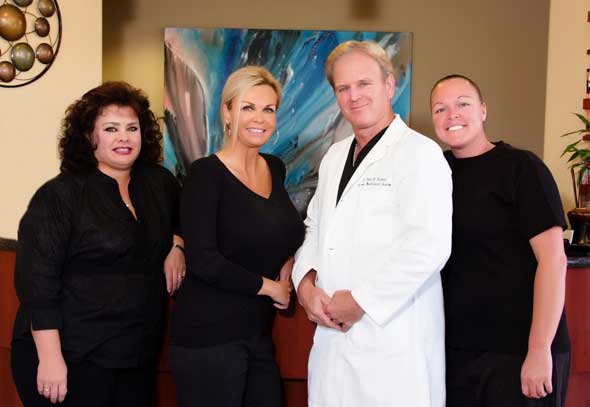 Dr. David McIntire and staff
David McIntire, D.D.S. — Oral & Maxillofacial Surgery
4280 Golden Center Drive, Suite 300, Placerville, CA
530-622-4800  |  www.placervilleoralsurgery.com
Dr. David McIntire grew up in El Dorado County until he started college. He feels grateful and blessed to live in El Dorado County again to work and raise his 2 children.
Until recently Dr. McIntire maintained his private practice at UCLA Medical Center and as an adjunct professor in the Department of Oral and Maxillofacial Surgery. For 25 years Dr. McIntire has thoroughly enjoyed his oral surgery profession which includes removing Wisdom Teeth and other surgical tooth extractions, Dental Implants, General Anesthesia and IV Sedation, Facial Cosmetic Procedures (Botox), Biopsies, Jaw Bone Grafting, Jaw Reconstructive Surgery, and Orthodontic and Root Canal Surgery.
25 years of surgical experience creates a high level of surgical skills, however, Dr. McIntire believes good communication with his patients creates good rapport and trust. He spends time really listening to his patient's needs, wants and desires which is equally important to surgical skill. Dr. McIntire is a patient rights advocate and his highest priorities are honesty, patient safety, communication, comfort and privacy.
Dr. McIntire understands the troubles our poor economy has caused for all of us. For this reason he has reduced his fees for all procedures and utilizes flexible payment arrangements. Dr. McIntire loves his profession and is very confident in his surgical skills. Above all he believes that good communication and spending time listening to his patients are the most important services he can provide. Flexible financial arrangements and lower fees make surgical treatment more affordable.
Dr. McIntire is board certified in anesthesia and has had extensive experience and training over 25 years in dental implants. He has a BS from UCLA and did his oral and maxillofacial surgery training and residency at UCLA Medical Center. Dr. McIntire maintains memberships in several professional societies including the prestigious American Association of Oral and Maxillofacial Surgeons. Please visit Dr. McIntire's web-site for more information.
---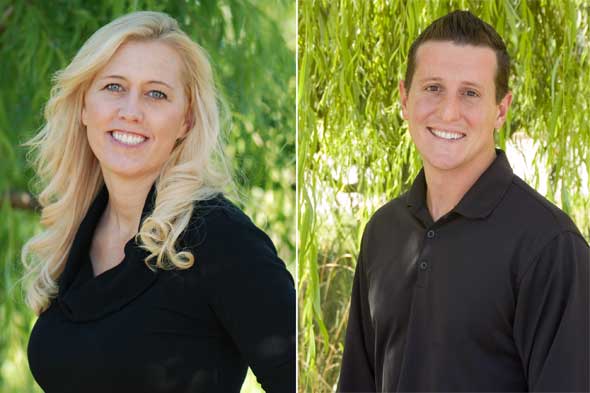 Shellie Edwards, D.D.S.
Ryan Everhart, D.D.S.
1192 Suncast Lane, Suite 3
El Dorado Hills, CA 95762
916-939-9912  |  www.drshellieedwards.com
Dr. Shellie Edwards and Dr. Ryan Everhart strive to create a gentle, caring and comfortable dental environment that patients appreciate as soon as they walk through the door. Described as approachable and honest, these doctors focus on patient education and preventive care.
Dr.'s Edwards and Everhart are skilled in all aspects of dentistry and enjoy working with children. Their state of the art office is equipped with the most modern dental and sterilization techniques.
Dr. Shellie Edwards received her degree from UCLA School of Dentistry in 2002. She loves spending time with her husband and their two children, snow skiing and going to hot yoga.
Dr. Everhart earned his degree from UOP School of Dentistry in San Francisco in 2008.  He enjoys boating, traveling and photography.
Drs. Edwards and Everhart are passionate about life, family and their profession which makes patients of all ages look forward to coming to the dentist.
---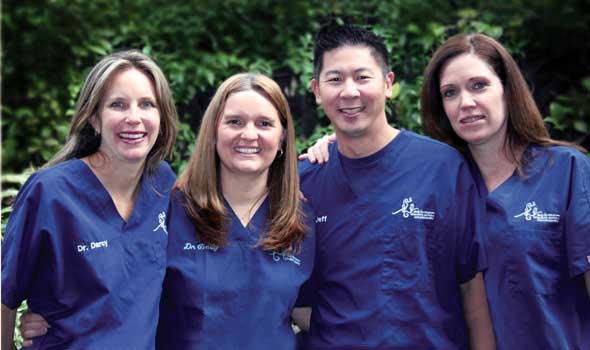 (Left to Right) Drs. Darcy Owen, Cindy Weideman, Jeff Sue, and Jenny McCarthy
Weideman Pediatric Dentistry & Orthodontics
Sunrise Dental Plaza
7916 Pebble Beach Dr., Ste. 101  |  Citrus Heights
916-962-0577  |  916-962-0581 (New Patients & Tours)
www.SacChildrensDentist.com
Drs. Jeff Sue, Darcy Owen & Jenny McCarthy recently completed their Board Certification exams & have joined Dr. Cindy Weideman in becoming Diplomates of the American Board of Pediatric Dentistry. They went through a rigorous examination process that tested their pediatric knowledge and problem-solving abilities. Board Certification is the highest honor a specialist in pediatric dentistry can achieve. Only dentists that have completed a residency in pediatric dentistry can sit for the board certification examinations. We are congratulating them for their commitment to providing exceptional care for the children of Sacramento.
---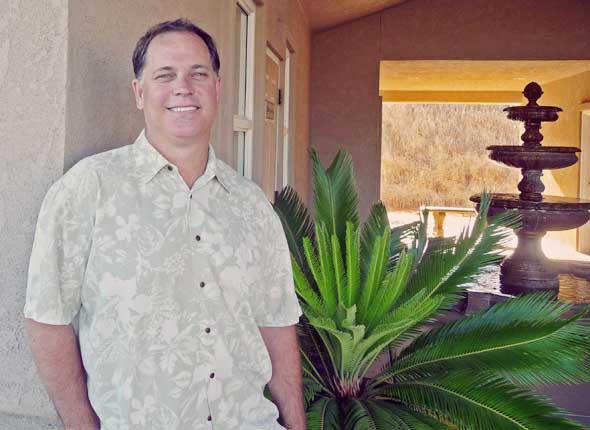 Russell S. Jones, D.D.S.

6390 Runnymeade Drive, Suite A, Placerville, CA
530-622-6768
Are you one of many who find it stressful to visit the dentist? You are not alone. Relax, we can help! Dr. Russell Jones and his staff provide compassionate, expert dental treatment for patients of ALL ages. As a General and Cosmetic Family dentist, Dr. Jones provides services in cosmetic dentistry, oral surgery, dental implants, root canals, teeth bleaching and dentures. Dentistry is a family profession. Following in the footsteps of his father (R. Bruce Jones, D.D.S., with forty years of service to the profession), uncle (Russell Anderson, D.D.S., who taught dentistry for 20 years at Chicago's Northwestern University), and two older brothers, Dr. Jones graduated from UOP and opened his dental practice in 1991; his sister, a hygienist, works alongside him. With easy access and plenty of available parking; the office is conveniently located off Highway 50 and EI Dorado Road in Placerville.
---

Aloha Family Dental
Wayne K. Tsutsuse, D.D.S.

1020 Suncast Lane, Suite 103  |  El Dorado Hills
916-941-2447  |  www.alohadentaledh.com
He goes by "DR. WAYNE!"  His last name, Tsutsuse, is a difficult Japanese name to pronounce. Dr. Wayne was born and raised in Hawaii and has incorporated "The Aloha Spirit" throughout his state-of-the-art office, and in his friendly personality.  His dedicated, professional staff has many years of dental experience and will assist you with all of your concerns and questions.  Dr. Wayne, a graduate of USC School of Dentistry, caters to a wide range of dental needs for the entire family. Patients will find their individual dental needs are attended to in a skilled, gentle and caring manner.  Dr. Wayne and the entire "Aloha Family Dental" staff consider service and your comfort, safety and health as their number one common goal.
---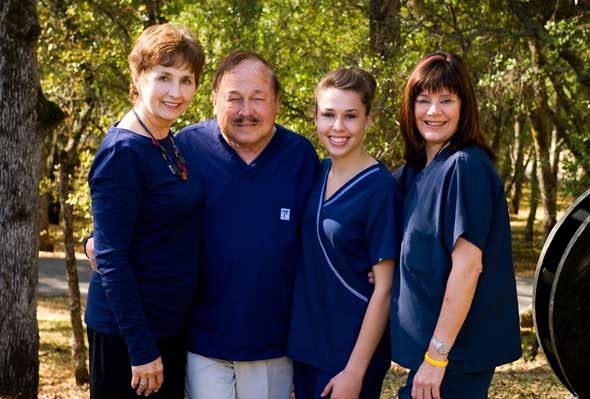 A. Rademacher, D.D.S.

3301 Ponderosa Road  |  Shingle Springs
530-677-1403
Dr. A. Rademacher, D.D.S. and his highly trained staff head up his dental practice on ten gorgeous acres, located at 3301 Ponderosa Road in Shingle Springs. Dr. Rademacher has been serving the citizens of El Dorado County since 1967, offering General, Cosmetic and Family Dentistry.
Dr. Rademacher is also known to be an avid pilot of 35 years and enjoyed being a volunteer member for 20 of those years with "The Flying Samaritans" which provide free dental care to the Mexican citizens south of our border.
After becoming a pilot during World War II he trained bombardiers, then earned his degree at Northwestern School of Dentistry. Dr. Rademacher was later re-instated in the Army during the Korean War and assigned to Letterman Army Hospital in Presidio, San Francisco. Working side by side with his lifetime mentor, the world-renowned Dr. Shira, they gave hope back to the soldiers that had been critically injured by Napalm during that conflict.
On a personal note: I have been in this profession for many years now and am still finding it enjoyable and challenging. We live in a beautiful area that shouldn't be taken for granted, and I am so grateful to be a part of this wonderful community.
I love to learn and to implement the many new and exciting procedures that have evolved in the ever-changing sciences and technology of today.
I am proud to say that along with my excellent staff my patients are a part of my extended family. So many have become my close friends. We provide our patients with the same courteous honest evaluations that I would want for my family and myself along with our commitment to provide quality dental care.
As we continue to provide care for our many established patients and friends we look forward to meeting and caring for the new patients that are joining us.
---

Victoria Sullivan, D.D.S.

Magic Smiles, Dentistry for Children and Young Adults
5009 Windplay Dr., Suite 1  |  El Dorado Hills
916-941-2341 | www.magicsmilesdds.com
As a certified pediatric dentist, and Diplomate of the American Academy of Pediatric Dentistry, Dr. Victoria Sullivan has 16 years of experience and offers a wide range of services. Dr. Vickie is involved in the local community as a parent and a health care professional. Her caring and gentle staff is sensitive to children with special needs and has a variety of toys and comfort objects to assure their visit is calm and reassuring. Young patients are treated in a child-friendly, state-of-the-art office. Digital charts and X-rays are kept on file, and sedation options include IV, oral sedation, and nitrous oxide are available. Laser treatment is also available. Every child deserves to be treated by the best, in a relaxing and friendly atmosphere. The best is Dr. Vickie.
---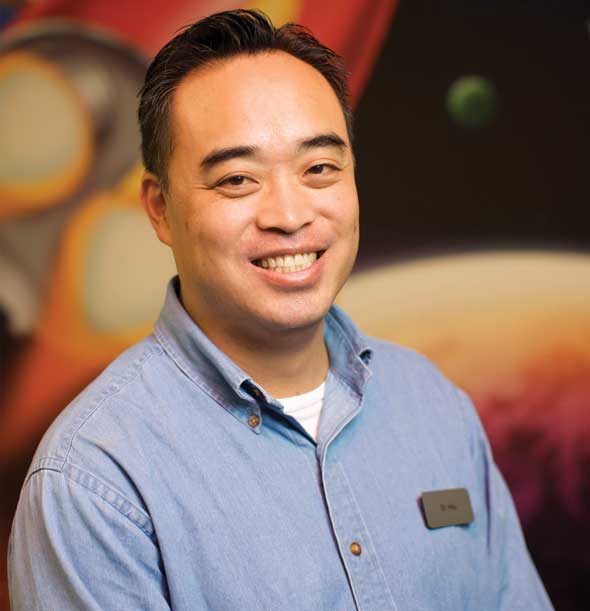 Dr. Chester Hsu

Silver Star Dental Practice

2295 Fieldstone Drive, Suite #110  |  Lincoln
916-434-6220  | www.SilverStarDental.com
Enjoy a dental practice focused on the unique needs of children!  Dr. Chester Hsu and the Silver Star Team are passionate about children's dental care and providing every child with a bright, healthy smile.  Dr. Hsu is a self described "continuing education junkie" with one goal; to learn the latest technologies and techniques available in pediatric dentistry.  Both Dr. Hsu and his team have a warm, caring approach to dentistry turning many dental phobic children into eager patients. 
Take advantage of the many services Silver Star Dental has to offer and:
Enjoy a positive, supportive, non fearful environment.
Experience an "out-of-this world" practice that is relaxing for parents and fun for children.
Trust Dr. Hsu and his team to take care of your child's preventative, restorative, cosmetic, and sedation dentistry needs.
Call 916-434-6220 today!
---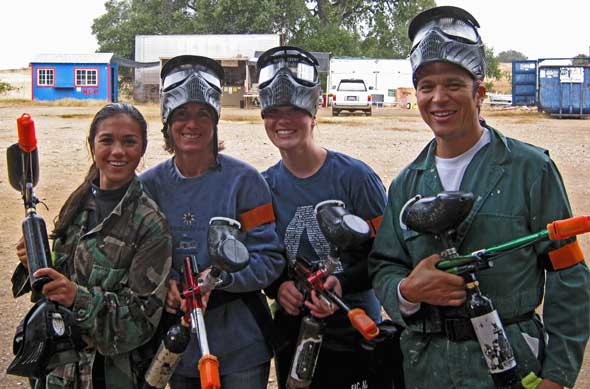 Dr. Chen and family
George Chen, D.D.S.
Esthetic Reflections In Dentistry

785 Hana Way, Suite 103  |  Folsom
916-983-6051  |  www.FolsomDentist.com
Two of Dr. Chen's passions are his family and the outdoors. They love spending time together trying different sports such as skiing, fishing and paintball. They have found that paintball is a great character-building sport that teaches teamwork and helps players gain self-confidence and leadership abilities – just the sort of things that Dr. Chen incorporates into his dental practice.
Another of Dr. Chen's passion is his enthusiasm for health and a love for helping people.
His years as a Registered Nurse and Doctor of Dental Surgery have given him a philosophy of preventing disease both in dental and whole body health; and, as a result, Dr. Chen works closely with his patients' physician when signs of disease are noted. As a cosmetic and general dentist, his focus is on esthetic and implant dentistry but also provides general dental care for the entire family. Additionally, he is State Certified in Adult Oral Conscious Sedation for an anxiety-free experience. "Patients and their needs come first when determining their care. We want to help improve their self-image with a beautiful smile and excellent oral health in a kind and caring environment." Dr. Chen and his staff strive to provide exceptional service and the highest quality clinical care.

---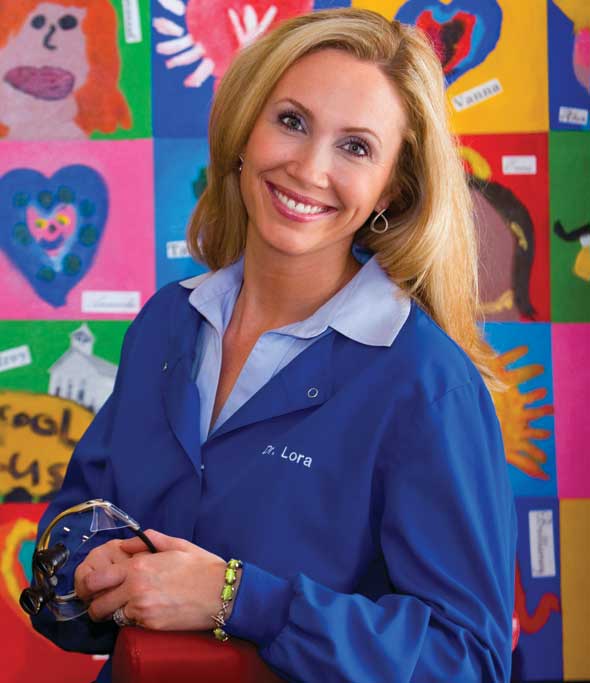 Lora Foster Rode, D.D.S.
Rocklin Pediatric Dentistry

2221 Sunset Blvd, Suite 101  |  Rocklin
916-435-9100  |  www.RocklinPediatricDentistry.com
Dr. Lora Foster Rode is living her dream! As a young girl growing up in Fair Oaks, her own childhood dentist inspired her to practice dentistry. After graduating from Cal Poly in San Luis Obispo and UCLA School of Dentistry, she completed a two-year residency specializing in pediatric dentistry at the Children's Hospital Medical Center in Cincinnati, Ohio. Returning back to her hometown as a board certified pediatric dentist, she reintroduced herself to the community and married Jim Rode, a Sac State graduate who also attended Earl LeGette Elementary School in Fair Oaks. Dr. Lora then joined the community concert band at Sierra College with two of her fellow Bella Vista High School band mates. In her dental practice, Dr. Lora's philosophy is to promote health and wellness through education and personalized care, and to create beautiful smiles for Sacramento's young people. Her passion is working with kids, and you can tell by the walls of her new dental office in Rocklin, which are lined with artwork painted by local school children. Dr. Lora has accomplished her goal of creating Rocklin Pediatric Dentistry, and she's doing exactly what she dreamed of as a little girl!
---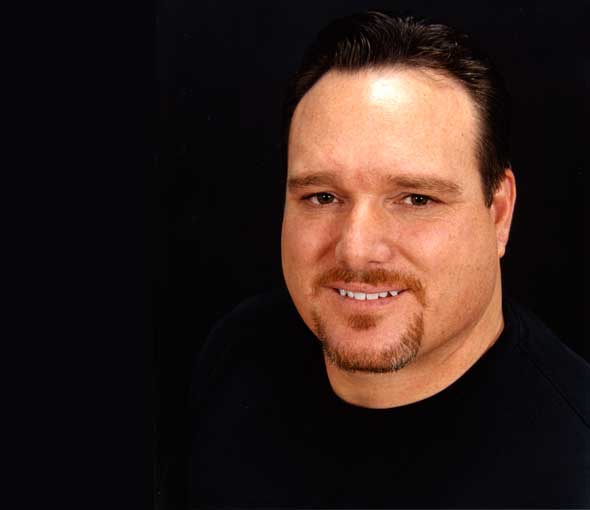 Allen E. Chantry, D.D.S.

3300 Cameron Park Drive, Suite 3000
Cameron Park
530-672-2121
Dr. Chantry and his staff have exciting news. The OASYS sleep apnea/snoring device has come to Cameron Park. Dr. Chantry knows a good nights sleep is important. When sleep is interrupted by snoring it can affect your heart, your energy, your spouse and your next day. The solution has gotten more accessible, practical, BUT MOST OF ALL USEABLE. Come in and see what the OASYS mouth appliance is all about. You'll love the results.
Dr. Chantry graduated from UOP Dental School, San Francisco, and moved his family to Cameron Park 14 years ago. He has continued his pursuit of excellence in dentistry through continuous education in advanced technology.
Dr. Chantry has a family practice. His son, Jason, is a dental technician and daughter, Angelina, works with him as a dental assistant. Sophia, his wife is in charge of the accounting department. Dr. Chantry's family and friendly staff enjoy serving you and supporting your commitment to having a healthy beautiful smile. Come in for a visit.
---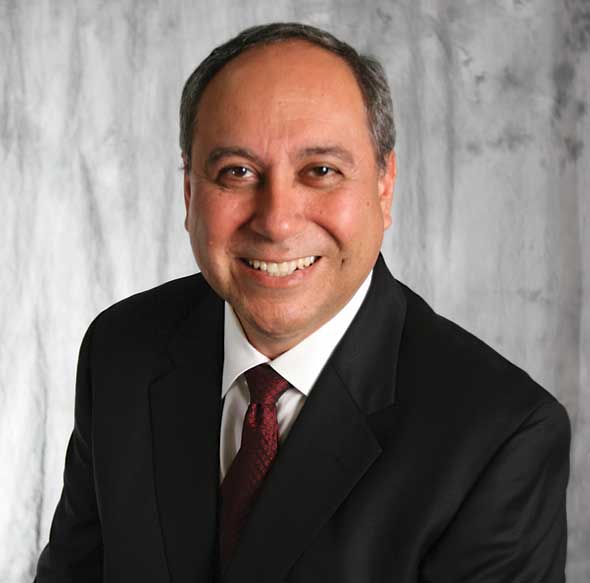 Fredrick A. Correa, D.D.S.
1603 Eureka Rd., Ste. 300  |  Roseville
916-782-8436  |  www.fredcorreadental.com
Dr. Correa has lived in the Roseville area for over 30 years and has enjoyed watching it develop to where it is today. He has committed himself to his community from volunteer screening to coaching soccer teams.  In his years of caring for the families he has developed a relationship that goes into 3rd generation and occasionally 4th generation of family members and friends. The doctor feels the area has some of the brightest and most wonderful people in all of California.
He understands that good health is essential to the welfare of his patients and stresses care in prevention and well being, which has always been his philosophy of care.  He has been to the Kois Center of Advancing Dentistry through Excellence, in Seattle. The Kois Center stresses treatment that is well researched and not what is simply "popular".
Knowing that good care goes beyond having a good smile, Dr. Correa has also invested further education in areas of cosmetic dentistry, laser care, placing implants for patients for future crowns, bridges or dentures and single appointment placement of crowns. He has studied for over 20 years in orthodontia (placement of braces and use of invisible trays) correction, which can save the patients teeth from being cut down unnecessarily for esthetics.
Begin your family's generation of care with us today.
---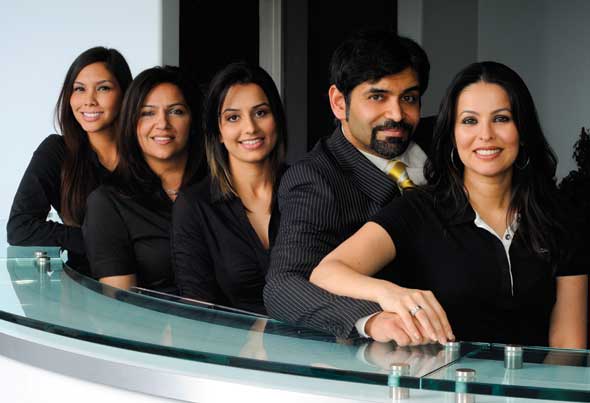 (Right to Left) Comel Ahmad, Dr. Dean N. Ahmad,
Ayesha Khan, Kam Dosanjh and Melanie Mangahas
INNOVA Periodontics & Implant Dentistry

Dean N. Ahmad DDS, FICOI, DABP
2295 Fieldstone Dr., Suite 120 |  Lincoln
916-434-5151  |  www.innovaperio.com
Dean N. Ahmad, DDS, FICOI, DABP maintains a private practice specializing in the treatment of Periodontal Diseases, Periodontal Plastic Surgical Therapies, and Implant Dentistry in Lincoln, California. He received both his graduate certificate in Periodontics and his Doctorate in Dental Surgery from the University of Michigan. He is also a Board Certified, Diplomate, Periodontist from the American Board of Periodontology, as well as a Fellow from the International Congress of Oral Implantologists. Throughout his training, he has completed internships in Oral and Maxillofacial Surgery from Northwestern University and the University of Miami, lectured both domestically and internationally, participated in multiple research projects, published numerous scientific articles, and completed advanced implant training from the Misch International Implant Institute. He also attained a Clinical Assistant Professorship in Periodontology from UCSF. He is also the current Chairman of the Dental Health Committee for the Sacramento District Dental Society. As one of the area's foremost experts in Periodontics and Implant Dentistry, Dr. Ahmad and his team have played a major role in applying innovative medical and technological advances to current Periodontics and Implant Dentistry.
---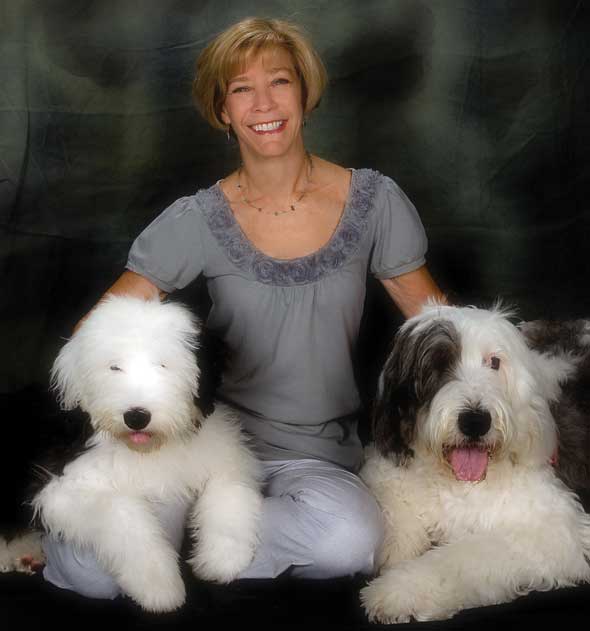 Specialist in Pediatric Dentistry
Linda Rafferty, D.D.S.

2520 Douglas Blvd., Ste 130  |  Roseville
916-782-2278  |  www.RosevillePediatricDentists.com
Dr. Rafferty and her staff continually aim to bring the best dental care to each child while giving them a wonderful dental experience that is fun and positive. Parents are encouraged to be close to their child during the exam to provide the comfort only a parent can give. Dr. Rafferty's guiding philosophy is to try to prevent problems to minimize potentially difficult treatment by teaching children and parents good dental habits for brushing and flossing beginning at age one! As a certified pediatric dentist, Dr. Rafferty evaluates each child's growth and development to recommend the best timing for possible orthodontic, ENT or speech evaluations. The Doctor and her staff are highly trained to care for all children, including those with special needs. They look forward to caring for your child and giving him or her a great dental experience. If you would like to give your child a great dental experience, call us to make an appointment or visit us on our website. Visit us on Facebook, too!
---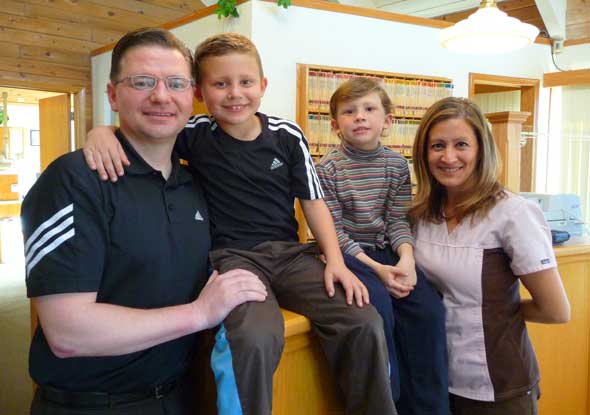 Dale Stanec Jr., D.D.S.

3222 Royal Drive, Suite B  |  Cameron Park
530-676-6500  |  drstanec.com
Dr. Dale Stanec Jr.'s patients experience a one-on-one approach when they come in for appointments. With his refreshing approach, Dr. Stanec performs all cleanings and services himself. This process stems from a desire to get to know his patients and help them make the best decisions about their dental health, even if that means seeing fewer patients every day. Dr. Stanec explains, "Our mind-set on the business is keeping the office smaller and family-run, allowing us to be active in the community."
Dr. Stanec lives up to this belief in his practice. His office hours are scheduled around his family commitments, giving him the time to coach his kids' sports teams. The only other employee in his practice is his wife, Elena, who serves as the receptionist and bookkeeper. Dr. Stanec's office is open weekly on Monday, Tuesday, Thursday and Friday.
---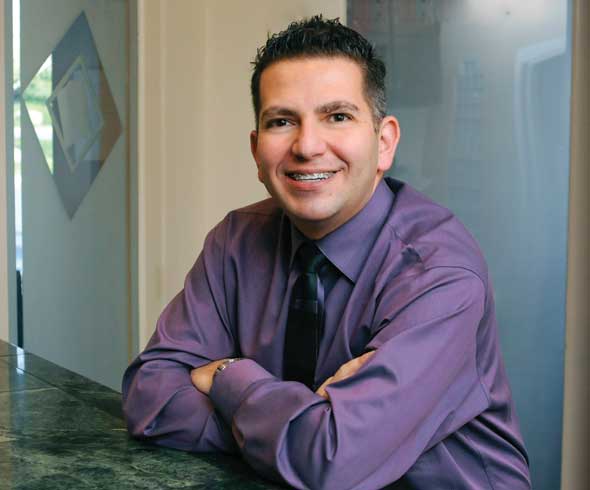 Rocklin Gentle Dental

Sevan Yergatian, D.D.S.
6000 Fairway Dr., Ste. 16  |  Rocklin
916-632-2000
Dr. Sevan Yergatian is committed to providing you and your family with the highest quality dental care in a remarkably relaxing and friendly environment. The moment you walk through the door, our dedicated staff will ensure your comfort. Our team will listen to your dental concerns and goals and suggest options to reach those goals. We offer the latest techniques in cosmetic, implant and general dentistry. Stop in and check out our newly remodeled, state-of-the-art office with a floor-to-ceiling aquarium and rooms equipped with televisions – all of which provide you with the most comfortable atmosphere possible. Dr. Sevan and his staff strive to provide each patient with the very best experience each time they visit. We look forward to seeing you soon. Rocklin Gentle Dental – dental health with a gentle touch!
---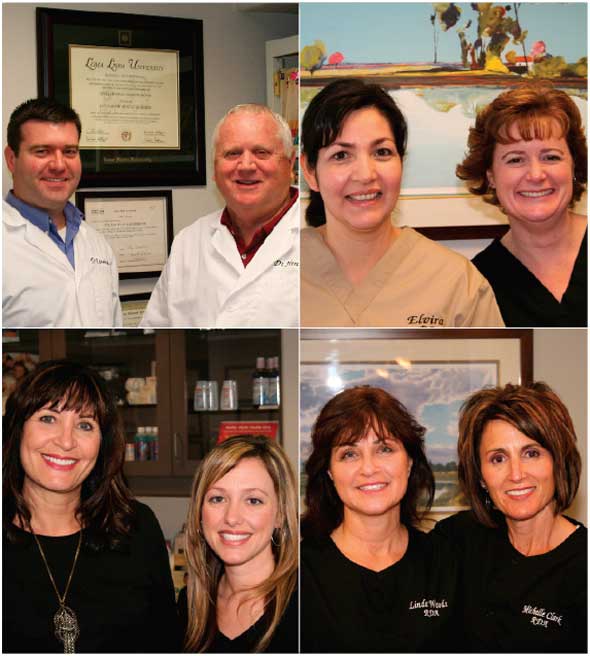 Main Street Dental
493 Main Street  |  Diamond Springs
530-626-5810  |  www.mainstreetdentalnow.com
Main Street Dental has been serving the people of Placerville and surrounding communities for over 30 years. Founded by Dr. Richard Henifin, Main Street Dental has been located in historic downtown Diamond Springs since 1980. Dr. Ryan Easterbrook joined the practice a few years ago and has fit right in continuing to uphold the standard of personal, patient-centered care that Main Street Dental has been renowned for.
Dr. Henifin and his wife Anne have lived in Pleasant Valley since he graduated from UCSF School of Dentistry raising two daughters, Kira and Kai, along the way.
Dr. Easterbrook completed his dental training at Loma Linda University. He and his wife Holly have two children and make their home in Placerville. "We feel very fortunate to have the opportunity to live and work in Placerville and look forward to many years of raising a family here."
"We pride ourselves on having a great staff and a warm, friendly environment," says Dr. Henifin, "which helps us to get to know each of our patients personally and always make sure that they understand their choices about their dental care and treatment needs."
Open Monday through Thursday, 8 a.m. to 5 p.m. New patients welcome!
---
Sydney J. Moore D.D.S.

700 Sunrise Ave., Suite C  | Roseville, CA 95661
916-782-1209
www.moorepediatricdentistry.com
Dr. Sydney Moore understands how worrisome it is for parents whose children need dental treatment. "Will it be hard for them?" "How will my child be cared for?"  Dr. Sydney has three little ones of her own, ages 7 to 2, and brings all her "mommy's" gentle patience and experience to her practice. A Board Certified Diplomat  Specialist in Pediatric Dentistry, Dr. Sydney's practice (est. 1991) is small, friendly and relaxed. Dr. Sydney graduated from University of  The Pacific School of Dentistry, San Francisco, and completed the two year residency in her specialty. She and her exceptional staff will take the best, most gentle care possible of your child.
---
Barry MacDonald, D.D.S.
Gentle Dental Park Drive
Board Certified Pediatric Dentist
5410 Park Dr.  |  Rocklin  |  916-435-2475
Dr. Barry MacDonald grew up in Southern California. His love of sports lead to a football scholarship at the University of California at Riverside. After playing football for 4 years he graduated with a B.S. in Biology along with discovering a passion for volunteering with mentally handicapped children. At the urging of his mother and his desire to work with the mentally handicapped, he pursued a profession in pediatric dentistry.
Dr. MacDonald graduated from the University of Southern California School of Dentistry. He was awarded a certificate of excellence by the American Society of Dentistry for Children and selected for specialty pediatric dentistry training at USC. Barry attained his Board Certification and became a Diplomate of the American Board of Pediatric Dentistry.
His philosophy is simple; provide a service that is honest, compassionate, and respectful to both patient and family.
---
SPECIAL PROMOTIONAL SECTION
---
If you would like to be included in one of Style's Special Promotional Sections, please contact Debra Linn at 916-988-9888 x114 or [email protected].