Recycle & Reinvest
Jul 01, 2014 11:31AM ● By Morgan Cásarez
Photos by Dante Fontana © Style Media Group
Highlighting the work of charitable organizations is all in a day's work for longtime
Style
Magazine contributor and author Bill Romanelli, but some assignments have a way of becoming more than just words on a page. While drafting a profile of Help Mito Kids, a nonprofit dedicated to supporting children with mitochondrial disease, Romanelli was deeply moved by the heartbreaking experiences of one local family. 
"As a writer, I know I'm supposed to stay detached and objective, but sometimes stories have an effect on you. You can't help it," he says. "I decided I wanted to see if there was more I could do for some of these groups than just tell their stories."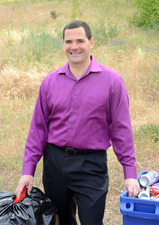 In March, Romanelli turned his compassion into action when he launched Recycle & Reinvest, a program that collects recyclable materials to raise money for non-profit organizations. In just one month, he redeemed more than $100 worth of bottles and cans to benefit Help Mito Kids. "Financial impact on families dealing with progressive and likely terminal diseases…is enormous," explains Carol Pomares of Help Mito Kids. "Families with children affected by mitochondrial disease seldom have two incomes, as one parent is typically needed to administer care at a very high and frequent level."
In a letter posted to Recycle & Reinvest's Facebook page, Pomares thanked Romanelli for honoring her organization with its inaugural donation, a large portion of which benefitted the Lucile Packard Children's Hospital and Stanford University School of Medicine's Mitochondrial Disease Research Foundation led by Dr. Gregory Enns."It was great to receive a donation from Recycle & Reinvest," she says. "I hope the program makes the community more aware of how important it is to recycle."
In addition to collecting items with a California Redemption Value (CRV), Romanelli accepts scrap metal, stainless steel, brass and copper—"a lot of stuff that gets put up for sale at garage sales but doesn't always sell." He also encourages local businesses to join the cause, particularly in Folsom where there isn't a commercial recycling program in place. To date, Recycle & Reinvest has built partnerships with the Folsom Aquatic Center, Folsom Chamber of Commerce, Style Media Group, and Greenberg Traurig LLP.
"I'd like to get to a point where we can grow from raising about $20 a week to raising 10 times that or more. That's the kind of support that can have a real impact for these local charities," he shares. "It's a labor of love since it's just me doing the pick-ups, sorting and recycling, but it's for a good cause, so I don't mind the work. My kids love to help too, so they're getting an appreciation for doing something that helps others."
---
Visit
facebook.com/pages/recycle-reinvest/671060909616892
for more information.