Bali
May 29, 2014 04:32PM ● By Megan Wiskus
Viceroy Bali Pool
Bali – Escape – June 2014 [9 Images]
Click Any Image To Expand
Stepping into a cab from Ngurah Rai International Airport, the balmy mid-morning air and joyful chaos of Southeast Asia greets me. The sights, smells and sounds are a stark contrast to the U.S., and I love it. Traffic is hectic and motorbikes (with families of five cruising comfortably) are plentiful, but my driver coasts on—cool, calm and collected. Blissfulness, I later learn, is simply the Bali way.  Elizabeth Gilbert's memoir Eat, Pray, Love put Bali's presence on the map for many, but long before, the Indonesian island was luring surfers with its world-class waves, honeymooners in search of plush resorts, and spiritual seekers. The intent of my recent holiday was to explore a place many Americans know so little about—a destination whose diverse terrain of lush rice terraces, rugged coastlines, untouched rainforest, sugar-white shores and volcanic hillsides somehow becomes more poignant when punctuated by the colorful culture and warm gentleness of the people.
JOURNEYING IN JIMBARAN
After just 15 minutes in the taxi, I arrive at Harris Hotel Bukit Jimbaran—a cheery, budget-friendly boutique property whose motto "simple, unique, friendly" seeps through every nook and cranny. Most impressive is the trendy rooftop restaurant/lounge that commands 360-degree views of Jimbaran Bay and the Bali Sea, and its close proximity to the hot spots of Jimbaran—a once-sleepy fishing village that now sees a steady stream of tourists.
Outside the hotel, narrow sidewalks, stray dogs and aromas of burning incense waft my way, while traffic zooms by and horns howl. I embrace the differences with open awareness—tucking into grocery stores, eating at warungs (street-side food vendors) and mingling with locals, whom I soon realize live simply—with little money or material items—but rich in contentment.
When day breaks, I take the hotel's shuttle to Pandawa Beach, known as "secret beach" (a fitting name considering it's hidden between craggy limestone cliffs). The driver jots down 3 p.m. for my pick-up time and I'm suddenly reminded of a friend, and former Bali backpacker, telling me about "Bali time." (When the driver returns an hour late this phrase is confirmed.) His tardiness turns out to be a blessing, however, as I laze the day away sipping fresh coconuts, posing for pictures with locals (apparently being from California gives you celebrity status here) and canoeing in the gently lapping ocean. My evening ends at Jimbaran Bay, feasting on fresh-caught seafood—grilled over coconut husks—at a table perched steps from the sea. As the sun dips down showcasing a kaleidoscope of colors, my mind's put on pause from the hustle and bustle back home.
NATURE CALLS IN UBUD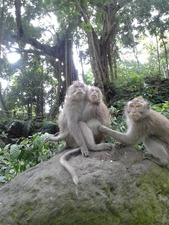 Heavy rain falls upon my arrival to Viceroy Bali, but even a downpour can't dampen the magical ambiance of this 25-villa, five-star hideaway in Ubud, the island's arts and cultural mecca. Greeted in the airy reception area with a garland of frangipani flowers, chilled mint tea and a cool towel, I'm whisked by buggy through the manicured grounds and Old World Bali-style surrounds to a spacious thatched villa—complete with carved teak furniture, marble floors, an infinity plunge pool and balé (open-air hut with daybed). A verdant jungle shrouded in mist and the calming symphony of birds, insects and a tumbling river has me mentally checked out, but grateful to be checked-in to Shangri-la. 
Dinner at the on-property CasCades Restaurant, situated on the edge of a steep ravine with gravity-defying valley views, boasts a hushed atmosphere, service fit for a queen and French-inspired fare with Asian influences. The complimentary àl-a-carte breakfast is equally as impressive. Every morning as I contemplate my order (deciding between Balinese benedict, citrus crêpes or traditional nasi goreng is tough!), the blithe server exclaims: "No diet!" In other words, "Live it up, lady—you're on vacation!"  
A visit into Ubud's banyan tree-laden city center means getting up close and personal with cheeky, long-tailed macaques at Monkey Forest, sinking my teeth into the famous babi guling (roasted suckling pig) at Ibu Oka and haggling for handicrafts at the Ubud Art Market.
I wrap my stay in central Bali up with a Happy Bike Cycling Tour, an off-the-beaten path adventure that leaves my soul smiling. After visiting a coffee plantation and eating breakfast overlooking Mount Batur (an active volcano), our group shimmies downhill through the quiet countryside of Bali's backroads, passing rural rice paddies and high-fiving local children, before stopping at a village temple and a family's compound where we learn more about their Hindu beliefs. The tour hits the brakes at our guide's house, where we refuel with scratch-made, authentic Balinese dishes.
STORIES FROM SANUR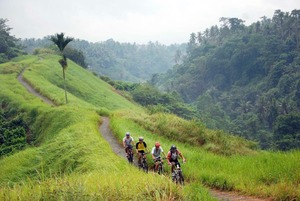 Resting in child's pose, I can feel the morning breeze wash over me and the dewy grass attempt to seep through my mat. Echoes of the nearby surf fill my ears as the teacher brings the Sunrise Yoga Class to a close with the sweetest sounding "namaste" I've ever heard.
It's day two staying in the lap of luxury at Regent Bali, a five-star, four-acre resort boasting tropical gardens and natural design elements (water, stone and bamboo) that blend seamlessly with the surrounding environment. Deluxe sleeping quarters—featuring modern Balinese-style interiors, separate living and sleeping spaces, and views of either garden or sea—provide the ultimate sanctuary for rejuvenating rest.
Nicknamed "snore," Sanur is definitely not notorious for its nightlife or sardine-packed crowds; restful as it may be, however, there's still plenty of sights to behold, from diving and snorkeling at the nearby island of Nusa Lembongan to strolling the Night Markets. Peeling myself away from the hotel's spa and infinity lap pool, I bike along the three-mile paved path that snakes its away by waterfront restaurants, swaying palms and docked fishing boats—stopping for an $8 manicure-pedicure and later for an $8 massage. Parched, I post up at the beach and order a $1.50 bottle of Bali's ubiquitous beer, Bintang. A quick pinch verifies that no, I haven't died and gone to heaven.
Sadly, all good things must come to an end, and after seven soul-soothing days in paradise, it's time to say selamat tinggal. While I return with few souvenirs, the inner gifts I've received from my experiences and interactions with the humble people are enough to fill my suitcase until next time.