Hit the Road
Apr 29, 2014 12:29PM ● By Style
by Lance Hahn
I have a family of four and, as much as we love each other, we don't all like the same things. Therefore, when it comes to planning vacations, things can get challenging. Sure, we all agree on the beach—at least I think so—and we all want to relax…unless we're bored. See, it's tough finding one vacation that everyone loves.
Last year, however, the problem solved itself. We invited another family along to stay in sunny San Diego for 10 days at a huge house we rented on vrbo.com (vacation rental by owner). It comfortably accommodated our family of four and  the other family of five. We decided to drive the eight hours, because one of us has motion sickness, one has ear problems and one's afraid to fly. Good thing there was plenty of room in the Suburban, aka family bus. However, the youngest ones consistently complained about being crammed in the back or in a middle spot, while their older brother and sister had plenty of legroom and chomped away on snacks.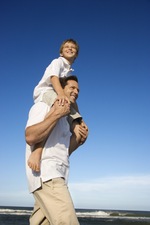 We sailed through beautiful Bakersfield and past the aromatic odors of Interstate 5. As we started up the Grapevine, we passed out gum to all the kids so they could keep their ears clear. We climbed over the summit and made it just in time to argue about whether or not we should stop at Magic Mountain (even though we already had tickets to both SeaWorld and Disneyland). We had plenty of time to think as we stopped for the fourteenth bathroom break.
 Upon arrival to America's Finest City, we found the home was even better than we imagined. As we piled our bags into the house, the kids spread out to claim their rooms—only to be disappointed by the adults overriding decisions shortly thereafter. It was the third day when one of us accidentally knocked a piece of art off the wall and sent it crashing to the floor. Oops!
Being near the beach was great though. Sure it was odd that my buddy never bathed all week—and instead soaked in the hot tub and ocean daily—but hey, we were on vacation.
 In case you're wondering, Disneyland is still $1,000 per ticket and SeaWorld has some amazing rides (two to be exact). And for some reason, no matter where we sat to watch the Shamu show, the sun beat down on us 32-degrees hotter than any other part of the day. Weird. But we saved some money by packing our own lunches, which unfortunately looked less palatable in light of the theme park's shiny $50 per-plate fast food.
 But we laughed, told stories and photographed the memories. We have one picture of my buddy who tried to win "Dad of the Year" by going on the super fast roller coaster with his daughter, only to reconfirm that—yes, he still has motion sickness. We even tried the "toss the ball into the bucket game" and the "climb up the rope ladder and let people see your underpants" game. After $42, we realized that we could not beat the system.
Ahh, the glories of family vacations—I can't wait to do it all over again this year.
Lance Hahn is senior pastor at Bridgeway Christian Church - Rocklin, CA. He can be reached at

[email protected]

.