Meet Teo Torres
Apr 29, 2014 11:18AM ● By Amber Foster
Teo Torres - KCRA 3 News Anchor – Photo by Dante Fontana © Style Media Group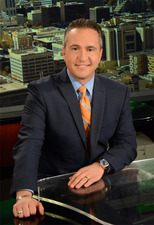 KCRA 3 news anchor Teo Torres didn't have the most conventional upbringing. "Growing up, my mom was kind of a hippie," Torres confides, recalling his days as the only son of a single parent. He was born in Puerto Rico, and moved often as a child, both internationally and within the U.S. He even spent two years living off the coast of Alaska on a small island where his mother operated a fishing lodge and grocery store. Throughout his childhood, he stayed connected to the rest of the world through television and dreamed of someday being on TV.
As an adult, Torres pursued both acting and singing but eventually found his niche in journalism. His work as a reporter once again took him across the country, but when he landed his job as the weekday morning news anchor for KCRA 3 in 2008, he knew he'd finally found a place to plant roots and eventually called Folsom home.
Torres is now a happily married father and stepfather of three boys, and he talks regularly with both his mother and his beloved 90-year-old grandmother. In his free time, Torres volunteers his services as master of ceremonies at fund-raisers for local nonprofits. He's especially passionate about his work for the UC Davis Cancer Research Center, as his grandmother is an ovarian cancer survivor. "Being able to give back and talk to people—I get a little emotional about it," Torres shares, adding, "volunteering pays you back more than any kind of money can."
---
For more about
Teo Torres and other local happenings and information, be sure to pick up this month's copy of Style –
Folsom, El Dorado Hills edition.