Ready, Set, Grill!
Jul 09, 2013 08:30AM ● By Style
Photo by Dante Fontana, © Style Media Group. All others courtesy of their respective companies.
Summer Grilling Gear
Whether you're a beginner when it comes to barbecuing or a pit pro, these tools will have you perfecting grub on the grill in no time.
1. Weber 100% Cotton Waffle-Weave Apron, $11.99 at Placerville Hardware, 441 Main Street, Placerville. 530-622-1151, placervillehardware.com.
---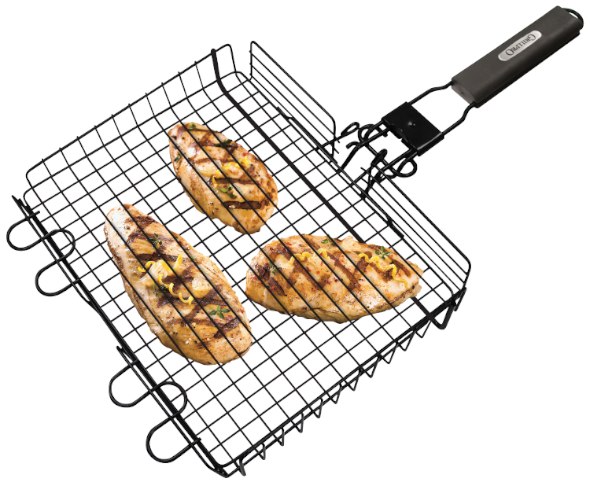 2. GrillPro Deluxe Broiler Grill Basket, $15.99 at Cambridge Hardware, 3950 Cambridge Road, Cameron Park. 530-672-8665, cambridgehardware.doitbest.com.
---

3. Grill Daddy Pro Grill Cleaning Tool, $22.99 at Hangtown Ace Hardware, 1309 Broadway, Placerville. 530-622-2534, acehardware.com.
---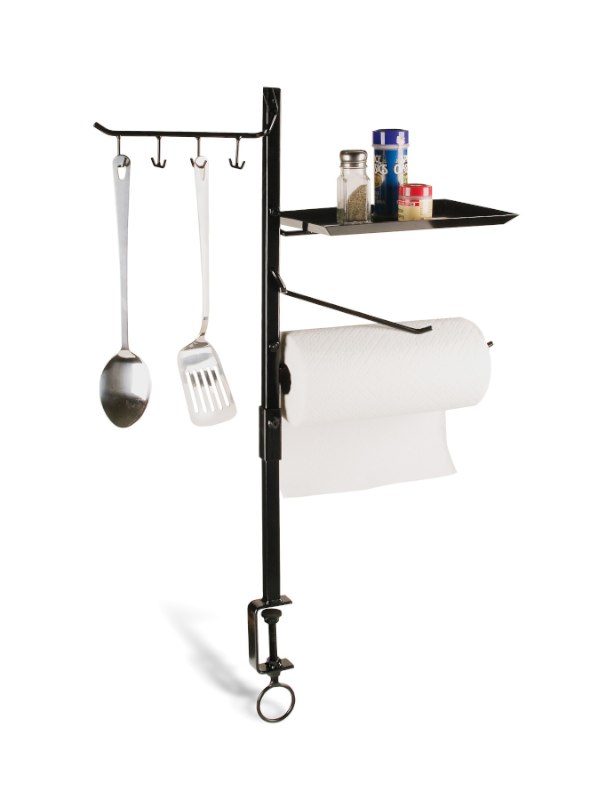 4. Maverick BBQ Accessory Organizer, $27.99 at Home Depot, 600 Placerville Drive, Placerville. 530-626-9751, homedepot.com.
5. Outset Fish Basket with Rosewood Handle, $13.99, at Whole Foods Market, 270 Palladio Parkway, Folsom. 916-984-8500, wholefoodsmarket.com.
---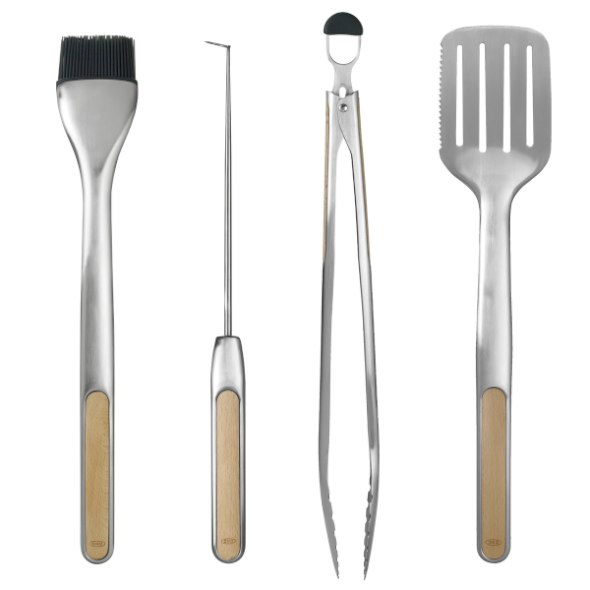 6. OXO Good Grips  4-Piece Grilling Set, $49.99 at macys.com.
---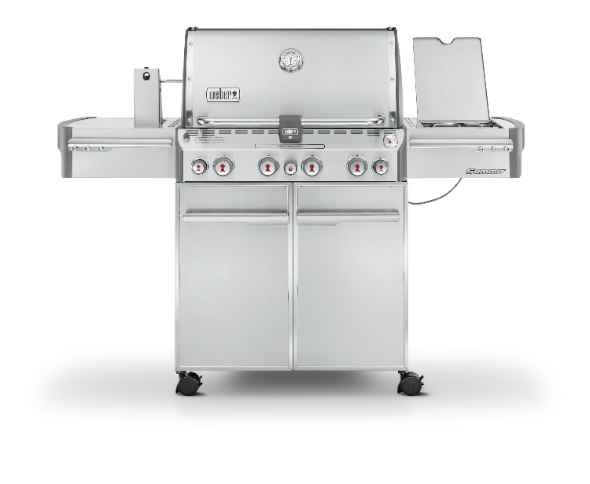 7. Weber Summit S-470 Gas Grill with Side Burner & Rotisserie, $1,899 at True Value, 4571 Missouri Flat Road, Placerville. 530-622-0992, truevalue.com.
---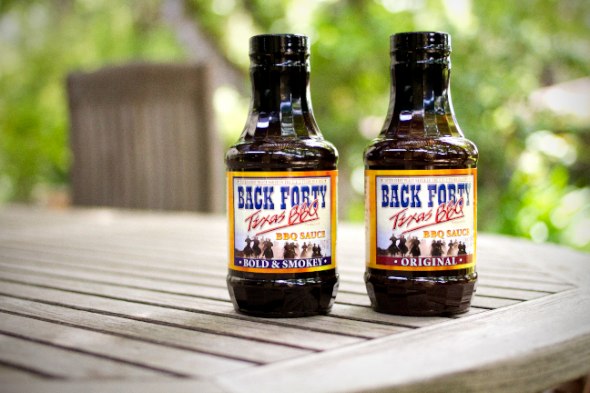 8. Back Forty Texas BBQ Original and Bold & Smokey Barbecue Sauces, $5 each at Back Forty Texas BBQ, 3977 Durock Road, Shingle Springs. 530-676-4040, backfortyshinglesprings.com.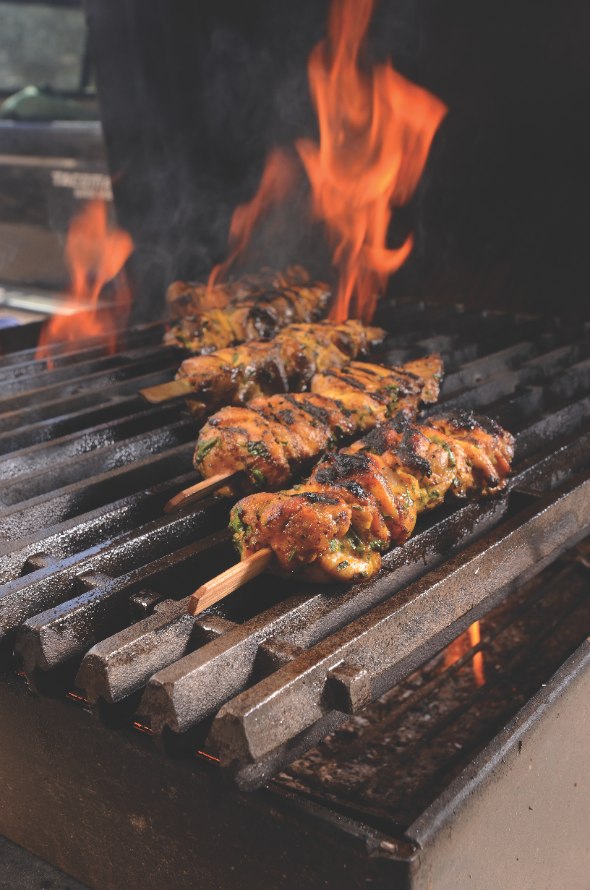 Photo by Dante Fontana, © Style Media Group.
\\    Orange Curry Chicken Skewers
This chicken marinade recipe has the depth of flavor found in curry dishes, as well as the bright sweetness and tang of citrus that complements chicken so nicely. All of the flavors really shine when the chicken can marinate overnight or for several hours at least. This marinade works for both grilled and roasted chicken recipes, and can accommodate up to 6 pounds
of chicken.
1 cup organic coconut milk
1/2 cup organic orange juice concentrate (defrosted)
2 tbsp. garam masala seasoning
1 tbsp. Madras curry powder
2 tbsp. honey
1 tbsp. white or golden balsamic vinegar
2 tsp. garlic granules
2 tsp. onion granules
1 tsp. sea salt
1 tsp. turmeric
1/2 tsp. cinnamon
1/4 tsp. black pepper
1/2 cup cilantro (finely chopped)
2-6 lbs. boneless, skinless chicken thigh meat
Skewers
Place all ingredients except cilantro and chicken in a blender and blend until smooth.  Set aside.  
Cut thigh meat into 1-inch x 2-inch strips (weighing about 1.5 ounces each) and place into a medium-sized bowl.  
Coat chicken pieces with as much marinade as needed and place any remaining marinade in an airtight container to freeze for later use. If you decide to marinate 3 pounds of chicken, you should only need half the total volume of marinade, and should end up with about 8, 6-ounce skewers. Mince 1/4-1/2 cup of fresh cilantro and fold into marinating chicken. Cover and refrigerate for at least 1-8 hours. The longer you marinate, the better the flavor.
If using wooden skewers, boil skewers in water for 1-3 minutes prior to using to keep them from charring. Skewer the chicken, twisting each strip as you poke it through the skewer. This keeps the chicken securely attached to the skewer so that you don't loose any meat in the fire. Brush the grill lightly with olive oil and grill for several minutes on each side until chicken is cooked through. Enjoy!
RECIPE COURTESY OF
Table Nectar,
Local & Organic Catered Events   
Executive Chef Kimberly Medici
530-344-7613, tablenectar.com
---
Getting Gourmet on the Home Grill
You have the perfect cut of beef, you approach the grill, you get nervous: no briquettes, no mesquite charcoal... dinner is on hold. Or is it? We grilling folk have encountered this situation many a time, often prompting a trip to the neighbors' or a quick visit to the market to solve the issue. The answer also is closer at hand than you think: real wood.  Grilling over coals from a mixed hardwood open fire yields a wonderful surprise - amazing, unique, honest flavor: rich, smoky true BBQ.  No fancy grills, tools, or techniques. Our home in the El Dorado foothills is typical - we are surrounded by manzanita brush.  The dry sticks and branches that litter the thick mohogany-colored manzanita stands burn to perfect, hot coals that impart incredible flavor.

Prep the branches: Using a reciprocating saw or hand saw, collect a 12" diameter bundle of sticks and branches of varying thickness each about a foot in length.  Any hard wood will do, but manzanita, almond, apple, or other similar hardwoods are best.  Build a fire: directly in your grill with the grate removed, crumple and twist 3 sheets of newsprint, stack kindling over the paper into a teepee shape, layering thicker pieces over those. Carefully light the prepared camp-style fire and allow it to burn, trimming and adding additional sticks and branch sections to build up the coals over 40 minutes.  You don't need much for a family dinner: when the coals are even and thick enough, it's time to replace the grate and cover and allow it heat up to a hard sizzle. Don't be afraid to add a stick or two of wood directly over the coals prior to replacing the grate - the additional dry smoke will impart that elusive, fantastic flavor that BBQ is all about.  Grill steaks on a clean grate for several minutes on each side, turning only once, without pressing, and replace the grill cover immediately for heat and smoke retention.  Pull off your items and let it rest, covering with foil or a tin baking pan for 10 minutes before cutting.
—Grilling instructions by Table Nectar's Grill Master, Andy Tannehill
tablenectar.com
manzanitadiamondsprings.com
yelp.com/biz/table-nectar-diamond-springs