Repurpose with Purpose
Jul 02, 2013 10:06AM ● By Style
Photos courtesy of Brian Kellogg-Kerrie Kelly Design Lab.
When furniture no longer needed for its original use is given a second life—by serving an entirely new function and adding an element of the unexpected to a room—experts call it "repurposing" furniture.
"DRESSERED" TO IMPRESS
A dresser is one of the best examples of repurposing furniture, because it's one of the most universal. Placed in an entryway with a tray on top, it's a perfect spot to gather keys and mail, while drawers can capture hats, gloves, scarves and mittens. Other repurposed ideas include a dresser or buffet in a workroom to store art supplies, and in a kitchen for pots and pans.
BREAK THE RULES
For those who play by the book, don't be afraid of breaking an unspoken design rule. Just because it's called a "dining room hutch" doesn't mean it needs to reside in a dining room. In fact, it may be an even more interesting piece when placed in the den and filled with books.
CHANGING FACES
It takes imagination and some simple fixes to change the function of a piece of furniture. Adding a granite or butcher-block top can make a dresser just right in the kitchen, while changing knobs and hinges can give furniture a whole new look. Looking for a bigger challenge? Transform furniture completely by staining the wood a different color or sanding and painting it.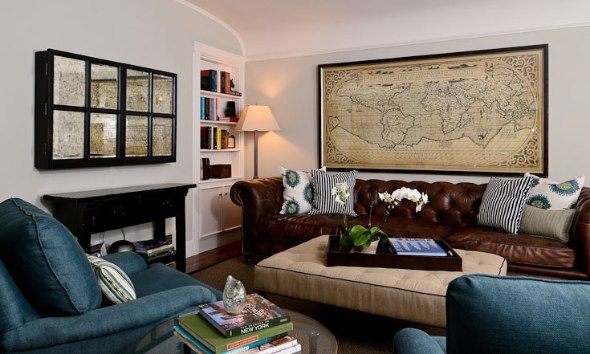 ARMOIRE NO MORE
Perhaps the latest furniture piece being given a second life is the television armoire. Flat-screen and plasma TVs are turning these armoires into relics, but they don't have to be. Selling older furniture isn't going to result in a lot of money, so get creative. With some adjustments—removing the doors, replacing wood shelves with glass, and adding a mirror as a backdrop—an old armoire can become a wine cabinet; or, repurpose it into a home office, with storage for a computer and drawer space for paper and a printer.
ADDED SOFTNESS
When looking to repurpose or update upholstered furniture, the right fabric can enhance your design in a way no other component can come close to aesthetically. Find a signature fabric you love—one with enough design elements so that you can pull out colors, coordinate textures, and have multiple options for furnishings and accessories. Sometimes your repurposing exercise may be as easy as unscrewing a dining seat from its frame, pulling over a new fabric, staple-gunning it on to recover the seat, and screwing it back on. Voilà! You have a new desk chair, fully repurposed and fresh looking.

SUMMED UP
The furniture you choose has to last—not only in utility, but in beauty, too. A product has to have a reason to be passed along and repurposed, instead of thrown away. Furniture that's created from real wood, incorporates timeless design, and has simple inner beauty will be passed along to friends and relatives, or sold at a garage sale. Whatever the case, the life cycle is greatly extended by these simple principles. So while new pieces are always great, consider repurposing older ones. They tell a story and have history, creating an authentically interesting space.
---
Kerrie Kelly is an award-winning interior designer, author and multimedia consultant. She has authored two books: 'Home Décor: A Sunset Design Guide,' published by Oxmoor House, and the newly released 'My Interior Design Kit,' with Pearson Professional and Career Education. To contact her, visit kerriekelly.com or call 916-919-3023.