Dinner Date
May 31, 2013 10:34AM ● By Style
Recipe photos courtesy of Robert Rose, Inc.
Grilled Carne Asada Tacos
200 Easy Mexican Recipes
by Kelley Cleary Coffeen
(Robert Rose, Inc., 2013, $24.95)
Tip: There are several different cuts of meat you can use for this recipe. Skirt steak or minute steaks are best due to the thin cut and quick cooking time.
1  1⁄2 lbs beef skirt or minute steak
(see tip)    
12 6- to 8-inch flour or corn tortillas
Pico de Gallo (see following recipe)
2 limes, each cut into 6 wedges

Marinade
Juice of 3 lemons
3 cloves garlic, minced    
1⁄2 cup drained sliced pickled jalapeño peppers    
1⁄2 cup teriyaki sauce    
1 tbsp. minced red bell pepper    
1 tbsp. granulated sugar    
2 tsp. kosher salt    

Marinade: In a medium bowl, combine lemon juice, garlic, jalapeños, teriyaki sauce, bell pepper, sugar and salt until sugar and salt have dissolved.
In a large resealable plastic bag, add marinade and meat and seal. Work marinade through meat with your fingers. Refrigerate meat for at least 2 hours or for up to 6 hours.
Preheat greased barbecue grill to medium. Remove meat from marinade, discarding marinade. Grill meat for 4 to 5 minutes per side for medium-rare. Remove from grill and let stand for 8 to 10 minutes. Carve meat across the grain into thin slices, then cut into bite-size pieces.
To build tacos, skillet warm tortillas. Divide meat equally among tortillas and top with Pico de Gallo. Fold tortillas in half. Serve with a sliced lime. Makes 12 tacos.

Pico de Gallo
4 tomatoes, seeded and diced
4 green onions, greens parts only, minced
3 jalapeño peppers, seeded and minced
2 serrano chile peppers, seeded and minced
1 onion, finely chopped    
2 tbsp. minced fresh cilantro    
Juice of 2 limes
Kosher salt
In a large bowl, combine tomatoes, green onions, jalapeños, serrano chiles, onion and cilantro. Add lime juice and mix well. Transfer to an airtight container and refrigerate, stirring occasionally, for 1 hour or for up to 24 hours. Add salt to taste just before serving. Makes 2 cups.
SEAN MINOR FOUR BEARS CHARDONNAY 2011 CENTRAL COAST
Sean Minor and his family live in Sacramento, but source grapes from all over California to make their wines. Considering the quality, Minor obviously has some great grape sources, as he produces top caliber wines at reasonable prices.
I have been a fan of Sean Minor wines for several years, but think his current line-up includes some of the best available. I especially like the Chardonnay from his Four Bears label, named for his four children and sold at an affordable price point. Minor also produces wines under the Sean Minor label—which are a little higher in price (in comparison to the Four Bears' bottles)—including a Cabernet Sauvignon, a Pinot Noir and a red table blend.
Sean Minor Four Bears Chardonnay 2011 is a great summer wine, full of apples and white peach flavors. With a little butter, a little oak and a little acidity, it's amazingly balanced and will keep every Chardonnay drinker at your party happy! Selling at about $14 a bottle, this wine's a perfect choice for barbecuing with friends and will definitely complement this month's recipe, Grilled Carne Asada Tacos.
---
—Richard Righton, Owner
Bidwell Street Bistro in Folsom
Wine bottle image courtesy of Sean Minor Wines.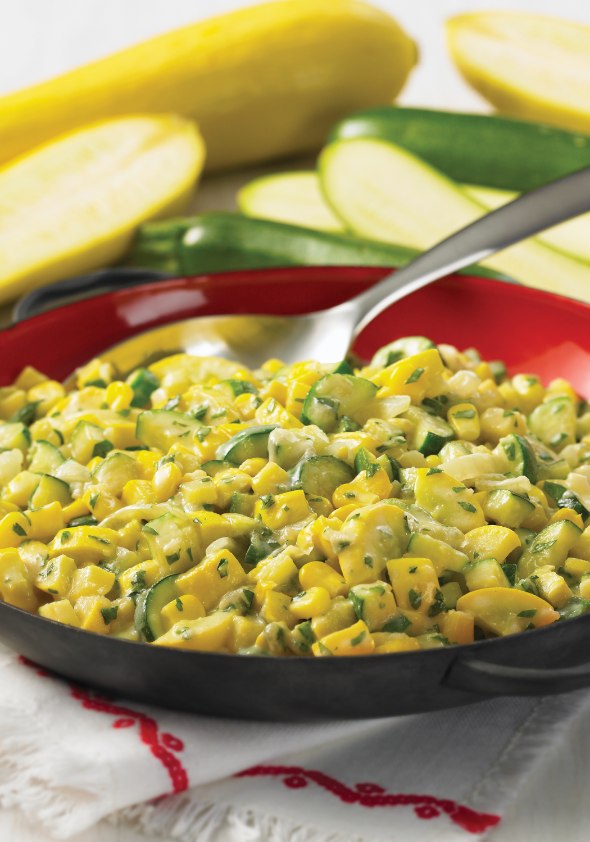 Check out this great summer side dish!
Creamy Corn, Chile and Squash
Excerpted from 200 Easy Mexican Recipes by Kelley Cleary Coffeen
(Robert Rose, Inc., 2013, $24.95)
'Calabacitas' is a traditional Mexican corn and squash dish full of texture. It is a mellow combination of corn, chile and squash blended together with creamy goodness.

Tips
Increase zucchini to 2 cups if summer squash is out of season or hard. Drained canned or thawed frozen corn kernels work in this recipe. Grilled or fire-roasted corn will add additional flavor. The salt in the broth and cheese will add flavor. However, salt to taste if more is needed.
1 tbsp. olive oil            
1⁄2 cup chopped onion            
2 cloves garlic, minced            
1 cup chopped summer squash (see Tips)                        
2 cups chopped zucchini            
1 tbsp. minced flat-leaf parsley            
2 cups cooked corn kernels (see Tips)            
1 cup shredded Monterey Jack cheese            
2 tbsp. chicken broth            
Freshly ground black pepper to taste
 
1. In a large skillet, heat oil over medium-high heat. Sauté onion, garlic, summer squash, zucchini and parsley until vegetables are tender-crisp, 10 to 12 minutes.
2. Reduce heat to low and stir in corn, cheese and broth until cheese is melted and mixture is heated through, 6 to 8 minutes. Pour into a serving dish. Makes 4 to 6 servings.