Summer Fun Guide 2013
May 30, 2013 10:38AM ● By Style
Photo courtesy of brightroom.com. All others courtesy of their respective organizations, unless noted.
The smell of outdoor grilling, sunscreen, cotton candy and lawn clippings…ah summer.
Yet here we are, still wondering what to do and where to go. What's cool? What's fun? What's free? Worry no more, sun lovers and water babies—we've got you covered, like Granddad's zinc-lathered nose. Come with us as we show you where to get soaked, roar with the crowd, bring Fido, see fireworks, keep the kids happy, break a sweat and have fun on a dime—all this summer and all in and around the area!
GET SOAKED
Lights, camera, swim! The Folsom Aquatic Center is hosting a free Family Picnic and Movie Night on July 20 from 7-11 p.m. Space is limited to the first 500 entries. The pool also offers numerous programs and classes. For more details, visit folsom.ca.us/depts/parks_n_recreation/aquatic/.

Kids (and adults) can make a splash at the El Dorado Hills CSD Community Pool, which features two diving boards, water basketball, a zero-entry beach area, shade with lounge chairs and tables, and much more. Swim lessons, various special events and family passes are also on tap for the summer. For more information, visit edhcsd.org/aquatics.html.

Dive in daily to Cameron Park Lake and instantly chill out. The swimming lagoon is open seven days a week from 11 a.m. to 7 p.m. through August 12; for day use fees and season pass info, visit cameronpark.org/cameron_park_lake.html.

If you're into evening watercraft activities, Sacramento State Aquatic Center hosts Family Water Ski Nights and Family PWC (private water craft) Nights. For full details, visit sacstateaquaticcenter.com. Make sure you check out their kayak and canoe rentals and lessons, too: Lake Natoma is the perfect spot for some serene paddling. Take the boat out on Folsom Lake for wakeboarding, Jet-Skiing, fishing or just general wet and wild fun. For more details, visit parks.ca.gov/?page_id=500.

Paddle up! Grab (or rent) your raft and float down one of the many rivers in our backyard; American River Parkway at the Sunrise Recreation Area is a popular launch spot (rentals available at raftrentals.com). If you want to get a bit further out of town, try Bear River in Grass Valley for some stunning scenery. Is going fast your forte? Then show off those white knuckles and head to Coloma for the "real deal," with whitewater rafting down the South, North or Middle Forks of the American River. We like Beyond Limits Adventures for their friendly, skilled professional guides and deluxe 12-acre resort, allowing rafters to partake in multi-day trips (rivertrip.com). For more local outfitters, visit coloma.com/recreation/whitewater-rafting.

Folsom Pro Rodeo
Photo courtesy of Steve Beneto Tower
ROAR WITH THE CROWD
Summer fun is enjoying America's favorite pastime; thankfully, the Sacramento River Cats have every day of the week covered for your baseball enjoyment: Throwback Mondays (throwback uniforms, $.50 popcorn and hot dogs), Family Value Tuesdays ($1 hot dogs and desserts), Free Parking Wednesdays, Thirsty Thursdays, Fireworks Fridays, and Sunday Fundays with pre-game activities for the kids, plus bobblehead giveaways and much more! (Oh, and great baseball.) For the full schedule, visit rivercats.com.

Instead of sweating it out on the tennis court, watch the pros do it for you (with more impressive results). Summer time is Mylan World Team Tennis time: Cheer on our Sacramento Capitals starting July 7 at Capitals Stadium, on the corner of Greenback Lane and Sunrise Boulevard in Citrus Heights. To purchase tickets, visit saccaps.com.

Summer means California State Fair time, which means Cal Expo Horse Racing at Miller Lite Grandstand from July 12- 21. Enjoy the excitement of thoroughbred racing and get free entry with your State Fair ticket. For details, visit calexpo.com/events/cal-expo-horse-racing.

Buck up, buckaroos—the Folsom Pro Rodeo is back in town! Official proceedings run July 4-6, but don't miss a true symbol of the American West when the Cattle Drive kicks off the rodeo on Tuesday, July 3, followed by three nights of exciting pro rodeo events, including live music, nightly fireworks and interactive children's activities. Festivities commence with a Stars and Stripes Country Concert on Saturday, June 29. Giddy up! For more info, visit folsomrodeo.com.

The sounds of summer will ring through Sacramento with some great music on offer. Three Stages in Folsom is bringing back that lovin' feeling with the Righteous Brothers' Bill Medley on June 7; El Dorado Musical Theater's production of Bye Bye Birdie will run July 12-21, as well as Los Lonely Boys on August 13. Keep an eye on threestages.net for more shows and to purchase tickets.

Thunder Valley Casino Resort's Summer Concert Series will rock your socks off with Cheap Trick, Pat Benatar and Neil Giraldo on June 7; Doobie Brothers on June 14; Huey Lewis & The News on July 13, Chicago on August 3, and many more! For show times and to purchase tickets, visit thundervalleyresort.com/entertainment/headliners.

Boz Scaggs will give the low down at Red Lion Woodlake Hotel's Outdoor Grove on June 13; at Sleep Train Amphitheatre in Wheatland, don't miss John Mayer (July 24) or Kid Rock (July 31); on August 10, Train will rock your flip-flops off. Sleep Train Arena in Sacramento is bringing big names like Pitbull (June 13), Bruno Mars (July 24) and Taylor Swift (August 27). To purchase tickets, visit ticketmaster.com.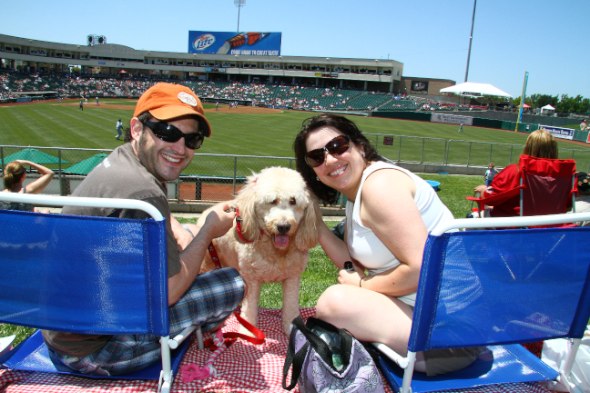 Bark in the Park
Photo courtesy of Sacramemto River Cats
BRING  FIDO
Dogs are social animals too, and thankfully more and more area events are catering to our four-legged friends. At the Sacramento River Cats Bark in the Ballpark event on July 24, baseball fans and pooches can enjoy pre-game festivities and then watch the game together on Home Run Hill. For more details, visit rivercats.com.

On June 8 at William Land Park, Sacramento area pet owners and pups can enjoy a 5K scenic fun walk and raise money for shelter animals at the annual Doggy Dash, which benefits the Sacramento SPCA. As the SPCA puts it: "Walk for the animals, party for the pets!" For more information, visit sspca.org.

Join in a 2K social dog walk for a good cause at the Beary Couture Walk-N-Wag for Ovarian Cancer Awareness, June 9 at William Hughes Dog Park in Roseville. Entrance fee is $20 and includes prizes, trophies, treats and T-shirts! To purchase tickets, visit bearycouture.com.

Sacramento's McKinley Park will be host to all manner of colorful canines at the 5th Annual Pups in the Park dog walk and costume contest, June 22 at Shepard Garden and Art Center (35th Street and McKinley Boulevard). Bring your pup and strut your stuff for a 1K dog walk around the park! A $20 donation includes entry into the dog costume contest and post-race drinks and snacks. Proceeds benefit Happy Tails Pet Sanctuary, Friends of East Sacramento and Youth Development Network. For tickets and more details, visit happytails.org.
Prime Patios
Sienna (EDH)
Best for: New American cuisine in a stunningly designed space.
What to get: A Cucumber Martini paired with their Citrus Spiced Ahi Tuna.
Why we love it: A Bottomless Mimosa Brunch on a gorgeous stone patio? Yes, please!
ZacJack Bistro (Cameron Park)
Best for: Gastro bistro: gourmet cuisine sans the hefty price tag.
What to get: Go for the Grilled Endive and the Oyster Bar selections!
Why we love it: Indulging in escargot and sipping French wine on a patio without a monetary care in the world almost makes you forget you don't have a yacht parked outside!
Visconti's Italian Restaurant
Best for: Award-winning Southern Italian
What to get: Linguini con Gamberi and Asparagus
Why we love it: It authentic Italian and warm hospitality from owner, Carmello Visconti makes you feel welcome… its live band nights make you feel like you're at a famiglia get-together!
El Dorado Saloon (EDH)
Best for: Late night bull rides
What to get: Colt 45 Tri-Tip Dip Sandwich
Why we love it: Charred, Western-flared comfort food in the summer tastes great in shade. Grab your cowboy boots 'cuz you'll be in for a bucking good time.
Folsom Palace
Best for: Asian Fusion
What to get: Sichuan Kung Pao Chicken
Why we love it: Flavorful Mainland and Southeast Asian-inspired Chinese cuisine without the guilt of salt and oil should be enjoyed under the twinkle of stringed lights.
Mexquite (Folsom)
Best for: Happy Hour
What to get: There are over 100 tequilas to choose from…
Why we love it: Sipping a margarita on the patio of Folsom's Favorite Mexican Restaurant will take you to Baja California in 0-60.
Whole Foods Market at the Palladio in Folsom
Best for: Fresh, healthy food on-the-go
What to get: Kombycha on tap at the Drink Bar
Why we love it: Its bier garten is the perfect place to sit and relax after a laborious shopping-spree at the Palladio at Broadstone.
---
For outdoor dining at its best, check out:
36 Handles in El Dorado Hills
36handles.com

Bidwell St. Bistro in Folsom
bidwellstreetbistro.com

Bistro 33 in El Dorado Hills
edh.bistro33.com

Casa Ramos in El Dorado Hills
casaramos.net

El Dorado Saloon in El Dorado Hills
eldoradosaloon.com

Fat's Asia Bistro in Folsom
fatsrestaurants.com

Folsom Palace
folsompalace.com

Hamptons on Sutter in Folsom
hamptonsonsutter.com

Mexquite in Folsom
mexquite.com

Relish in El Dorado Hills
relishburgerbar.com

Selland's in El Dorado Hills
sellands.com

Sienna in El Dorado Hills
siennarestaurants.com

Visconti's in Folsom
viscontisristorante.com

Whole Foods Market at the Palladio in Folsom
wholefoodsmarket.com

Willow Café & Sweetery in Folsom
willowcafeandsweetery.com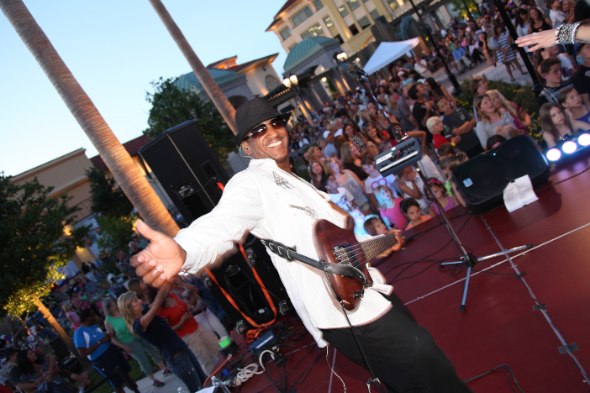 Palladio Summer Concert Series
Photo by David Gatti, Canyon Marketing
ON A DIME
Whether you have a crew of kids or not, summer can get expensive when you're trying to beat the heat and have fun. Luckily, the area has an abundance of free activities for locals to enjoy.

You don't have to pay to get a little culture; you just have to walk! Art walks are everywhere, and you could get exercise and culture if you plan out your summer right. The Second Saturday Art Walk in Historic Folsom runs through September and features music, entertainment, merchants and artists at various galleries throughout Historic Folsom; the Second Saturday of El Dorado Hills Art Walk runs from noon to 6 p.m. at Village Square Shopping Center and in addition to art, includes booths from local businesses, live music, a kids' corner, plus beer, wine and food; in Placerville, the Third Saturday Art Walk runs year-round from 5-9 p.m. and features late-night shopping, demonstrations, music, refreshments and changing art shows at Main Street galleries and merchants.

There's also free music almost everywhere you look. Check out El Dorado Hills Showcase Saturdays with live music (8-9:30 p.m.) and merchants from 6:30-8:30 p.m. at El Dorado Hills Town Center, running monthly on the fourth Saturday of the month (through August) and starting June 22; Live on the Boulevard—the Thursday concert series held at the Town Center's Steven Young Amphitheater from 6:30-8:30 p.m.—kicks off June 20. Gather with friends at the Friday Night Summer Concerts in the Park, Starting June 14 (through August 9) at El Dorado Hills Community Park. Music begins at 7 p.m. In Folsom, the Palladio Summer Concert Series will begin every Wednesday starting June 5 and go from 7-9 p.m. at the Palladio at Broadstone in the Piazza. Also in Folsom, catch Concerts in the Park at Folsom City Lions Park every Friday from 6:30-8:30 p.m.

Don't forget about farmers' markets this summer. They're more than just a hip activity latte-drinkers do; they're a smart way to save money on your fruit and vegetable shopping. Here's the skinny on where and when to get great local eats from area farmers this summer: on Saturdays, head to the Historic Folsom Farmers' Market (Public Plaza between the parking garage and Sutter Street) from 8 a.m. to 1 p.m.; on Sundays, journey to the El Dorado Hills Certified Farmers' Market (Town Center parking lot) from 8 a.m. to 1 p.m.; on Wednesdays, Burke Junction at Cameron Park is full of produce from 8 a.m. to noon; and Thursdays, venture to Whole Foods Market at the Palladio in Folsom from 8:30 a.m. to 1 p.m., or to the El Dorado Hills Community Services District parking lot from 8 a.m. to noon.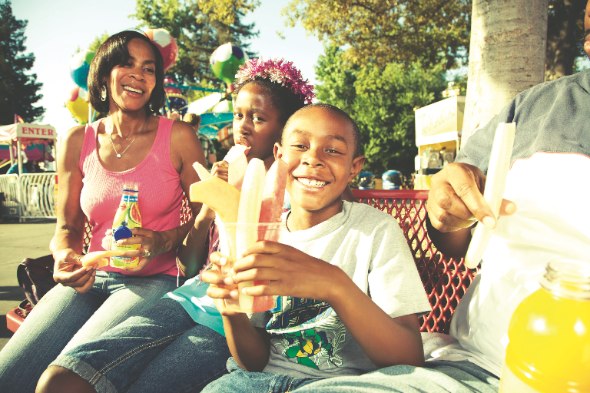 California State Fair
FESTIVALS AND FAIRS
Summer is becoming brewfest time in the Sacramento area, and 2013 is no exception. The first keg gets tapped on June 29 at Placerville's 13th Annual Bell Tower Brewfest. It's one of the premier craft brew events of El Dorado County, and the only time of year you'll get to see the historic Placerville Bell Tower dressed up like a beer stein! To purchase tickets and for more info, visit placerville-downtown.org.

If your idea of summer fun entails wine, beer and food, then Rotary Wine at Town Center is the event for you. Held at Sandra's Rose Garden and the Steven Young Amphitheater in the El Dorado Hills Town Center on June 8 from 6-9 p.m., the evening will showcase El Dorado, Amador and San Joaquin Counties' fine wineries, breweries and several local restaurants. In addition to wine and food tasting, guests will enjoy live music and a fantastic array of items in a silent auction. For more details, visit wineattowncenter.org.

"I love the smell of cotton candy in the morning…" It's state and county fair time folks, so get ready for more baby animals and deep-fried food than you can handle. Here's the rundown: The California State Fair starts July 12 and runs through July 28 at Cal Expo; county-fair wise, you can get your Ferris wheel on at the El Dorado County Fair from June 13-16 at the El Dorado Fairgrounds in Placerville (eldoradocountyfair.org); head to the Amador County Fairgrounds in Plymouth from July 25-28 for the Amador County Fair (amadorcountyfair.com); and from August 7-11, the Nevada County Fair will liven up the Nevada County Fairgrounds in Grass Valley (nevadacountyfair.com). For even more food on a stick, visit cdfa.ca.gov/fairs_&_expositions.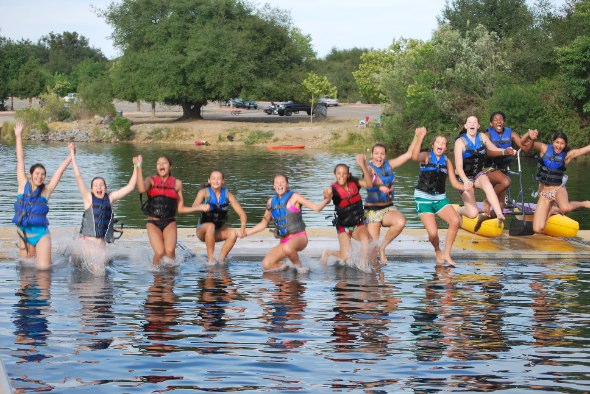 Summer Youth Camps at Sacramento State Aquatic Center
KEEP THE KIDS HAPPY
When the kids are happy, the family's happy, right? And happy families make for a happy summer. The Sacramento River Cats get into the swing of summer with their River Cats Baseball Camps, running June 27-28 and August 1-2, featuring instruction from River Cats players and coaches. An exciting chance for kids to obtain hands-on instruction from future MLB stars! For more details, visit rivercats.com.

The Sacramento State Aquatic Center Summer Youth Camps kick off in June for children ages 7-17, with instruction in everything from sailing and windsurfing to wakeboarding, whitewater rafting and much more. For more details, visit sacstateaquaticcenter.com.

The Folsom Zoo offers two terrific animal-friendly summer programs for kids, starting with their ABC Zoo Camp for children ages 4-7. Held at the Folsom Library, little ones will learn the wonders of the animal world through activities and hands-on interaction with some of the zoo's outreach animals. The three-day sessions begin June 18 and run through July 25. A Junior Zookeeper Camp—for little ones ages 8-11 at the Folsom Zoo Sanctuary—is the perfect chance for older kids to learn in a hands-on way what it's like to be a zookeeper. You might even find yourself cleaning the bear exhibit! Five-day sessions begin June 17 and run through August 2. Both programs are popular, so sign up soon! To register, visit folsomzoofriends.org.

Things get pretty hands on at Sutter's Fort this summer with their Hands on History days: War in California! (includes black powder weapon demonstrations and scavenger hunts) will take place June 15; Mining the Miners: Sutter's Fort and the Gold Rush will take center stage July 20, and Tools, Talent and Technology: Jobs at Sutter's Fort will take place August 17. A chance to experience history as it was! For more details, visit suttersfort.org.

Camp Discovery at the Discovery Museum Science & Space Center, combines innovative science projects, creativity challenges, outdoor games and, of course, fun! The curriculum revolves around central themes including space, nature and general science; what's more, all science activities are based on recommendations from the National Science Education Standards and the California State Guidelines for Science Education, and are taught by experienced, professional staff educators. For dates and more details, visit thediscovery.org.

Fairytale Town offers up a magical summer for kids and families, starting with their Annual Puppet Festival running Thursdays through Sundays, until June 30. And don't miss a chance to bring the kids to the Family Campout on June 21 at 5:30 p.m. to 7 a.m. on June 22. The overnight adventure will feature a theater performance, arts and crafts, a scavenger hunt, bedtime stories and a sing-along; in the morning, wake up to a continental breakfast! For more information, visit fairytaletown.org.

Soil Born Farms, a 55-acre ranch located along the American River Parkway in Rancho Cordova, offers kids and teens a chance to explore farm, field and forest with their exciting summer day camps, held June 17 through August 9, and available for a wide variety of age groups. And don't let your kids miss out on Kids & Teens in the Kitchen: Farm Pizza Party on June 29, where kids and teens can learn to cook using fresh, seasonal ingredients and enjoy the fruits of their labor! For more info, visit soilborn.org.
Style's Favorite Frozen Treats
Cool off this summer with some of our favorite local frozen treats.

Shiver Sisters for shaved ice, El Dorado Hills, shiversisters.com

NuYo Frozen Yogurt for the Halo-Halo, a mix of shaved ice, fruit and fro-yo, Folsom, nuyofrozenyogurt.com

Miabella Gelato for traditional gelato, Roseville, miabellagelato.com

Gunther's Ice Cream for a taste of Sacramento's history, Sacramento gunthersicecream.com

Yogaberry for a huge selection of fresh fruit and their original Italian tart yogurt, El Dorado Hills, eatyogurt.net
Summer Playlist
Start out with three fantastic and unique versions of the same George Gershwin song "Summertime," and see where the day takes you...
"Summertime"—Ella Fitzgerald & Louis Armstrong
"Summertime"—The Zombies
"Summertime"—Janis Joplin with Big Brother & The Holding Company
"Summer in the City"—The Lovin' Spoonful
"Panama"—Van Halen
"My Songs Know What You Did in the Dark"—Fall Out Boy
"Party in the USA"—Miley Cyrus
"Cruel Summer"—Bananarama
"Summertime"—DJ Jazzy Jeff and The Fresh Prince
"Springsteen"—Eric Church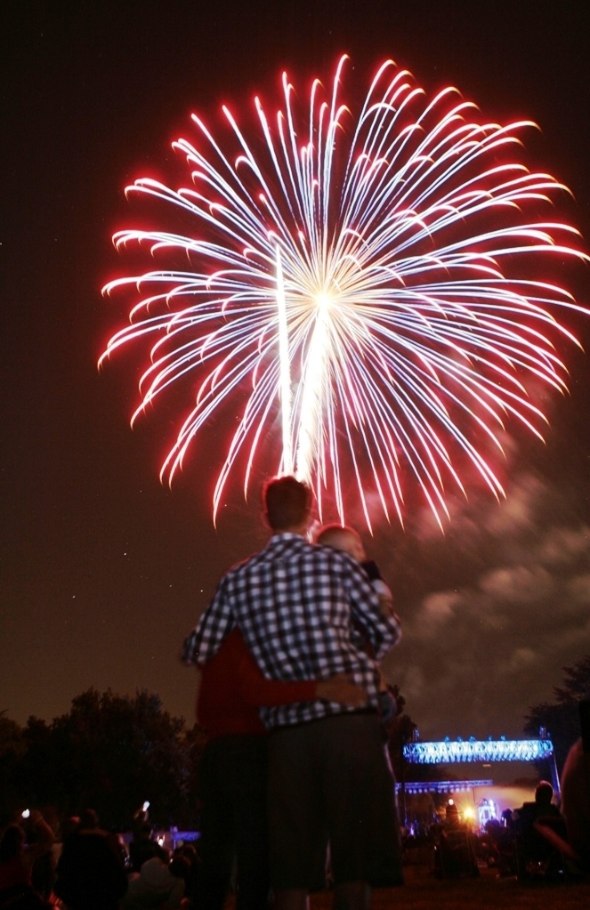 Fireworks at the Fourth of July Family Celebration
Photos courtesy of Cordova Community Council
SKIES  AGLOW
Summertime is Fourth of July time, and that's when the night sky will erupt in sound and color with fantastic fireworks displays. Cal Expo is always at the top of the list for their huge display, starting at 9:30 p.m. on July 4 (part of their Independence Day Celebration, which begins at 6 p.m.); free admission and parking is $10. For more details, visit calexpo.com/events/sacramento-independence-day-celebration.

After every Friday and Saturday night home River Cats game at Raley Field, the popular fireworks show will illuminate the night sky. Bring a group and enjoy the show!  

There's loads of local displays too, so you can have your choice of exploding aerial ordinance: The Folsom Pro Rodeo—running July 4-6—will have fireworks each night around 9:30 p.m., as well as the spectacular finale display on July 4. For more details, visit folsomrodeo.com.

The popular Fireworks Jubilee at El Dorado Hills Town Center is back for another year to dazzle onlookers. On July 3, guests of all ages can ring in Independence Day with entertainment—including three live bands—beginning at 6:30 p.m. Spectators will also enjoy the 4th Annual "Badge to Badge" chili cook-off, a kids' activity area, as well as enticing dining and shopping options from Town Center businesses. New this year will be a Community Parade down Town Center Boulevard, starting at 6 p.m. For more details, visit eldoradohillstowncenter.com.

It'll be blast at the 4th of July Family Blast at El Dorado Fairgrounds in Placerville. Gates open at 4 p.m., with live music from 6-10 p.m. and fireworks once dark. For more details, visit eldoradocountyfair.org/blast.html.

Rancho Cordova does it up right with their Fourth of July Family Celebration, running July 3 from 4-11 p.m. and July 4 from noon to 11 p.m., with music and fireworks both nights. For the full scoop, visit ranchocordovajuly4th.com.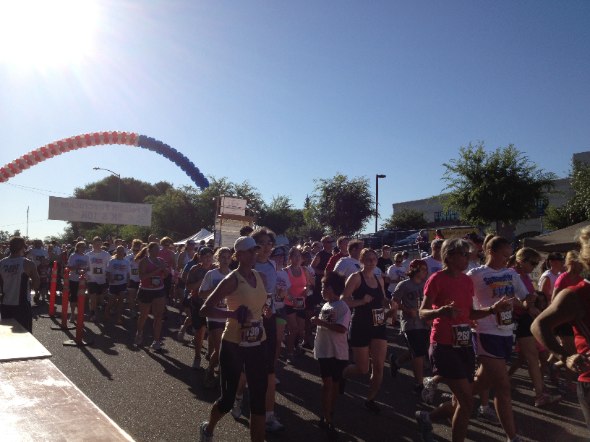 Folsom Firecracker
BREAK  A  SWEAT
Celebrate America's independence with a scenic 5K run/walk or 10K run through Lake Natoma's bike trails at the 5th Annual Folsom Firecracker on July 4. The 10K kicks off at 8 a.m. and the 5K at 8:15 a.m. To register, visit folsomfirecracker.com.

When things really heat up in August, head into the cool scenic hills of Pollock Pines for the Fleet Feet Run on the Sly Trail Runs on August 18, near and around the shores of Jenkinson Lake at Sly Park. Half marathon, 12K, 20 mile, and 50K options are available, with limited spaces for each to ensure a great experience on the scenic trails. For more details, visit runonthesly.com.

Sacramento's landmark triathlon, the 40th Annual Eppie's Great Race will be held July 20 at American River Parkway in Sacramento and Rancho Cordova. Kids can join in the fun with the US Bank Kid's Duathlon (2-mile run and 5.5K bike ride, ages 7-17). For more info and registration information, visit eppiesgreatrace.org.
 
Anyone for tennis? The Hangtown Women's Tennis Club's 27th Annual Hangtown Junior Tennis Clinic for grades 6-12 will take place June 3-7 at Union Mine High School. The clinic will be led by nationally ranked tennis pro Martha Downing. The Hangtown Women's Tennis Club meets at El Dorado High School for round robin play on Wednesdays from 8-10 a.m., June through August. Membership is open to women 18 years of age and older. For more details, call 530-626-5292.

Venture out onto the Jedediah Smith Memorial Trail, aka the American River Bike Trail. Take it all the way from Beal's Point at Folsom Lake to downtown Sacramento (or vice versa), or pick it up anywhere along the way. Idle time on your hands? There's no excuse for summer boredom with so many hiking and biking trails at our toes!
HAVE A FAVORITE SUMMER ACTIVITY THAT WE MISSED?
Leave it in the comments below for others to enjoy!