The Future of Foster Care
Mar 27, 2013 09:33AM ● By Style
There was an unfortunate period of time when foster children were bounced from home to home.
One can only imagine what this did for their self-esteem. Behavioral problems were often the result of only having temporary homes, thus a stamp of delinquency was placed on children in foster care. Thankfully, that time has passed (for the most part). Foster organizations are doing incredible work to find permanency for the millions of kids in the system and change the reputation of fostering. In our area alone, there are more than 3,000 children in need of permanent homes.
Children are typically placed in foster care when their home has been deemed unsuitable for their safety by Child Protective Services. According to Donna Ibbotson of Lilliput Children's Services, foster care organizations work to "find foster parents who can provide nurture, structure, consistency and stability for children who may have never known those things." She explains that the length of time children spend with their foster parents is situational; it can range from weeks to permanently.  
One program, and often the number one goal for foster organizations, is concurrent planning. In these situations, children are placed with foster parents who support the child, while the biological parents work to rectify whatever situation caused the child to be removed from the home. When this program is successful, the child is reunited with his/her birth parents. Many organizations, including Sierra Forever Families (SFF), look for parents who are willing to adopt the child if reunification doesn't take place.
SFF Executive Director Bob Herne, M.S.W., says, "No child should grow up in the foster care system. It should be a short-term, temporary solution that either ends in reunification or adoption." Herne and SFF believe the more a child has to move around, the more loss and trauma they experience. They also specifically focus on children who have at least one barrier for adoption: age seven or older, teenagers or those with health needs. Through SFF's Wonder Mentoring program, kids are given opportunities to see and do things they may not otherwise be able to; it's also ideal for those whom may not be ready or able to make the full foster commitment, but still want to be involved. In some cases, these mentors are the only adults not paid to be in the child's life, which has an incredibly rewarding impact on the children.
Foster parents are individuals who wish to make a difference in a child's life; often, they're looking to complete their own family, but Sara Hanson with SFF encourages potential foster parents to look at the needs of the children first, as this outlook has the most rewarding outcome. It's important for parents to really understand the mission or goal of the agency with whom they'll be working.
Through state and federal funding and corporate and individual contributions, foster organizations are able to provide comprehensive support, including therapeutic services for children and families, which helps reduce the number of placements a child might otherwise endure. Individuals and couples—with or without kids—may be considered for fostering. If interested, contact a foster organization in your area to get more information.
SLEEP TRAIN FOSTER KIDS
---
For those who cannot make the foster commitment, but would still like to contribute to the cause, check out Sleep Train's Foster Kids organization. Sleep Train always accepts online and in-store donations and holds annual pajama drives for foster kids. For more information, visit their Web site.
LOCAL FOSTER CARE ORGANIZATIONS
Families for Children
families4children.com, 800-955-2455

Foster Family Services
fosterfamilyservice.org, 530-295-1491

Lilliput Children's Services
lilliput.org, 800-325-5359

Sierra Forever Families
sierraff.org, 530-887-9982

Stanford Youth Solutions
youthsolutions.org, 916-344-0199
Foster Families
by Kelley Saia
Daniel & Tomas Ericksen
Although traditional procreation is not an option for same-sex couples, there are many options out there for those wishing to create a family. For Daniel and Tomas Ericksen, however, there was so much more to it than that. They weren't simply looking to fulfill their own wants and needs, but the needs of a child as well. This is when they decided to take the foster-adopt route.
They always knew they wanted a family, and giving a home and great life to a child who may not have otherwise had that same opportunity was their true passion. In the foster care and adoption world, once a child reaches a certain age, they become more difficult to find homes for. Daniel and Tomas specifically wanted a school-age child for that very reason; in fact, they wanted a sibling set, since siblings also have a more difficult time being adopted. They are now the proud parents of second- and third-grade siblings.
Now a family of four, the Ericksens are happier than ever, but it wasn't an easy process. There were a lot of meetings and a lot of preparation. What's more, most of the time foster children come from neglect, abuse or other misfortunes, which can create barriers. One thing that helped Daniel and Tomas was advice from one of the therapists they saw during their foster-adopt process. She said, "You can't fix them. You can only give them the environment to fix themselves." Daniel and Tomas said that advice helped alleviate a lot of the stress and pressure they were feeling. Now, they turn to patience and love to help guide them through their difficult days.
Despite the challenges, Daniel and Tomas have had a wonderful experience and are thrilled that they were able to bring peace and finality to their children. They are even starting the foster-adopt process again, and look forward to providing the same opportunities to more children.
Elizabeth Siggins
Elizabeth Siggins had always known she wanted to be a mom, but when she found herself 38 and single, she knew she would have to take an alternate route to make it happen. She had worked with and around the foster care system in the past and knew quite a bit about the process, so she eventually decided on becoming a foster parent, but knew she definitely wanted to adopt. Thankfully, many foster care agencies offer foster-adopt programs.
She admits that she had her doubts, however. "Parenting is difficult enough, but parenting a child who has been through neglect adds a whole new level of challenges." Working through the system and the bureaucracy was the most difficult part of the process. It was a total of four years from the time she decided to follow this path to the time she officially became the adopted parent of her son. It took a lot of patience and perseverance to stick with it. Siggins says, "It was so worth it. This is truly a magical way to make a family." Siggins continues, "It was more challenging than I ever could have imagined and frustrating at times, but when I hear my son call our house 'home,' I know I made the right decision."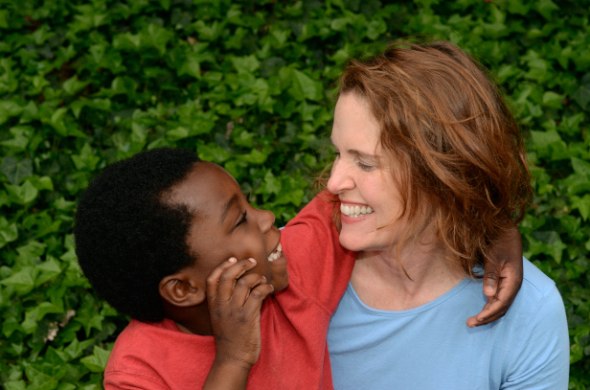 While Siggins herself feels so full and satisfied that she will likely not go through with the process again, she highly recommends it to other families. She would also like to become a sort of advocate for foster care by bringing awareness to the various programs. She says, "I want to help people understand the role of a foster parent." The system is continually improving, but Siggins feels that there is still a lot of work to be done in California's foster care programs.

Arlie Hubins
If there were a face for foster care, it would be Arlie Hubins. She began her foster care journey when she was in the military and continues to take in and/or adopt foster children even after retiring. She feels that she has had a successful life and loves that she has found such a great way to give back. She has had nearly a dozen foster children, has one biological child, and four adopted children. She currently also has a three-month-old foster child who happens to be close in age to her own grandchild.
We found Hubins through Sierra Forever Families; everyone we spoke to there raved about her and her commitment to her children. She is always willing to take children in and give them a loving home. Hubins says that she will continue to take in foster care children as long as she can and as long as the system will allow her. She jokes that it is a good excuse to watch Disney. But in all seriousness, it's clear that she loves being able to provide these children with a life they otherwise wouldn't have been given.