Rita Forman
Mar 01, 2013 08:37AM ● By Style
Photos by Dante Fontana, © Style Media Group.
To explain Rita Forman's glass bead creations, artist Georgia O'Keeffe says it best.
"I found I could say things with color and shapes that I couldn't say any other way – things I had no words for." Forman's unique forms and use of color in such small, individual pieces of art is truly amazing. Although the designs and size of her art – from pottery, painting and glass beads – tend to be intricate and small, the passion used to create each piece is huge. Author Oscar Wilde said, "A work of art is the unique result of a unique temperament." One of Forman's many unique strengths is the ability to focus on such tiny items, making her art absolutely astonishing.
The design of her individual glass beads bring to mind everything from high-flying space orbs to invertebrates living in the aquatic world. Spectacular colors, both opaque and transparent, glow in all types of unique shapes. Forman then takes the beads and crafts them into completed pieces of jewelry, such as bracelets, necklaces, pendants and earrings. Multi-talented, Forman also creates oil paintings of flowers and plants using her lovingly tended and beautifully designed garden as her inspiration.
As a little girl, Forman loved art; her first medium was finger painting. "I just loved the feel of the slick paper and the paint on my hands," Forman explains, "and the vivid colors." While growing up, Forman would visit her crafty maternal grandmother, Juanita Grimshaw, in Auburn every summer. Grimshaw fostered her granddaughter's love of art by supplying all types of art supplies and giving her craft projects. "I blew out a lot of egg shells to decorate," Forman says, "and used colored pipe cleaners to make dancers holding place cards for her bridge parties."
Forman followed her heart and obtained her teaching credential in art from San Diego State University; after, she taught art at a middle school. While teaching, she worked in many media forms. "I have always made art," Forman admits.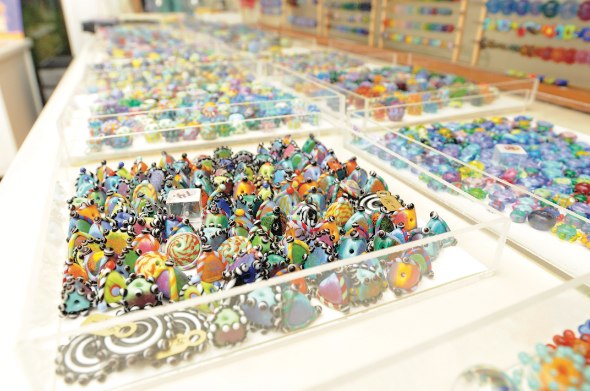 Before focusing on glass beads, Forman worked in clay and made striking pots with intricate designs. Her work was featured in international exhibits, such as Feats of Clay in Lincoln and the California Clay Competition in Davis. Now making glass, she is an exhibiting member of the Association of Clay and Glass Artists.
When the right tools and kilns were available, she turned to and taught herself glassmaking. "I am good at teaching myself," Forman says. "I bought some books and went from there." She loves the intense color of glass because it plays with light and reveals the transparency of the color. "I am not a conceptual artist," she explains. "I am inspired by and respond to the materials."
---
For more information, visit northauburnartists.com.