Alaska Cruise
Feb 01, 2013 01:27AM ● By Style
All photos courtesy of Celebrity Cruises.
Let me give you a succinct, yet accurate description on cruising for the first time in my life: It is a vacation on a big floating luxurious Las Vegas-style hotel…and in this particular case, I mean a grand Las Vegas hotel.
I really didn't know what to expect. In my business career, I've had the privilege of traveling to some wonderful destinations and staying in some of the world's greatest hotels, and this first experience "cruising" confirms that I'll be coming back for more…soon.
GETTING THERE
We chose Celebrity for a variety of reasons, including their stellar reputation and Alaskan cruise itinerary. After setting the date and a quick flight to Seattle, my travel companion and I were on our way. Seattle is a sizable cruise port and all lines offer transportation to the port with an easy bag check included; just collect your luggage from baggage claim, head to the cruise's check-in area, and your bags are taken. The next stop? Your stateroom on board.

All photos courtesy of Celebrity Cruises.
FIRST IMPRESSIONS
After a simple check-in process, we boarded, received the requisite safety info, and started exploring the vessel, Equinox*. First impression: It's very, very big! Suffice it to say, you can spend quite a bit of time visiting the different areas of the ship: restaurants, gym, salon and spa, casino, shops, multiple lounges, café, indoor and outdoor pools and spas. Continuing our exploration, we came upon a terrific theater (on par with those found in some of the great Las Vegas hotels), a library, and a computer room set up with iMacs and Internet connection. Did I mention we had WiFi available throughout the ship? As for WiFi speed, you won't be uploading and downloading big files, but it works for surfing and accessing email. (AT&T offered a low cost "texting" package while we were at sea and it did a nice job of keeping us in touch during the voyage.)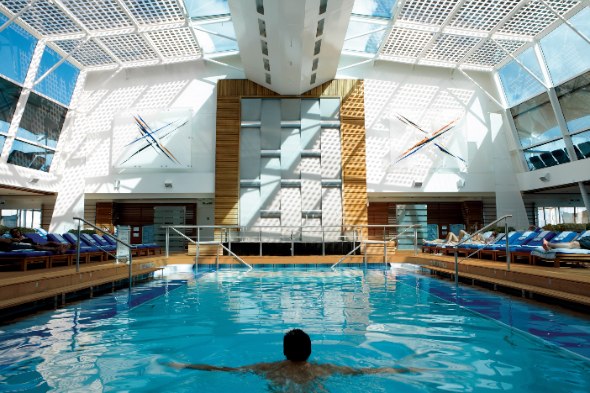 All photos courtesy of Celebrity Cruises.
OUT TO SEA
My favorite part of any vacation – dining – called for a multi-level, all-out search for every area serving food, including the buffet, which was almost always open and serving something superior. The main restaurant, where we had dinner on a few occasions, was very good. I was asked if I thought it was "five-star" quality, and I must say, it's not a fair question. Imagine asking the best chef in the world to deliver 800 meals within two hours at five-star quality, all while overseeing his kitchen. Impossible. However, I can say that the meals we did eat there, including our first evening at the captain's table, were superb! Not quite a five, but certainly a 4.5.
And the service? Well, the service scores need to be adjusted so we can give them a six! In all areas of the ship (not solely the dining room), I can't imagine service being much better than what we received. And it wasn't just us – people we met during the cruise shared similar sentiments.
The offerings of wine and brew were stellar, and if you're thinking you'll pay through the nose – well, you're wrong. At no point did we feel we were being taken advantage of; the prices were on par with or less than nice restaurants you find here at home.
The most memorable place on the ship had to be the restaurant Qsine – a chic tapas-style dining experience. We dined with a young, newly married couple from Florida who were delightful. Ordering from the eclectic menu was a new experience for all of us; we placed our order directly with the kitchen, via an iPad. No doubt this digital menu trend is something you'll start noticing more. We all loved it. Qsine was one of the ship's specialty "alternative" dining spots, and therefore required an additional fee; however, all four of us agreed that it was well worth it. For a small amount of money, it may have been one of the best meals we'd all had in some time – a true epicurean delight.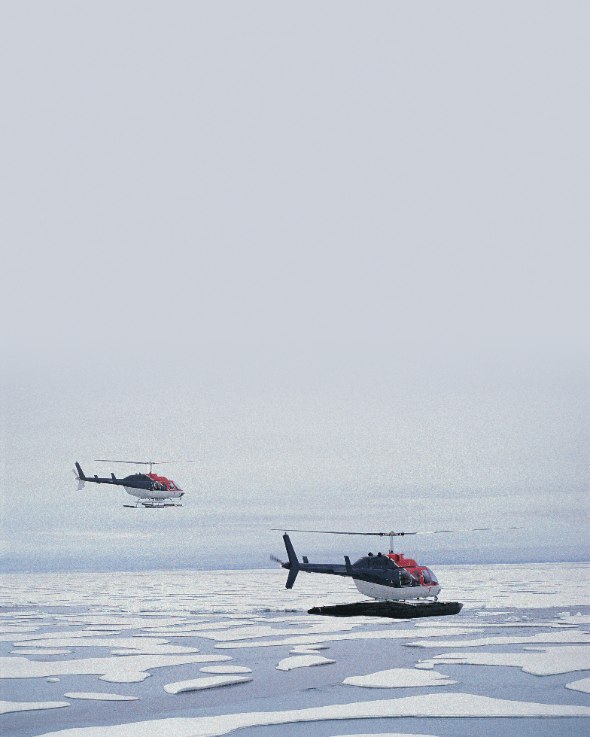 All photos courtesy of Celebrity Cruises.
LAND AHOY
Of course reaching port is always exciting, and we visited spots like Tracy Arm Fjord, Ketchikan, Juneau and Skagway. Excursions are the norm for most guests, and while many will likely find them expensive, it must be said that this expense is again relative; I mean where and when else are you going to take a flight on a float plane, see five huge glaciers from the air, land on a lake and step out into a beautiful setting, see bald eagles soaring, bears running and eating, and incredible ice formations – all while completely forgetting the world you left behind? There aren't enough adjectives to describe it all. We were told by many people that cruising to Alaska was a must-do – and now we know why. The scenery was breathtaking, and I do not use that word lightly.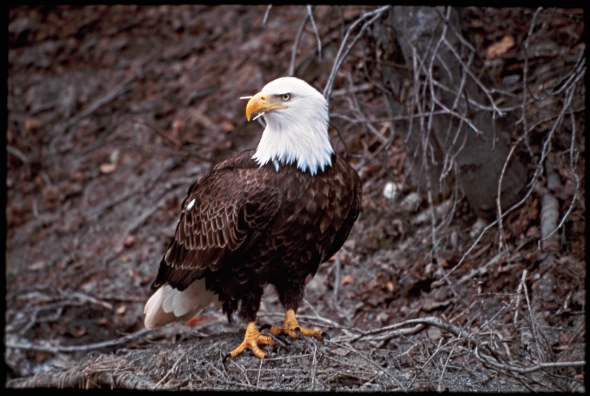 All in all, the Celebrity Equinox and its crew offered us just the right amount of luxury, fun and quiet. The shows were all excellent, the cabin was small but strangely comfortable, the gym was well equipped and there were plenty of choices when it came to topflight massage and other spa-related services.
Sailing on this incredible ship to a place with scenery so vast and beautiful was truly an experience I'll never forget. Wait a minute, did I mention the beauty of British Columbia and sailing the inside passage, or our stunning little visit to Victoria? No? Well, I'm out of room here, so I suggest booking the cruise and having the time of your life.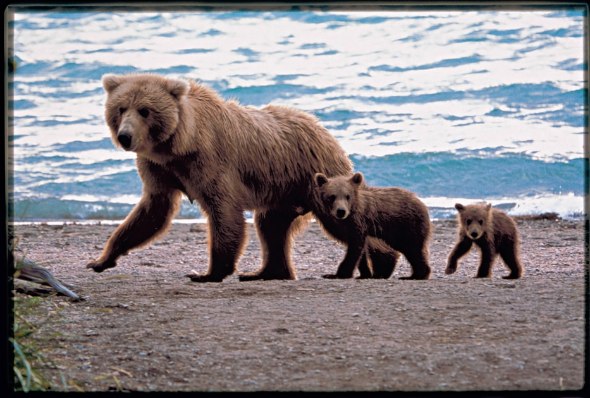 *Note: Celebrity Equinox is no longer sailing in Alaska;  it has since been replaced by Celebrity Solstice, one of the more decorated ships at sea. In addition to specialty restaurants, spacious staterooms and superb service, Solstice also offers the first Lawn Club and Hot Glass Show at sea; plus, 85 percent of the ship's cabins have balconies – a perk when cruising in scenic Alaska. For more information, visit celebritycruises.com.