Morro Bay
Jul 26, 2012 05:06AM ● By Style
Photos courtesy of Barbara L. Steinberg.
Morro Bay is eccentric and distinctive, with a slight lean to the quirky side.
Charming and welcoming, it maintains a small-town appeal. At every turn, open spaces and environmentally sensitive biomes of extraordinary splendor await. Miles and miles of nature preserves, state parks and 12 miles of beaches elevate the seaside city's allure. Two dozen threatened and endangered species living in the Morro Bay Estuary and watershed draw outdoor enthusiasts to the region.
What about Morro Rock – the "Gibraltar of the Pacific"? Protected as the Morro Rock State Preserve, you can't climb or hike it, and disturbing the bird life (peregrine falcons are regular visitors) is prohibited.  Explore the area surrounding the base or get up close and personal by kayak. You can't escape this rock star. It's a beacon throughout the region, forever leading you back to Morro Bay.

Inn at Morro Bay
STAY
Inside Morro Bay State Park, the Inn at Morro Bay specializes in romance, waterfront views and stellar sunsets. Bordered by a heron sanctuary and Morro Bay State Park golf course, the Inn is adjacent to spectacular California coastline, wine regions and historic attractions including Hearst Castle. The Orchid Restaurant and The Bay Club lounge features fresh seasonal produce and fish, Hearst Ranch grass-fed beef and local wines. All 98 sleeping rooms were superbly revamped in 2012, and an interior courtyard conceals a pool and Jacuzzi. Pooches are welcome! For the budget-minded, the extras add up at Bay Front Inn. But don't expect the Ritz; instead, you'll get friendly service and cozy rooms that are fresh and welcoming, each boasting original art. It's funky, dog friendly, on the harbor, and within the view-shed of Morro Rock.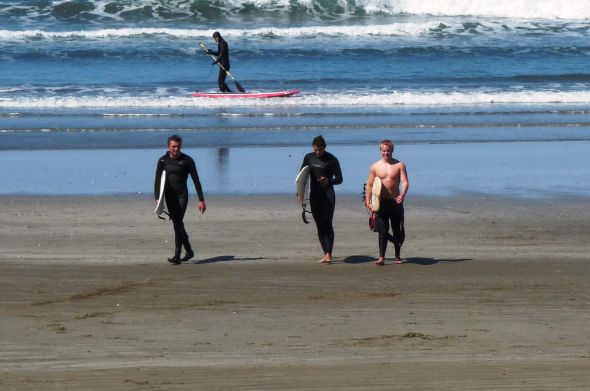 Morro Bay State Beach
EXPLORE  
Head to the Kayak Shack – within walking distance from the Inn at Morro Bay – and rent kayaks and canoes; guided tours of the Bay and estuary are available. The Museum of Natural History boasts state-of-the-art interpretive displays, and hands-on activities for all ages tell Morro Bay's history. Virg's Landing has been the go-to sport-fishing outfit since 1954 and also provides whale-watching tours throughout the season (December through June).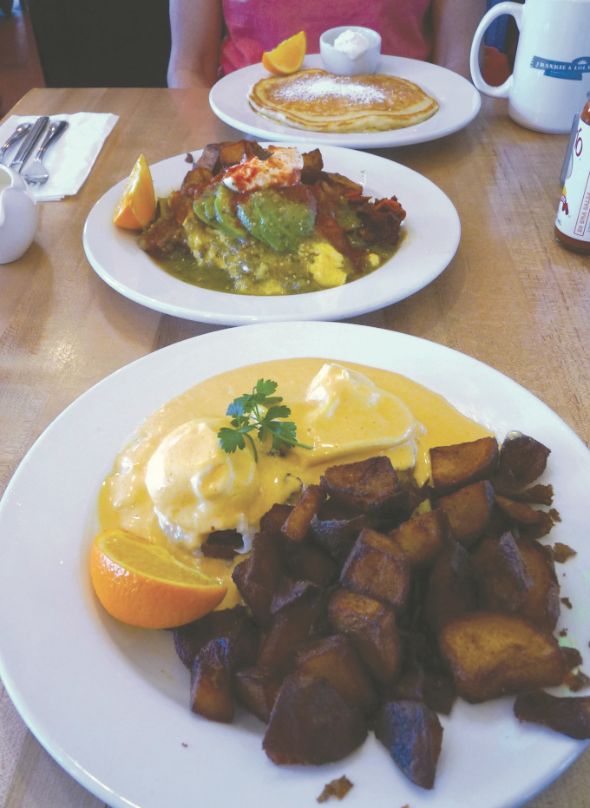 Frankie & Lola's
RATIONS AND LIBATIONS
Frankie & Lola's unconventional menu – featuring Fried Green Tomato Benedict and PZP (Potato Zucchini "Pancake") – is worth the weekend wait. The homemade cinnamon rolls are also seriously delicious. Don't miss the darling Bayside Café, with marina views and a classic California menu serving up lip-smacking Spicy Green Chili Soup, house-made chips and Boysenberry Crisp. At Stax Wine Bar & Bistro, sip regional and worldwide wines alongside scrumptious small plates like Caprese Martini Salad. Tognazzini's Dockside Restaurant is the perfect outdoor setting along Morro Bay. Order at the counter – fish and chips, fresh local oysters with all the fixings, onion rings, cold beer – and enjoy live music.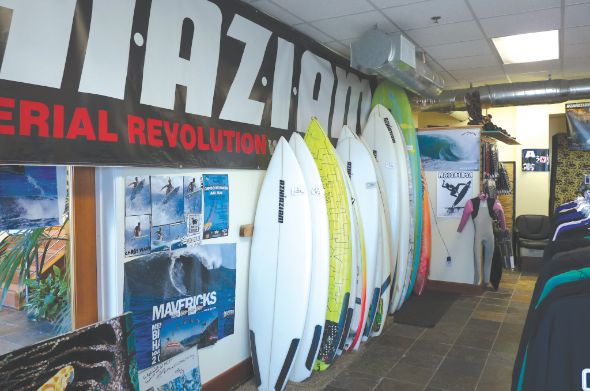 Az*Hi*Az*I*Am
RETAIL THERAPY
Rent or buy California-made surfboards at Az*Hi*Az*I*Am, the quintessential surf shop and clothing brand. Wetsuits, boogie and paddleboards are also available; inquire about lessons. The work of landscape and wildlife photographer Bill R. Shewchuk is featured (along with regional art and jewelry) at Suite 1 Gallery.