Journeys of the Heart
Oct 28, 2011 06:54AM ● By Style
Photo courtesy of the Gillingham family, all other photos by Dante Fontana
For couples and individuals looking to start or expand their families, adoption is a great option.
Through a life-changing system, children desperate for families are matched with those eager to give them the love, security and support they need to start new lives. The majority of children awaiting adoption are older kids, foster sibling groups, children from other countries, and incredibly, babies not yet born. Welcoming these kids into your home is easier than you might think. Three local families share unique adoption stories that illustrate biological ties certainly are not the only ones that bind a family together.
ADOPTING INTERNATIONALLY
When Doug and Theresa Buriani of El Dorado Hills wanted to expand their family through adoption, they initially hoped to find a little girl under the age of four. But through a remarkable journey, the family welcomed three siblings – ranging in age from three to six – and couldn't be happier.
From the beginning, the Burianis wanted to adopt internationally and first looked at orphanages in Russia. "Then we decided to go with Ethiopia, because it's such a loving country and they need families the most," explains Theresa, citing an estimated five million orphans in that country alone.
The Burianis started their process through a Christian-based adoption agency, All God's Children International out of Portland, Oregon, in early June 2010. On June 26, Theresa opened an email from the agency with a photo of siblings from the village of Tigray in northern Ethiopia awaiting adoption. "There were these three little kids looking back at me and they were so cute," she recalls. "But then I said, 'Wait, three?'" After consulting with Doug, and their sons, Brandon, 18, and Cameron, 20, both in college, the family agreed "absolutely" to proceed.
At the end of November 2010, Doug and Theresa travelled to Ethiopia to meet sisters Kidan and Medhin, and big brother Eli to petition the court system for adoption. A little more than a month later, on January 6, they brought the siblings home.
Amidst a whirlwind of jubilation and adjustment, the family faced certain challenges. "The kids didn't know any English, so we literally played charades around our house for three months," laughs Theresa. "Medhin would figure out what we were trying to say first and then she would repeat it to the other two in Tigrinya, their native language." Another big hurdle was transportation. "They'd never been in a car, so they got motion sickness any time we drove, even just down to the store," says Theresa.
Today, all three kids are completely adjusted and thriving in school. "It's the best thing we ever did," says Theresa. "They are the happiest, sweetest children around and our older boys just adore them." Reflecting on their adoption process, Theresa says: "We had this small plan, but God had a much bigger plan for our family."
The Burianis urge families looking to adopt to consider older children and siblings. "They are such a joy and they need a family so badly," says Theresa. "There are so many out there just waiting."

The Buriani Family
ADOPTING FOSTER CHILDREN
According to John Johnson, executive director of Foster Family Services in Cameron Park, of the approximately 68,000 children in foster care in California, an estimated 13,600 are available to be adopted. "Matching each child with a family is critical, but once this is done successfully we see amazing things occur," explains Johnson. "The lives of everyone involved are enriched in ways unimaginable!"
That sentiment is definitely echoed by the Crans family of Citrus Heights. Linzi Crans had known since high school that she wanted to adopt children someday. "Luckily I married a man who agreed with me," she laughs. When Linzi and Erick were ready to start their family, they visited several local adoption agencies before settling on Lilliput Children's Services. "We really enjoyed the orientation and experience with the people there, and truly felt that was where we would find our children," says Linzi. "I don't think there's anything different between going through the foster system and going through a private adoption with biological parents," adds Erick. "We just knew our children were out there and ours just happened to be in the foster care system."
The Crans' adoption experience was both easy and quick. After going through orientation and taking nine weeks of training classes, they were matched with their first child in just four months. "Then our next child came eight months later, our next son a year later, and our youngest daughter a year after that," says Linzi. "We got four kids in four years and four months." Their family unit now includes two girls and two boys, ages 13 months to seven years. "They keep us on our toes and we sleep really good at night," admits Linzi, but she says they couldn't be more thrilled.
The Crans encourage families starting the adoption process to get as much information as possible by attending different agency orientations and talking to others about their personal adoption experiences. "There are a lot of misconceptions and myths about adoption," explains Erick. "Getting the right information can really put a family's mind at ease."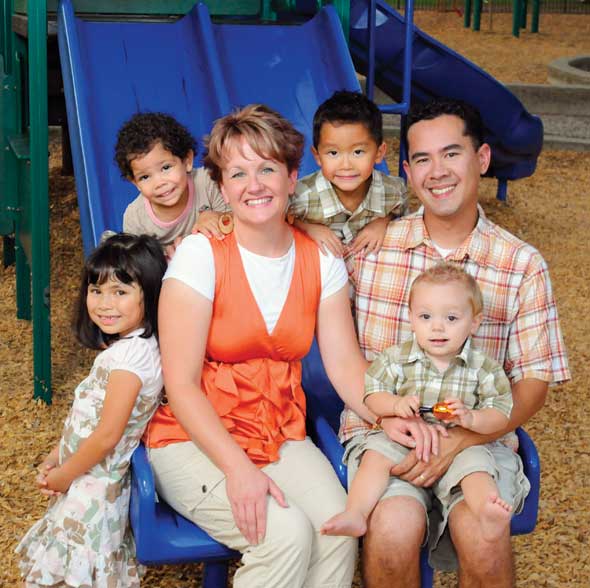 The Crans Family
"ADOPTING" BABIES BEFORE BIRTH
As a result of cutting-edge advancements in fertility treatment the last few decades, an estimated 400,000 frozen embryos sit in storage at clinics throughout the U.S. For families who have gone through the in vitro fertilization (IVF) process, donating remaining embryos to a family in need is an amazingly viable option.
When Jeff and Danette Gillingham learned they couldn't have children "naturally," they initially sought to privately adopt a baby. After the lengthy process fell through with three separate birth mothers, Danette was devastated. "My heart was broken and my emotions were up and down," she says. "We were so scared of being hurt again."
Then Danette's dad read about a remarkable program through Nightlight Christian Adoptions where parents could donate their frozen embryos. "At first, it sounded too good to be true," she admits. But after researching it further, the couple fell completely in love with the idea. "To think that as an infertile couple we could be able to still carry a child was amazing. It seemed like adoption, but just at an earlier stage."
Through Nightlight's "Snowflakes" program, the Gillinghams eventually were matched with an embryo donor. On two different occasions, Danette was implanted with embryos and each time successfully carried and gave birth to twins. She calls their four beautiful girls, now ages 5 and 7, "best friends."
Danette is still in awe of the process and especially of their donor, a mom of twin boys who purposely chose not to remain anonymous. "She's been our biggest cheerleader along the way, encouraging us and thanking us for giving life to these babies."
"I felt like it was a miracle," says Danette. "It brought healing to us and our infertility, and it brought closure to the donor family. It was such a beautiful win-win situation for everybody."
THE ADOPTION PROCESS
While the process varies by form of adoption (private, international, foster, etc.) and between agencies, adoptions typically take between nine and 18 months and include the following steps:
Decide which type of adoption is right for you (theadoptionguide.com).

Contact a state licensed agency.

Go through the orientation process.

Receive pre-service training.

Complete the application process.

Complete home study and assessments.

Obtain licensing and/or approval.

Get placement of adopted child.
LOCAL ADOPTION RESOURCES
California Association of Adoption Agencies, california-adoption.org
Adoption Guide, theadoptionguide.com
National Council for Adoption, adoptioncouncil.org
Sierra Adoption Services, sierraadoption.org
Families for Children, families4children.com
Adoption Center of Northern California, adoption-center.com
Lilliput Children's Services, lilliput.org
Foster Family Service, fosterfamilyservice.org
Koinonia Family Services, kfh.org  
Sierra Forever Families, sierraff.org
Heart Gallery of Sacramento, sacheartgallery.org
Adopt Us Kids, adoptuskids.org
California Kids Connection, cakidsconnection.org
Little Angle Adoptions, littleangeladoptions.com
Nightlight Christian Adoptions, www.nightlight.org
California Conceptions, californiaconceptions.com
National Embryo Donation Center, embryodonation.org
Miracles Waiting, miracleswaiting.org
Embryo Adoption Awareness Center, embryoadoption.org
All God's Children International, allgodschildren.org