Man's Best Friend
Sep 30, 2011 04:09PM ● By Wendy Sipple
You're a police officer and your job is to enter an abandoned building and look for a person that may be hiding inside; unknown dangers could be around every corner. All of your senses are on high alert. Your nerves are steely.
As the actor John Wayne once said, "Courage is being scared to death but saddling up anyway." You are afraid but you keep going, grateful that your trusted partner is by your side. You both are part of a well-trained team and your life relies on him. His senses are keener than yours and in many instances he is a lot more frightening to a suspect than you are. Your four-legged companion is your highly trained law enforcement service dog. Witnessing a police dog at work or at play, you can be assured that the old adage "dog is man's best friend" is not a cliché, but rather a fact.
The non-profit Foothills K9 Association was founded in 2005. Their mission is to promote and provide for the training, safety and health of law enforcement service dogs so they have a long, safe career and healthy retirement. Simply put, they are there for the dogs. "People don't realize how valuable K9s are to law enforcement," Director Howard Stoltz explains. Currently, the organization is made up of K9 handlers from the Placerville, Folsom, Twin Rivers, Placer County, Rocklin and Roseville Police Departments.
The association and its many volunteers and members are there to help fund all aspects of the dogs' needs. A K9 bulletproof vest can cost up to $2,000 and once the dog retires, all types of expenses are incurred. "Just like humans," Stoltz says, "when a dog retires, his health insurance ends." And unlike their human partners, dogs do not get retirement pensions.
For Roseville Police Officer Scott Miszkewycz and his faithful K9 companion, Apollo, they are more than police officer and dog…they are family. German-born Apollo is an 87-pound black and tan German Shepherd. He and Miszkewycz joined five years ago and have been together ever since. Apollo is not only his partner while on duty, but he is the family dog when they are home. "Apollo is part of my family," Miszkewycz says. "I spend more time with him than anyone else."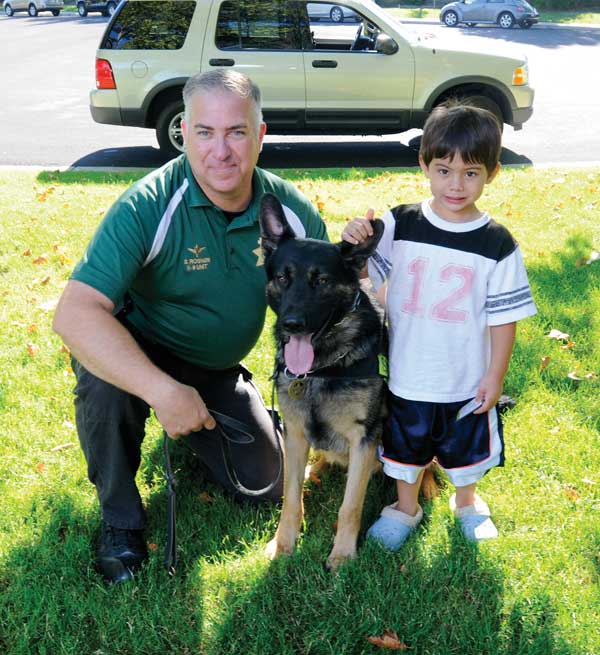 Miszkewycz and Apollo work as a K9 team on patrol and are called to intense police situations where a dog's presence is invaluable, such as sniffing out a person hiding from officers or looking for narcotics. (Dogs' ability to smell is 100,000 times greater than humans!) "The mere presence of Apollo alone keeps everyone safe: the dog, officers and suspects," Miszkewycz says.
Roseville resident and dog-lover Carol Nogle is an avid supporter of the Foothills K9 Association. She understands these police officers and dogs risk their lives every day.  "I'm just an ordinary citizen," Nogle says. "You don't have to be well-off to donate and help out." •
---
For more information and to become a volunteer, visit foothillsk9.org.