Healthy Recipes
Dec 30, 2010 04:00PM ● By Style
Wheat Berry Salad with Roasted Beets, Kale, Toasted Walnuts, and Sesame Tahini Dressing
D.I.Y. Delicious by Vanessa Barrington; photographs by Sara Remington
(Chronicle Books, 2010, $24.95)
4 small to medium beets
1/2 cup (about 2 ounces) walnut halves, coarsely chopped
1 cup wheat berries, soaked for 4 to 5 hours or overnight and drained
Salt
1 bunch Lacinato or green or red kale
3/4 cup Simple Sesame Tahini Dressing (recipe follows)
Freshly ground black pepper
Preheat the oven to 400 degrees.
Trim the beets and wrap them in one or two foil packets, depending on their size, keeping like-sized beets with like-sized beets. Put them in a baking dish to prevent beet juice from leaking into your oven and roast until tender and fragrant, 35 to 40 minutes. Use a small paring knife or skewer to check for doneness. The knife or skewer should go in easily with a small amount of resistance. Set them aside to steam in their foil packets. When they are cool enough to handle, peel them by rubbing the skins off with your fingertips, and cut the beets into bite-sized wedges. Alternatively, the beets can be roasted up to 5 days ahead and refrigerated, left in their foil wrappers, until ready to use.
Lower the oven to 300 degrees.
In a small baking dish, arrange the walnuts in a single layer. Toast until brown and fragrant, 8 to 10 minutes. Remove from the oven and let cool.
While the beets are roasting and the walnuts are toasting, set a medium saucepan with 3 cups of water over medium-high heat. Bring to a boil and add the wheat berries and a pinch of salt. Lower the heat to a slow simmer, cover partially, and cook until tender and pleasantly chewy, 45 to 50 minutes. Turn off the heat and let the wheat berries sit until you are ready to assemble the salad.
Meanwhile, trim, stem, and wash the kale and put it in a vegetable steamer set over boiling water. Steam until tender and wilted, but still bright green, about 5 minutes. Remove immediately to a bowl of ice water to stop the cooking. Drain and squeeze out excess moisture. Chop coarsely and set aside.
When all the ingredients are ready, drain the wheat berries and transfer them to a serving bowl. Add the beet wedges, kale, and walnuts. Add the dressing and toss thoroughly. Taste and correct the seasoning with salt and pepper and serve immediately or within 2 hours at room temperature. The salad can also be covered and refrigerated for 3 to 4 days. Bring to room temperature before serving. Serves 6.
---
Simple Sesame Tahini Dressing
D.I.Y. Delicious by Vanessa Barrington; photographs by Sara Remington
(Chronicle Books, 2010, 24.95)
2 garlic cloves, peeled and left whole
Salt
1/3 cup sesame tahini paste
3 tablespoons freshly squeezed lemon juice
2 teaspoons honey
1 teaspoon soy sauce
1/4 teaspoon toasted sesame oil
With a mortar and pestle, pound the garlic to a paste with a pinch of salt. In a blender, combine the garlic paste, tahini, 1/3 cup water, the lemon juice, honey, soy sauce, and sesame oil and blend until smooth. Season with salt. Use immediately or cover and refrigerate for up to 2 weeks.
---

Steamed Halibut with Greek Salad Salsa
Anna Getty's Easy Green Organic by Anna Getty; photographs by Dan Goldberg and Ron Hamad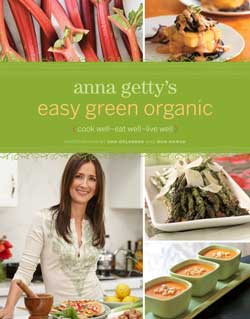 (Chronicle Books, 2010, $24.95)
1 1/2 cups seeded and finely chopped tomatoes (about 3 plum tomatoes)
2 tablespoons capers, drained and coarsely chopped
3 tablespoons finely chopped red onion
3/4 cup cubed feta cheese (1/4-inch cubes)
12 Greek olives, pitted and finely chopped
1 teaspoon minced fresh thyme
1 tablespoon olive oil
Salt and pepper to taste
Six 8-ounce halibut fillets
1 cup white wine
10 whole peppercorns
6 whole fresh basil leaves, plus 4 leaves, thinly sliced, for garnish
In a medium bowl, mix together the tomatoes, capers, red onion, feta cheese, olives, thyme, olive oil, and salt and pepper. Set the salsa aside.
Spray a collapsible steaming rack with cooking spray and place 2 halibut fillets on the rack, skin side down. Sprinkle the fillets with salt and pepper.
In a medium pot bring the wine, peppercorns, whole basil leaves, and 1 cup of water to a boil. Lay the rack with the fillets in the pot, cover, and steam the fish for 9 to 10 minutes. Gently transfer the steamed halibut fillets to a plate and cover with a domed lid to keep warm. Repeat the process 2 more times to cook the remaining fish fillets.
Serve the steamed halibut on individual plates with Greek salsa on top or on the side. Garnish with the ribbons of basil. Serves 6.