Smile Makeover
Aug 31, 2010 11:01AM ● By Style
Photos by Dante Fontana. Before & After photos courtesy of Dr. Lopes.
Agreat healthy smile makes a wonderful first impression, but even more importantly a healthy mouth and bite is not something to take for granted. Healthy teeth and gums are key to a healthy body.
Appearance is not the sole factor at stake in dental care; there are many complicated conditions that become prominent as we age. Those who grew up in the Baby Boomer era did not have the advantage of today's dental technology, nor the money to access even basic, quality dental care for that matter. Not keeping up with proper dental care, like many Boomers will admit, can result in serious overall health problems. And, it goes without saying that the pain one can experience from botched dental work, or none at all, can carry over into your personal and business relationships. Living with constant fear of losing an amalgam filling, or breaking a tooth by simply eating lunch with a colleague or perspective client can overwhelm many with constant anxiety.
Terry Carroll had bad teeth. Most of us have a few fillings and maybe a couple of crowns, but his mouth was a total mess. "When I was a kid you just didn't go to the dentist unless it was a real emergency," he recalls. In Terry's case, his family's socio-economic status simply did not allow for the luxury of dental care. "Tooth pain was the only signal for a trip to the dentist – no pain, no dentist." Like so many people who grew up in the days before dental insurance, Terry grew up with impacted and crooked teeth and gums that were in poor condition. "I was literally afraid to smile in public. In business settings, I did not want to show my teeth to colleagues." He also struggled with eating certain foods, painfully afraid his fragile teeth and temporary caps might break, which they did from time to time.
Terry's primary dentist, Dr. David Lopes of El Dorado Hills shares, "Terry was dealing with challenges presented by genetics as well as by neglect. The first step, however, no matter what the problems faced, is a consultation. That is where we create the roadmap from where the patient is to where he or she wants to end up. Too often that step is neglected, and then it is really easy to get lost on the way."
Some of the issues that Terry's mouth was facing included: Tooth decay, missing molars, periodontal disease, infection potential, upper jaw collapse, severe overbite, and an overall unappealing aesthetic look. Overall, his mouth had become a hodge-podge of mediocre-at-best dental work done my numerous different dentists as a result of moving around so much as a kid.
As a busy adult, Terry did not want to spend a long time in braces or have a long recovery time from intense surgery, says Dr. Lopes. The magnitude of work needed to repair Terry's smile was extensive. "He had a good deal of restorative and cosmetic work to be done, so we brought on Dr. Voltaire Sambajon, a first class oral surgeon in Folsom, who did the deeper surgical work that he needed," Dr. Lopes says. The repair of Terry's jaw was the biggest single phase of his repair procedure. His two lower right molars were gone from extraction in previous years, which allowed his upper jaw to collapse into the space where teeth should have been. This is where Dr. Lopes and Sambajon consulted and agreed what profile the upper jaw would need. Dr. Sambajon performed the reconstructive surgery on an outpatient basis. Understandably, there was some recovery time before further repairs were made.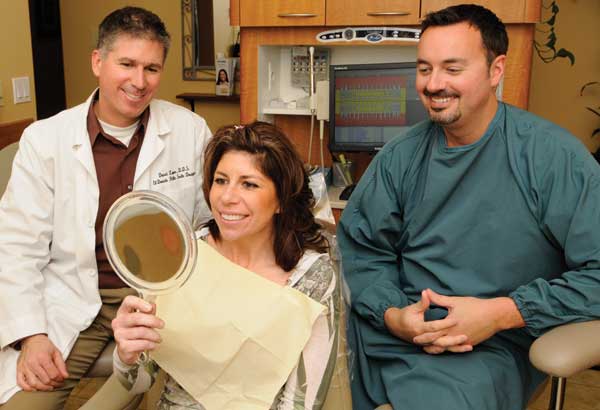 "When we deal with things like an apicoectomy, where an infection has gone from the root canal into the jaw bone, there is nothing that we can do to make it a pleasant experience. What we can do is provide the patient with a warm and positive environment to come into, and we use our technology and experience to make sure that the surgery goes smoothly," says Dr. Sambajon.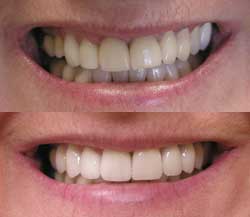 After the removal of decayed teeth and repair of roots, jaw adjustment (as mentioned previously), and infections were addressed, Dr. Lopes then moved on to tackle the cosmetic side of Terry's makeover. At this point, he prepared Terry's existing teeth for temporaries, which Dr. Lopes calls the "test drive" for the final work. He emphatically states, "You cannot skimp on this, because this is where we see if everything fits together properly, if it is comfortable, and if it looks the way we want it."
After this temporary period, Terry's mouth was ready for the placement of implants by Dr. Sambajon to replace his lost molars. Dr. Lopes continued the work by creating the temporary crowns to go over top these implanted stubs. After all the kinks were worked out with the temporary installation, Dr. Lopes created the permanent crowns and bridges, which resulted in Terry's brilliant and brand new smile.
Reconstructive dentistry involves an enormous commitment, but the return is a gleaming confident smile. "The biggest thrill I get from my work is to see the effect a new smile can have on a patient!" Dr. Lopes says. Terry will attest to that. He went from having a smile that caused him embarrassment and pain to a movie-star smile that afforded him no daily restrictions. "It really changes your personality, frankly it changed my life! You go from being afraid to smile in public to wandering around with a grin on your face. After 30 years, the profound freedom I have now is indescribable and I have Dr. Lopes and the team he assembled to thank for it"
---
Seven Most Common Elective Dental Procedures
By Dr. David Lopes, D.D.S.
Whitening – Teeth whitening is an easy way to brighten a smile. Habits such as smoking and drinking of beverages like coffee and red wine will eventually darken even well cared for teeth. You and your dentist select from numerous samples that your dentist has on hand, and you carefully match the tone of whiteness to the natural color of the enamel of your other teeth. Professional whitening using laser techniques can brighten your teeth to a beautiful yet natural tone quickly and painlessly.
Orthodontics (Invisalign or conventional) – Crooked teeth can ruin a beautiful smile. Orthodontics is a big commitment that can take many months or years to complete, so be sure you are in full agreement with your orthodontist before you start. Have your doctor explain the full procedure to you from beginning through completion. The techniques used for adults are very effective and with modern Invisalign braces, you can have your adjustment done subtly.
Veneers – Composite and porcelain veneers can cover worn tooth enamel, compensate for uneven tooth alignment and disguise damaged teeth. They may be used to compensate for oddly spaced teeth or to repair teeth in circumstances where fillings and whitening will not work. Veneers create beautiful, white and even teeth where dark and uneven teeth were before.
Replacement of Old, Less Aesthetically Pleasing Dentistry – Dentistry has come a long way in the past few decades, yet many of us still have old dental work. Old dental work not only looks bad, but it loses its functionality. Teeth are living structures, shifting and changing through the years. Fillings, crowns and bridges come loose and require refitting or replacement. Fillings or crowns that are discolored or poorly done may be removed and replaced with more modern, better-looking substitutes. A single bad looking crown on a front tooth can ruin a great smile – a simple replacement can save it.
Gum Surgery – Periodontal plastic surgery is an option to correct a "gummy" smile, an uneven gum line resultant of short teeth or receding gums (long teeth), lost or collapsed gums due to missing teeth, "black holes" between your teeth, crowns, bridges or implants. Concerns that lead one to contemplate gum surgery have cosmetic benefits, but the concerns are often functional as well.
Bonding – Cosmetic dental bonding is a procedure by which a composite resin is placed in the teeth, front and back, in order to re-form them completely in color and shape, building for you a perfect Hollywood smile. Bonding is an extreme of modern dentistry, making it possible for anyone to have gorgeous teeth.
Implants – Using dental implants, modern dentists can replace damaged or lost teeth in a completely natural manner. Using titanium in the root structure, the bone of the jaw actually grows around it and holds it in place firmly and permanently. By employing implants, there are no bridges covering parts of the mouth – they look and feel completely natural.
---
RESOURCES
David Lopes Dentistry
David Lopes, D.D.S.
916-933-4646
davidlopesdentistry.com
Voltaire Sambajon, D.D.S., M.D.
916-817-8000
---
WANT TO EXPLORE A NEW SMILE FOR YOURSELF?
FIND THESE RESOURCES IN OUR AREA:
Above the Gate Dentistry
Jeffrey Davidson, D.D.S.
Bryan Tuttle, D.D.S.
916-933-2848
abovethegate.com
Aloha Family Dental
Wayne K. Tsutsuse, D.D.S.
916-941-2447
alohadentaledh.com
Apex Dental
Purvi Shah, D.D.S.
916-817-8900
apexdentalfolsom.com
Bidwell Dental
Nam V. Le, D.D.S.
916-983-2800
bidwelldental.com
Blue Ravine Dental Group
Babak Djifroudi, D.D.S.
916-404-3200
Cosmetic & Implant Dentristy
Steve Longoria, D.D.S.
916-983-2900
stevelongoria.com
Cosmetic Dental Studio
Jonah Tabrizi, D.D.S.
916-984-5552
cosmeticdentalstudio.org
Creekside Dentistry
Hamid Nasr, D.D.S.
916-983-8777
creeksidedentristy.com
David McIntire, D.D.S.
Oral & Maxillofacial Surgery
530-622-4800
placervilleoralsurgey.com
DiMariano Family Dentistry
Jeff DiMariano, D.D.S. and
Shaina DiMariano, D.D.S.
916-983-6655
myfolsomdentist.com
El Dorado Hills Cosmetic & Implant Dentistry
Jared W. Ruminson, D.D.S.
916-941-1515
drruminson.com
Folsom Dental Group
Yuly Vilderman, D.D.S. and
Jerry G. Castro, D.D.S
916-351-9808
folsomdentalgroup.com
Gateway Dental Group
916-984-9600
folsomdental.com
Golden Hills Family Dental
Steven R. Walls, D.M.D.
916-939-0889
goldenhillsfamilydental.net
Great Smiles Dentistry
Patrick Rufo, D.D.S.
916-933-3011
greatsmilesdds.com
Green Valley Dental Group & Orthodontics
916-934-0207
greenvalleydg.com
Gregory Borrowdale, D.D.S.
916-983-1100
J.P. Henneberry, D.D.S.
916-608-9100
Folsomdentalhealth.com
L. Ted Brush Jr., D.D.S.
916-985-3366
Lakeside Dental
Kathy Keikhan Ebrahimi, D.D.S. and
Rocky Ebrahimi, D.M.D.
916-983-8870
ddsfolsom.com
Lynn S. Judd, D.D.S.
916-983-1999
drlynnjudd.com
Lyons Orthodontists
Tim Lyons, D.D.S.
916-933-8820
lyonsorthodontics.com
Mojtaba Radi, D.D.S.
916-985-3366
Marston Kin Sun Wong, D.D.S.
916-983-7800
Olson Family Practice
Jeffrey C. Olson, D.D.S.
916-983-3554
olsondentistry.com
One-2-One Dental
Pieter J. Linssen, D.D.S.
916-939-6679
Pieter J. Linssen, D.D.S.
916-939-6679
one2onedental.com
Richard L. Nakabayashi, D.D.S.
916-933-5100