Hog Wild Bar-B-Que & Catering
Aug 28, 2014 03:36PM ● By Style
Newsflash: There's excellent barbecue in Placerville and the foothills. Hi, my name's Sharon and I'll be your Captain Obvious today. It's inconceivable that you wouldn't already know about the delicious smoked meat situation up here, but on the off-chance that you are among the uninformed few, I'll happily continue visiting these fine establishments, such is my commitment to journalism. 
Hog Wild Bar-B-Que & Catering is one of Placerville's smoked-meat gems. The large, friendly locale lies directly off Highway 50 and specializes in Texas-style barbecue, which basically means "sauce on the side," because when it's cooked real good, you don't need the sauce.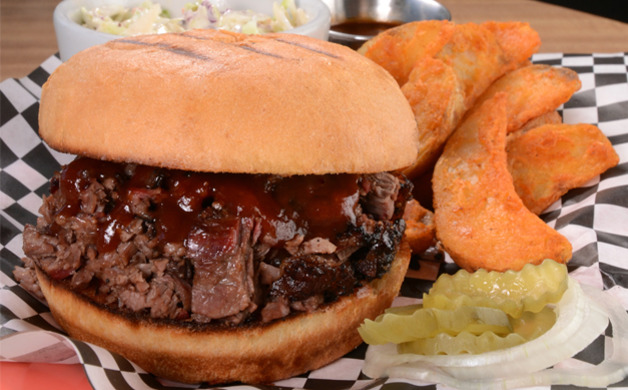 Hog Wild's staff is friendly and attentive, and the atmosphere is relaxed and welcoming, with fabulous photos of local classic cars covering the walls. (Confession: I may have been somewhat distracted by the World Cup match on the crystal-clear flat-screen TV right by our table.) 
Much as I wanted to order a plate of spareribs (oh, how I wanted to), I opted for the pulled pork sandwich with coleslaw on top, plus two sides: cornbread with honey butter and Texas fries with ranch. My husband ordered the chopped brisket sandwich with sides of coleslaw and Texas fries. 
The sandwiches arrived quickly and both were excellent. Served on soft, house-made rolls, the generous helpings of pulled pork and brisket were 'cued to perfection. I'm pretty picky about my cornbread, since I make my own from scratch, but Hog Wild was up to the challenge. I can report that it was both enormous and delicious. I'd be remiss not to mention the Texas fries (spicy potato wedges), which were fried to perfection and had a zesty kick. 
We ate more than our fill and left with dazed, greasy smiles. I've since heard talk of a delicious vanilla buttermilk pie, so it goes without saying that we will be returning to sample more of Hog Wild's fare…imminently!
---
Hog Wild Bar-B-Que & Catering, 38 Main Street, Placerville, 530-622-3883, hogwildbar-b-que.com.