Our Visit to Wildhawk Golf Club Included Beautiful Fairways and Greens, Birdies and an Ace
Aug 20, 2014 04:30PM ● By Brian Ostrovsky
A Look Back at the 18th Green at Wildhawk Golf Club
Wildhawk Golf Club
 is located in south Sacramento East of Hwy 99 and just west of newly widened Grant Line Rd. It's a fun and rolling golf course that is very inviting and with the quick shot down from Folsom made for a great weekday afternoon round.
We arrived at 
Wildhawk Golf Club
 in just minutes before our tee-time which, as a many golfers know, is common but not preferred. Given our tardiness, we were forced to hit a couple putts and then tee off getting warm as we played. The result turned out to be quite an interesting opening 9 holes -
more on that later
.
Wildhawk was my home course for a number of years when I lived down there so I was excited to share it with my golf buddies - Sam, Rob, and the newest addition to our foursome Steve - none of them had played there before. 
Paul Henderson,
Wildhawk's PGA General Manager
, let us know that they have been working on renovating many of the bunkers on the course to improve irrigation and playability with the addition of higher quality sand. Having invested well over $100k on the renovation the course is continually maturing and improving while the final touches to the course's bunkers are expected in the near future. For those bunkers under construction they played as "ground under repair" resulting in a free drop.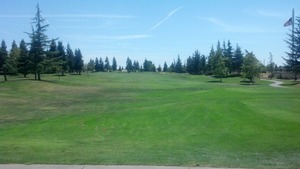 When you get to Wildhawk one of the first things you notice is how green the course is, even with our drought it's in great shape and looks lush. Henderson shared that the course is on a well not a meter which gives them greater flexibility though they've been proactive in reducing water usage. Water usage last year was down some 30% from 2012 and it's down again this year - they've been able to cut water use in some out-of-play areas and reduce the water used on the rough... though we didn't notice any dry patches or hardpan. They also employ a computerized weather station connected to their irrigation system to optimize usage which, Henderson shared, has "taken the guesswork out of 'how much water to put down.'"

Another interesting feature is the pace of play clocks that dot many of the tee boxes on the course. We were able to play without having to wait on the group in front of us a single time, in fact we almost never saw them and were able to play in a touch under 4 hours. Quite the treat. Henderson mentioned that for years Wildhawk was known for it's slow pace of play and as a result they've taken a number of measures to speed things up from installing the aforementioned clocks to lowering the rough 1/2 inch throughout the course - eliminating rough altogether on some holes, to creating a new set of combo tees for seniors and shorter hitters. They report most rounds are completed in under 4 1/2 hours.
As for our round, the only complaint we had was that some of the tee boxes weren't particularly level (we played the tips, Gold Tees at Wildhawk). Henderson mentioned that freshening the tee boxes were likely next on the to-do list after the bunker project is finished. The greens were consistent and rolled well which hasn't always been the case at courses we've played recently. We also noticed the wind pick up as the round got underway which clearly added a level of difficulty especially on #7, the 230 yard par-3 which played straight into a 10-15 mph wind.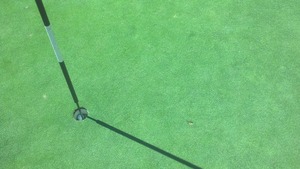 This round was particularly special for me, I got my first hole-in-one on the 4th hole. I'd very nearly holed out a couple times in recent rounds but close doesn't count in Golf. The 4th hole plays downhill and a little down wind, with the pin in the very back it played to about 165 yards, my 8-iron landed about a yard behind the pin and rolled slowly back until it dropped. Given the angle I wasn't sure it went in until I looked at Sam and Rob who went nuts, I wish I was able to get their look on camera though it's burned into my memory. Sam ran towards me looking to bowl me over so I jumped to avoid being tackled, as he lifted me he hugged me so hard I thought he broke a rib for a few seconds.
It was a pretty awesome experience for all of us... except Steve who was at the cart reading a work email and missed it completely.
This should be a lesson to everyone, don't check email when your playing partners are teeing off on a par-3.
The Ace was smack in the middle of a Double-Bogey, Bogey, Birdie, Ace, Birdie, Birdie, Double-Bogey stretch to open the round. I didn't make a par until the par-4 8th hole which kept me at even for the round. By far the oddest stretch I've had, meanwhile Sam was playing very consistently and despite three birdies and an Eagle I think I only beat him by a single stroke as we made the turn.
Sam and I tend to play very competitively with Handicaps at 6 or 7 while Rob and Steve are closer to 16-18. On a whole we have a great foursome and look forward to sharing our experience playing more courses with you in the future. You can
check rates and book your tee-time at Wildhawk here
.
Course Quick-Take
The Good
- Overall it's in great shape, very good pace of play, just a fun track that suites the eye
The Bad
- The bunker work mentioned above and the tee boxes - both of which are being addressed
Scoring Difficulty
(10 being hardest) - 6.5 out of 10, forgiving off the tee and not too long though wind can definitely increase the difficulty significantly.
Overall Rating
(10 being best) - 8 out of 10
Do you have a favorite course you think we should try or one you'd like to get our opinion on before visiting? Let us know in the comments.
---
Are you interested in having us play your course or visit your business to share our experience with our readers? Fill out the contact form on our
Get Featured
page.
Wildhawk Golf Club - August 2014 [13 Images]
Click Any Image To Expand