An Early Morning Round of Golf at Whitney Oaks Golf Club
Aug 05, 2014 08:05PM ● By Brian Ostrovsky
The Sun rising over the practice green at Whitney Oaks Golf Club
As part of 
a new initiative to highlight great local events, attractions, activities
 and such I decided a few weeks ago that it would be better if I joined a friend of mine for an early morning round of golf.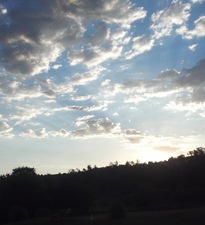 We got to 
Whitney Oaks Golf Club - Rocklin, CA
 a little after 6AM and it was a great way to watch the sunrise. I don't often get out early enough to watch the sunrise in the summer but this was a treat with light clouds overhead and with the course nestled in a rimmed valley it was a treat.
If you haven't played much golf in the Sacramento area then you've missed out on a lot of great courses and Whitney Oaks is no exception. In fact it's one of the most beautiful and challenging courses around due in part to the narrow fairways, the exposed granite rock outcroppings and a variety of oak trees throughout the course. 
There's also a fair amount of elevation change and rolling terrain which means you may find yourself in fairway with the ball above or below your feet. The course was in great shape which meant getting roll on the fairway when you hit it solid and the greens were receptive and smooth - the only exception were a few greens which were recently aerated though I'm sure they've grown out by now.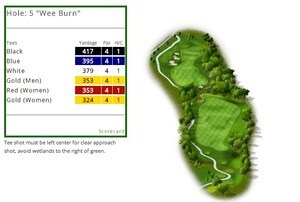 The course measures in at just under 6800 yards from the tips though it plays a good deal longer. Number 5 for instance, the #1 handicap, doesn't have room to hit driver however you're then left with a very long approach - potentially over 200yds.
Many of the tee shots are risk reward, blind or semi-blind and I found myself uncomfortable knowing exactly how far or where to best place my ball to give myself a shot at the green. They included a yardage book which was helpful though having another couple rounds under my belt there would be indispensable as far as scoring goes.
Sam and I are single digit handicappers and he grinded out a round in a high 70's while I did not... It's a course that I include on my list of very tough but very fair courses in the region. It has a great putting and chipping are, a beautiful clubhouse that hosts events - Sam mentioned he'd been at 3 weddings there - and very friendly and engaging staff. Even at 6:30AM they were joking around about the Giants game the night before.
Whitney Oaks Golf Course is a Johnny Miller design.
---
Are you interested in having us experience your business or service and share it with our readers? Learn more about what we're looking for on our 
Get Featured
 page.
Whitney Oaks Golf Club - July 2014 Round [12 Images]
Click Any Image To Expand