Pinto Thai Bistro
Aug 01, 2014 04:20PM ● By Style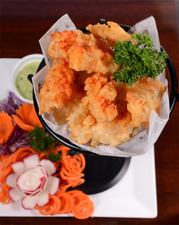 Pinto Thai Bistro has only been open for a few months, but I think—and hope—it's here to stay. I recently visited with a friend and the eatery exceeded my expectations.
At the suggestion of our kind server, we started with the fried calamari; for entrées, I ordered the green curry while my friend opted for the red curry—with two sides of white rice to sop up the saucy goodness. The beautifully displayed calamari arrived in a timely manner and proved to be an exquisite appetizer. For how thick they cut the squid, the meat was extremely tender, while the batter was light with just enough crunch. Dipped into the accompanying sweet green "house" sauce made for an amazing combination.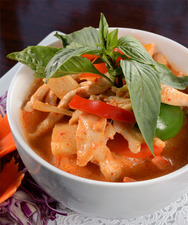 My green curry was one of the best I've experienced. Even though the flavors of the aromatic curry paste, coconut milk, eggplant and red bell peppers were stewed together, I was still able to taste the distinct flavors of each fresh ingredient. I tried my friend's red curry—which he couldn't stop raving about—and it was equally thoughtfully prepared. Although comfortably full from our entrées, we couldn't leave without trying the FBI (fried banana with ice cream and honey). After one bite, I was convinced that Pinto Thai could do no wrong. Six perfectly fried plantains sat elegantly on the plate, while two scoops of chocolate ice cream took center stage. Simple and unique, it was the sweetest ending ever.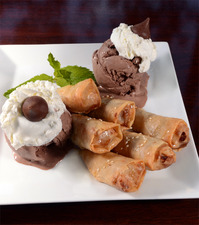 It wasn't until the check came that I noticed how tasteful the décor was: the walls exuded somber greens and yellows with small chandeliers hanging here and there, and large, beautiful murals of Bangkok dotted the interior. From small nuances of design to specific ingredients, Pinto puts plenty of thought into the details and doesn't cut corners when it comes to feasting.
---
Pinto Thai Bistro, 9700 Fairway Drive, Roseville, 916-780-1500, pintothairoseville.com.