Design on a Dime
Aug 01, 2014 02:20PM ● By Kerrie Kelly
Heaps of interior style doesn't necessarily require wads of cash. With a few thoughtful designer tips, you can gain oodles of house pride—even on a tight budget. Whether your hot button is all about keeping money in the bank or geared toward creative solutions, designing home details while saving money can be rewarding. However, being a luxe-for-less designer does require a special set of skills, which is where these tips pay off. From shopping for your own space to finding amazing lighting or repurposing found items, these tricks are guaranteed to help.
1/ LET THERE BE LIGHT
Does that dated fluorescent light-box have you feeling less than chic and savvy in your kitchen? Thankfully, you have the electrical junction box to connect a design-driven fixture instead. Whether you use a surface-mounted version or a sparkling chandelier, your kitchen space will go from drab to fab in just a few minutes.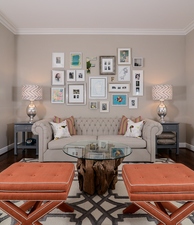 2/ PLAY OUTSIDE OF THE BOX
Acquaint yourself with designer tricks—like painting interior doors black (instead of standard white) and adding architectural molding to less-than-lively spaces—and you'll be on your way to creating a rich-looking space without spending a lot of dough.
3/ PUMP UP THE DETAILS
Sometimes a small detail, like an extra-large overstuffed throw pillow, can make your entire space feel more luxurious—even if your sofa isn't top of the line. By using a down and feather 22-inch insert in a 20-inch pillow cover, you can achieve a plush, luxurious look for little money.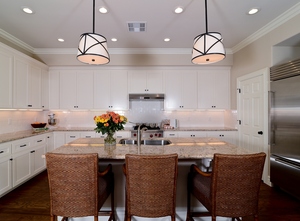 4/ SHOP WHAT YOU GOT
"Sourcing" furniture and accessories within your own space is the best and cheapest way to decorate on a budget. Shifting old furniture to a different room or using it in a fresh way, like repurposing an old cart as a side table, can deliver amazing results without spending a dime. 
5/ LEVERAGE PAINT AND HARDWARE
Kitchen and other room remodels are infamously expensive, but savvy homeowners can slash costs with a bit of creativity. Work with what you have by painting cabinets and updating hardware to give your existing space a lift; or, consider painting doors or appliances with chalkboard paint for a truly interactive experience.
6/ MAKE OVER YOUR FURNITURE
Once you get a few techniques down—like staining, painting and re-covering—you can restore almost anything. Try painting a small piece of furniture with milk paint or get a staple gun and re-cover a dining seat cushion with fresh patterned fabric.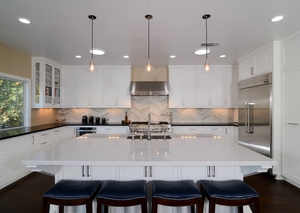 7/ UPDATE FOR FREE
Looking for new artwork? Frame pages from a damaged book or old calendar, or repurpose a colorful wall covering or wrapping paper as art. Revamp your living room by color -coding your bookshelves and covering your sofa with a pretty throw. Something as simple as white coffee mugs can be put to use as flower vases to spruce up your space.
8/ KEEP IT SIMPLE
Instead of always thinking about the list of things to change, fix and decorate around the house, wouldn't it be refreshing to just enjoy your home? You can. Put on a playlist, pour yourself a beverage and keep the things you love while editing out those that have zero meaning to you. You'll be celebrating your space and the activities you enjoy doing there in no time!
---
Kerrie L. Kelly is an award-winning interior designer, author and multimedia consultant. She has authored two books: 'Home Décor: A Sunset Design Guide,' published by Oxmoor House, and the newly released 'My Interior Design Kit,' with Pearson Professional and Career Education. To contact her, visit kerriekelly.com or call 916-919-3023.