Meet Nicholas Fonseca
Jul 01, 2014 03:51PM ● By Style
Photos by Dante Fontana © Style Media Group
After six years in the U.S. Navy and a variety of managerial jobs, Nicholas Fonseca finally got the opportunity he'd been waiting for. "My father called me up, and told me to get down here and get involved," he recalls with a laugh. When he arrived at the Shingle Springs Rancheria in 1997, he was surprised to find the land had only minimal infrastructure, with many of the tribe living in poverty. Fonseca soon joined in the effort to improve conditions, and looking back over three decades later, he couldn't be prouder of what he and the other members of his tribe have been able to accomplish.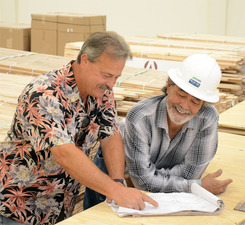 Since being elected chairman in 2001, Fonseca and the Tribal Council have worked hard to promote economic growth on tribal lands. For years, the Rancheria lacked access to any public roads, but after a long battle to approve the construction of the Red Hawk Parkway overpass, Red Hawk Casino finally opened in December of 2008. It is now one of the largest employers in the region, providing much-needed income to fund tribal health care, education and welfare programs. It's also a family business: Fonseca's four adult daughters work for the tribe, and he is passionate about the community spirit of the place he calls home. "Everything the tribe does is a team effort," he shares.
---
For more about 
Nicholas Fonseca and other local happenings and information, be sure to pick up this month's copy of Style –
El Dorado County Foothills edition.