Goings on in the Folsom & El Dorado Hills areas
Jul 01, 2014 03:50PM ● By Style
Through July 23, check out the recurring Wednesday Night MTB Race. The eight-, 12- and 16-mile races take bikers through Folsom Lake State Park and benefit Dollars for Dee, a fund organized for local athlete Dee Larsen and her battle with cancer. For more info, visit totalbodyfitness.com.
Start working on your poker face! Stone's Gambling Hall will open July 11 in Citrus Heights (6508/6510 Antelope Road) and feature two state-of-the-art card rooms and the swanky Sammy's Restaurant and Bar. For more info, visit stonesgamblinghall.com.
The region's 20th annual Spare The Air season, coordinated by the Sacramento Metropolitan Air Quality Management Districts (AQMD), has started! Districts ask residents to take action when they hear a "Spare The Air alert" by cutting back on driving by at least one trip, carpooling, taking public transit or riding a bike. For more info, visit sparetheair.com.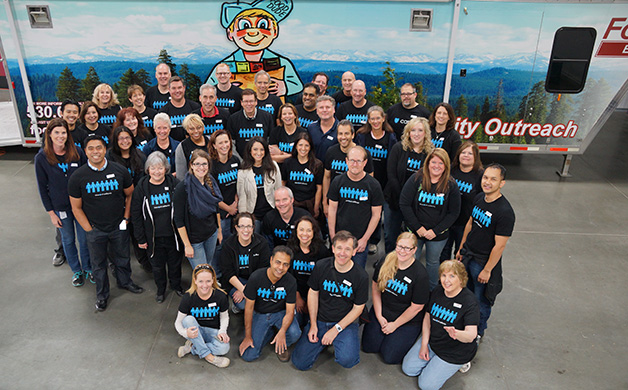 Blue Shield of El Dorado Hills' IT Shared Services division offered its community "Day of Giving" services to benefit the Food Bank of El Dorado County. On May 20, approximately 50 volunteers sorted and bagged food for three hours, and in the days leading up to the Day of Giving, Blue Shield brought in 230 pounds of food for the county's at-risk population.
Save the date! Author Malcolm Brooks, who grew up in the Sierra foothills, is returning to the region on August 11 to sign his first novel, Painted Horses, at Face in a Book in El Dorado Hills at 6:30 p.m. For more info, visit getyourfaceinabook.com.
Folsom-based mobile marketing company and creators of the mobile application Apptology was recently named a "2014 Small Business of the Year Finalist" by Assemblyman Dr. Richard Pan (ninth assembly district) and the California Small Business Association. For more info on the company's comprehensive suite of iPhone, iPad and Android app development solutions, visit apptology.com.
For those who want to encourage reading to their children (ages 2-6) over the summer, stop by the Folsom Public Library for "Summer Storytime," held Tuesdays at 10 a.m. and 11 a.m.; Wednesdays, Fridays and Saturdays at 10:30 a.m.; and Thursdays at 1 p.m. Each program is approximately 30 minutes. Also at the library, ages 5 and up won't want to miss Animal Crafts for Kids on July 9 at 2 p.m. (Library Meeting Room) or Puppet Art Theater's presentation of The Boy Who Cried Wolf on July 17 at 1 p.m. (Community Center). For more info on these events and others, visit folsom.ca.us/depts/library_services.
Construction is wrapping up on a new luxury retirement community in Folsom (1574 Creekside Drive). Oakmont of Folsom will provide exceptional quality, comfort and care with five-star services and amenities, and offer assisted living and memory care services. The center is slated to open this summer and is currently taking reservations. For more info, visit oakmontoffolsom.com.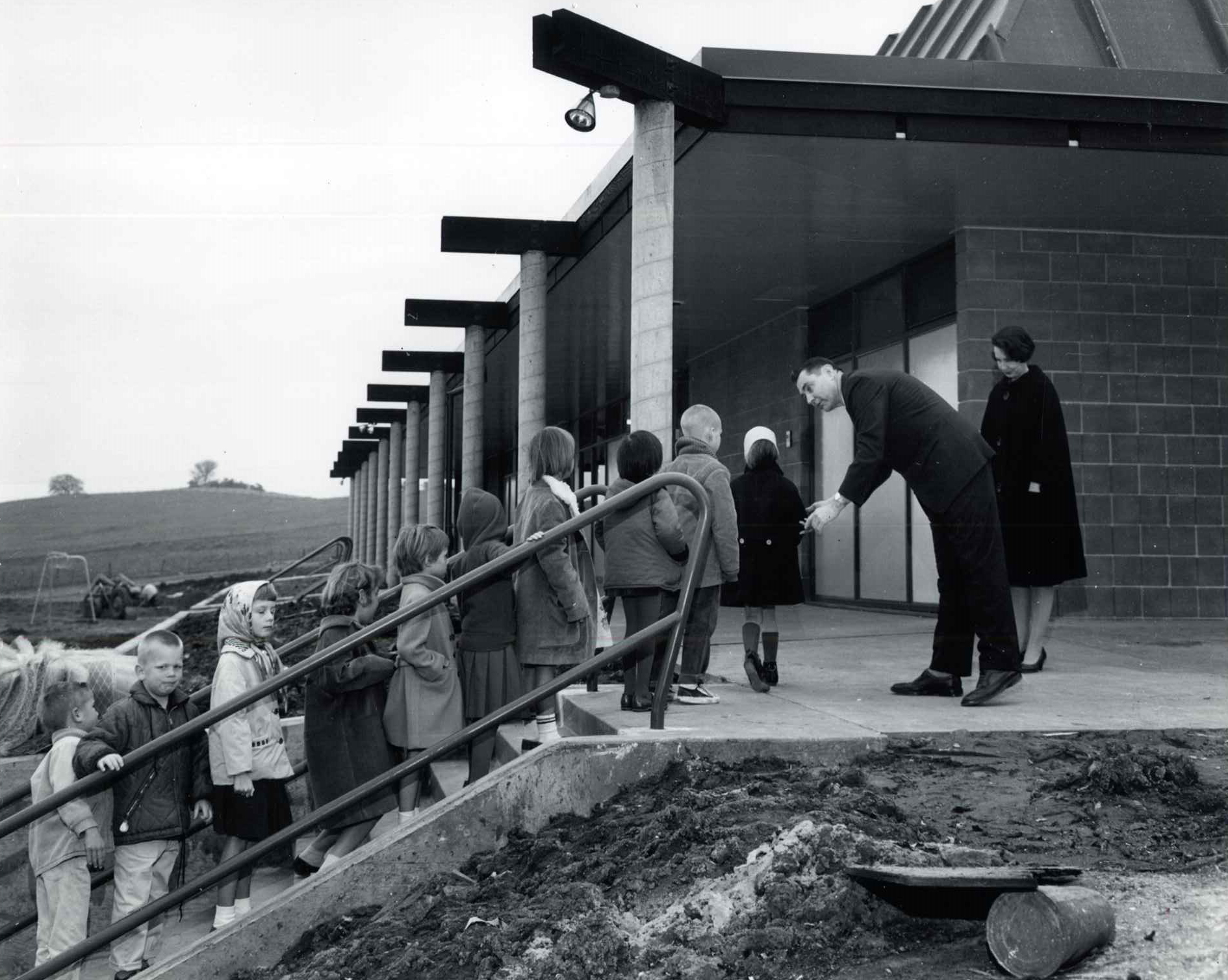 A group of the first arrivals are greeted by John Taylor, principal at Park Village Elementary on opening morning.  Behind Taylor is Mrs. K. Abbott, one of the school's teachers.
This year marks the 50th anniversary of El Dorado Hills' first elementary school, William Brooks Elementary School (formerly Park Village Elementary). Fifty years ago, the school consisted of one building with no walls seperating the classes; now the school is home to 479 students and multiple structures.
The Folsom History Museum presents A Bundle of Joy, their annual vintage quilt and clothing exhibit. Through August 31 (Tuesday to Sunday) at 823 Sutter Street, peruse antique children's quilts and vintage crib quilts featuring whimsical designs, full-size anniversary and wedding quilts, plus Victorian-era christening gowns, hand-sewn children's clothing and more. For exhibit hours, visit folsomhistorymuseum.org.
The Interact Club of Folsom Lake High School is holding a Hygiene Drive for Project 680, a local grassroots campaign that helps the 680 documented homeless high school students in the Folsom-Cordova Unified School District. Items needed include laundry detergent, sponges, dish soap and fabric softener. Donations can be dropped off at the Folsom Chamber of Commerce (200 Wool Street). For more info, visit project680.org.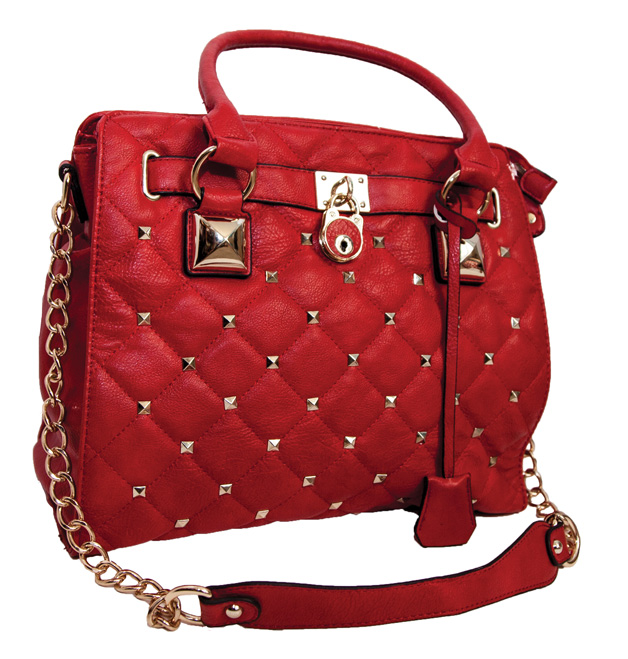 Attention fashionistas! The Bag Lady, which features stylish, unique and quality bags, recently relocated her store around the corner to 627 Sutter Street in Folsom.
Give yourself and your family a rewarding cultural experience by hosting a high school exchange student through Terra Lingua USA. Any age and family combination can host (after a simple application process and background check). Students will attend your local high school and join your family in everyday activities—all you need to provide is room/board and treat them as part of the family. Interested families should call Tené at 916-293-9479…Congrats to the winners of the El Dorado County Fair Homemade Wine Competition! Jeff Runquist Wines won "Best of Show Red" for their 2012 Petit Verdot; Terra d'Oro Winery won "Best of Show White" for their 2013 Chenin Blanc-Viognier Blend; and Findleton Estate won "Best Rhone," "Best Barbera" and the El Dorado County Grape Growers Award. To view the full list of winners, visit eldoradocountyfair.org.
---
That's all for now but check back next month for Style's annual People & Their Pets feature.
— Compiled by Gabriel Stubbs