Office Space
Jul 01, 2014 02:59PM ● By Style
Photo courtesy of Nicolas Wray Photography.
A well-designed office can provide a space that encourages productivity, not to mention comfort and creativity. Some experts have said that there are only two essentials for a functional office: a comfortable chair and a door that closes. For most people, however, there are likely to be a few more requirements.
BACK TO BASICS
Basic elements of designing a room include smart space planning, adequate lighting and sufficient storage. When thinking of the office, also consider functionality and inspirational comfort. Start with your work surface and then move down to the flooring and comfort underfoot.
If you find you do a lot of standing while working or your office is a high traffic area, consider investing in an area rug, which provides the most warmth and comfort of any floor covering. As an added benefit, area rugs provide a noise-dampening effect in busy office spaces. It also doesn't show dust like hard surfaces. Today's technologies have created an even greater variety of textures, colors and cuts.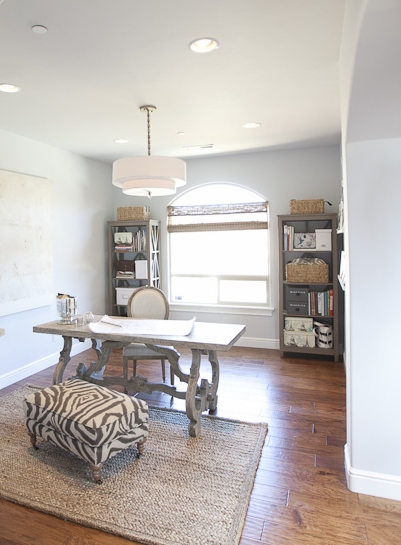 AREA RUGS AND THE OPTIONS
Neutral Naturals
Affordable and stylish, sisal and other natural-fiber area rugs, such as jute and hemp, are very versatile, giving office spaces a more relaxed, organic feel. They can provide a great "anchoring" foundation to the more traditional furnishings and instantly make a space feel more approachable. Working well with both casual and modern furnishings, sisal and jute are surprisingly soft and textural underfoot; they aren't the best rugs for high-traffic areas such as entryways, however, as the sisal can splinter over time. (The flatter the weave, the less likely this is to happen.)
Simply Solid
Stain-resistant finishes mean easy care and less worry. Solid colors are always a safe choice and can add a pop of color if you select from the brighter palettes. Select a neutral area rug and—while they will provide softness underfoot—they won't stand out visually within your office scene.
Get Graphic
Patterned area rugs will have an immediate impact when you enter a room. If the pattern is too busy though, it will be difficult to decorate around. That being said, a beautiful area rug can be the focal point of any room.
Need To Know
Low-pile and flat-weave carpets provide fewer "hiding spaces" for dirt and are more easily spot cleaned, but they require a twice-yearly old-fashioned rug beating to remove accumulated dust.
Many can be dry cleaned in lieu of being cleaned by a professional.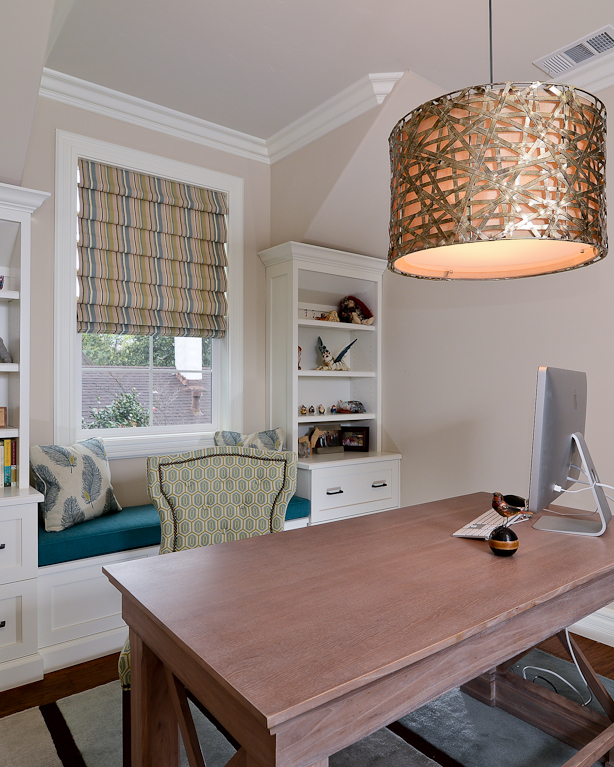 A typical area rug is designed to cover large portions of the floor while still allowing part of it to show; such rugs make a room feel cozy, especially over concrete, tile or stone floors. Area rugs can be the centerpiece of a room, used to define one specific area within a room, or placed over an existing carpet to create added dimension. A well-chosen floor rug placed in the right spot with a basic rug pad underneath can enhance anything you dream up for your office space.
---
Kerrie L. Kelly is an award-winning interior designer, author and multimedia consultant. She has authored two books: 'Home Décor: A Sunset Design Guide,' published by Oxmoor House, and the newly released 'My Interior Design Kit,' with Pearson Professional and Career Education. To contact her, visit kerriekelly.com or call 916-919-3023.