For Men - Let's Shop - July 2014
Jun 30, 2014 03:51PM ● By Style
The Art of Cigars – Photo by Dante Fontana © Style Media Group
Cigars, Cigars and More Cigars:
Whether it's to celebrate a wedding or a new baby, cigars are one classic gift for the gents. Art of Cigars in El Dorado Hills is the place to go. The full-service cigar lounge features its own brand of hand-rolled cigars as well as premium brands. "We provide the only lounge in the area where you can smoke inside and enjoy a beer or glass of wine," explains owner Eric Stanion. Being unable to smoke cigars in his own house, Eric had noticed there was no place for cigar lovers to go to enjoy their smoke indoors. "With the cold, rainy winters and hot, hot summers, having to always smoke outside can be tough," he says. "What's more, there are just not many places where guys can go to enjoy a cigar and hang out with really great people in a non-stress, non-bar environment. Yes, we are the ultimate 'man cave'!" And with a 165-inch big-screen TV for watching sporting events and movies, Stanion is not exaggerating. He highly recommends the house-brand cigars, particularly the Cuban Round. "We have a torcedor (master roller), who is fantastic. We even have him come in and teach cigar-rolling classes on a regular basis. I'll put his cigars up against almost any premium brand we carry." For other gift ideas, Stanion says lighters and accessories are very popular, including the Alec Bradley Burner Lighter. Location: 2222 Francisco Drive, Suite 470, El Dorado Hills, 916-939-1855
//  ALSO CHECK OUT:
Cigarama Smokes at 6542 Pony Express Trail, Pollock Pines, 530-647-2554,
cigaramasmokes.com
; and Adam's Cigars at 4364 Town Center Boulevard, Suite 112, El Dorado Hills, 916-358-5674,
adamscigars.com
New Duds for Dad! 
Is it time for Dad to update his wardrobe? Time to visit Sierra Western Wear where the men's section has nearly tripled in size recently! "Don't be shy, guys," co-owner Bev says. "We've got plenty for you!" Co-owners Bev and Pat are bringing in more men's boots—Pecos Bill is a popular brand. Rock & Roll Cowboy provides a great line of denim and snap shirts and Panhandle Slim offers comfy sweatshirts for those chilly nights. Just head straight to the back of the store and you'll find the men's apparel. Location: 248 Main Street, Placerville, 530-647-2894,
sierrawesternwear.com
 //  ALSO CHECK OUT: 
The Clothes Mine at 60 Main Street, Suite 2, Sutter Creek, 209-267-0417,
theclothesmine.com
; and Lees' Feed and Western Store at 4110 Mother Lode Drive, Shingle Springs, 530-677-4891,
leesfeed.net
All in the Family
Combellack's truly is a family affair. Started in 1898 by William Hill Combellack and currently owned by Gayle and Janis Combellack (William's great grandchildren), the store sells everything for the modern man—from tuxedo rentals and Tommy Bahama to Woolrich and Kiche. The store's roots haven't been forgotten either; many of the original clothing lines carried (including Len and Pendleton) are still available, and customer service continues to be top-notch. Location: 339 Main Street, Placerville, 530-622-2582
//  ALSO CHECK OUT:
Arian's Supply Sergeant at 469 Main Street, Placerville, 530-622-3414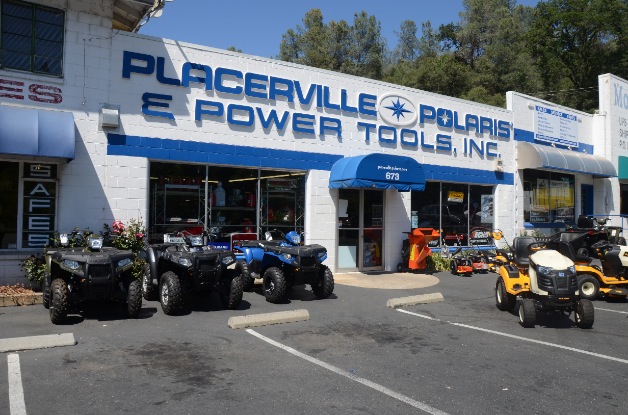 ATVs and Power Tools: 
Naturally, at Placerville Polaris & ATV Power Tools, the staff is knowledgeable about both ATVs and power tools. With top brands in lawn mowers, log splitters, hedge clippers and more, it's a one-stop shop for any man that works with his hands. Beyond the merchandise, Placerville Polaris can cover all of your repair and replacement needs, too. Location: 673 Placerville Drive, Placerville, 530-622-9079,
placervillepolaris.com
//  ALSO CHECK OUT:
  The Tool Depot at 3941 China Garden Road, Placerville, 530-622-4031; and Mike's Cycle at 291 Placerville Drive, Placerville, 530-622-0209,
mikeskawasaki.com