For Women - Let's Shop - July 2014
Jun 27, 2014 02:38PM ● By Style
Belle Mode bag, $149 at Belle Mode Consignment
DESIGNER LABELS FOR LESS: 
At
Belle Mode Consignment
, clothing items and accessories are in like-new condition and sold at an amazing 50-90 percent discount from retail prices. In addition to clothes, the store offers a large selection of designer handbags, shoes, boots and jewelry. Brands include INC, Coach, Banana Republic, Lucky and more. "We guarantee everything we sell is authentic," owner Nancy D. says. "You won't find any knock-offs at Belle Mode!" Belle Mode Consignment is also the only consignment store in Folsom to carry plus sizes.
Location: 1012 East Bidwell Street, Suite 500, Folsom, 916-983-5330
//  ALSO CHECK OUT:
ReLoveIt Consignments
at 1300 East Bidwell Street, Suite 135, Folsom, 916-984-6500; and
Freestyle Clothing Exchange
at 850 East Bidwell Street, Folsom, 916-985-3733
---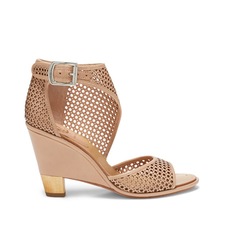 Shoes, Shoes and More Shoes:
If you've been scouring this list to find the go-to place for shoes, well, you're in luck: Bella Talloni is going to be your shoe heaven! Stocked with boots, heels, flip-flops, flats, sandals, slippers, designer brands and anything else your feet could dream up,
Bella Talloni
will have you thinking, 'Omg! Shoes!" The store also offers gorgeous handbags, jewelry, and other accessories. Location: 1010 White Rock Road, Suite 300, El Dorado Hills, 916-933-6800
//  ALSO CHECK OUT: 
Button Up Boutique
at 330 Palladio Parkway, Suite 2017, 916-817-1882; and
Gold Country Run + Sport
at 4370 Town Center Boulevard, Suite 150, El Dorado Hills, 916-303-4786
---
A Perfect Pair of Jeans:
Kissed Good Buy
is a boutique carrying current fashions with a country edge, and has been open since March 2010. Lisa and Rene Musolino opened the store once their kids started getting older and they felt less of a need to be stay-at-home moms. "We both grew up listening to country music and loving fashion, so we infused those together to come up with Kissed Good Buy," Lisa says. Most of their styles and brands can't be found at other boutiques. "Although, lately, we see others carrying lines we brought to town, which is a compliment!" she says. The store regularly posts sales and discounts to its Facebook page, so check that for hot deals! Location: 900 East Bidwell Street, Suite 600, Folsom 916-983-5477
//  ALSO CHECK OUT: 
Runway Boutique
at 1000 White Rock Road, Suite 500, El Dorado Hills, 916-933-6300
---
Jade Jewelry and Asian Artifacts:
Former owners Ken and Irene Snyder would take two or three trips to Asia a year to handpick the items sold in Snyder's House of Jade, which they opened in 1976. They recently retired this past year, and their son Mark, who had been a partner in the business for 25 years, has taken over with his wife Becky. The store focuses on Asian artifacts, furniture and fine jewelry. "Our specialty is, of course, jade jewelry, but we are also known for our bronze statues and to a lesser degree, stone art work," Mark says. "Many customers come to see our furniture. The antique chests from China and Tibet are also very popular." Location: 709 Sutter Street, Folsom, 916-985-3269
//  ALSO CHECK OUT: 
Charmed by Victoria
at 419 Main Street, Placerville, 530-417-1866
---
Stunning Locally Made Jewelry: 
Jim Kelly opened Rainbow Bridge Jewelers on Sutter Street in 1978, and Dorothy Cormack joined the team in 1981. The store was opened as an outlet for Jim to showcase his new designs, but they also wanted a variety to their selections. "We expanded our inventory by buying the work of other artists including Holly Yashi and Tábra Tunoa," Dorothy says. "We are always looking for jewelry that reflects our artistic sensibilities. The quest to find new artists is challenging and exciting—and this entails a lot of travel. We're looking for and meeting new people from around the world that have managed to put together successful lives centered around their art." If you're looking for just one statement piece, Dorothy suggests the Rainbow Bridge charm with a bracelet or anklet chain. "This charm is a replica of the Rainbow Bridge built in Folsom in 1917, our namesake," she says. "It's a collaboration between Tabra and Jim and totally unique to our area." Other popular items are a pair of Holly Yashi earrings, a Tabra charm and chain, a Jim Kelly ring or a Firefly bracelet. Whatever your style, you'll find a gorgeous piece at
Rainbow Bridge Jewelers
. Location: 721 Sutter Street, Folsom, 916-985-7618