Budding Philanthropy
May 30, 2014 11:53AM ● By Style
Youth Volunteer Anisha Belgal and Sylvester - Photos by Menka Belgal
In fiction, teenage summers are one long beach party. In real life, they're usually a lot duller. The perfect solution? Volunteering!
Opportunities to help others in this region are plentiful, and the rewards can be great. Beyond fulfilling high school graduation requirements and dressing up college apps, volunteering enhances students' own personal qualities, including confidence, leadership skills and respect for others.
Young people can approach volunteering in two ways: by contacting an agency with a mission that appeals to them, or by initiating their own benevolent projects.
When coming up with ideas, get creative. With
TerraCycle
, for example, kids can turn their trash—traditionally non-recycled waste like drink pouches, chip bags and toothbrushes—into treasures (think recycled park benches and upcycled backpacks). Young ones who sing or play a musical instrument are warmly welcomed to perform for seniors in retirement homes. The residents love to be entertained, especially by youths. Or, have your child summon their friends together to pick up trash at neighborhood parks. Web-savvy teens could offer an invaluable service—and beef up their own resumes, too—by setting up a small charity's website.
Agencies that frequently use young volunteers include hospitals (check out Mercy General's Junior Volunteer program; must be 16 years old), Habitat for Humanity, United Way, the American Red Cross, Ronald McDonald House, animal shelters and zoos (such as the Folsom Zoo Sanctuary), food banks (try Twin Lakes Food Bank), libraries, Special Olympics and Goodwill Industries (their GoodGuide Youth program accepts volunteers ages 12-17). Kids who want to "encourage healthy living, nurture the environment and grow a sustainable community," can get their hands dirty at Soil Born Farms in Rancho Cordova.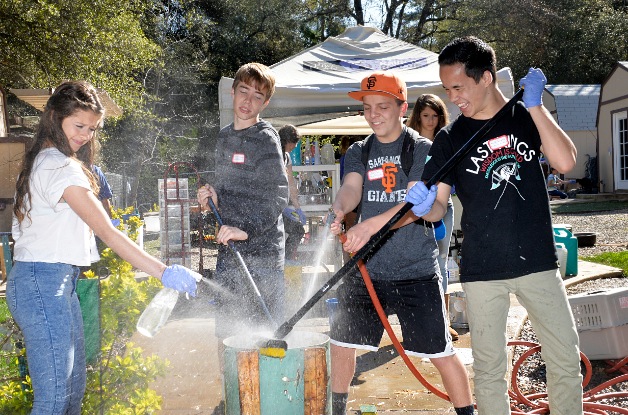 Cat-loving kids should check out Fat Kitty City, an El Dorado Hills-based animal sanctuary operated by the Agee Memorial Wildlife Fund. The all-volunteer nonprofit rescues and provides shelter and medical aid to abandoned or abused cats. Youth between 11-and-a-half and 18 years old are welcome to join the Youth Volunteer program (those under 11-and-a-half must be accompanied by a parent or guardian). Volunteers will assist with feedings; clean, sweep and mop the cats' outdoor houses and cabins; make fliers; and assist at adoption events. Those who don't want to work onsite could collect blankets for kitty bedding or donate supplies (scoopable kitty litter is at the top of the wish list). "We truly do rely on community support, especially the youth," says Youth Volunteer Coordinator Pam Smit. "Young people work hard," she adds, "but there's always time to stop and nuzzle a cat."
Young people of all ages are always welcome at retirement home Park Folsom, where the oldest resident is 100! Whether reading to residents, teaching and playing games with them, assisting with chores or serving cake at the monthly birthday celebrations, "The residents really enjoy having the kids," says Activities Director Renee Kerner. "They're wonderful."
Growing Together Family Literacy Summer Day Camp, a program put on by the Folsom Cordova Unified School District and held at four sites, welcomes students of the district (middle school or older) to help children in grades 1-6. "Counselors-in-training," as the volunteers are called, decide how much time they can give, and then sign an agreement (along with their parents). Youngsters can help with the free breakfast program, assist and lead activities and games, and may keep watch over the campers.