Gregory Kiefer
Apr 30, 2014 03:35PM ● By Style
Gregory Kiefer - Photo by Dante Fontana © Style Media Group
Gregory Kiefer, software engineering CEO by day and accomplished Native American flutist by night, is taking the music world by storm with his fresh take on this unique instrument.
AB:
How did you discover the Native American flute, and why did you choose it over a traditional flute?
GK:
Basically, I love the sound produced by the instrument and the shock on people's faces when you play it in a traditional and non-traditional manner. I also have great respect for Native Americans because they have a purpose, history and great depth to their native culture.
AB:
Was the Native American flute your first foray into musicianship?
GK:
I played classical music on the guitar for a few years in junior high school. It was painful. I have always loved listening to music from all around the world. When I get the chance to travel to foreign countries, I often seek out local music.
AB:
How do you approach composing your original pieces?  
GK:
Since music comes from the heart, it is frequently created based on how you feel about yourself and the events that occur in your life. Some songs are happy, some are sad, some are playful, and some are really weird. My goal was to create a new genre of music that hadn't been discovered. One of the challenges about creating new music is not everyone is willing to listen to it initially. I have a desire to combine instruments from around the world—sitar, doorbells, wind chimes, the xylophone and flute—that would not normally be considered complementary, and make new sounds and songs.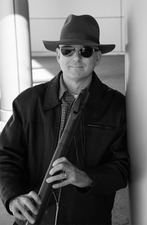 AB:
Who is your mentor or inspiration?
GK:
John DeBoer, the co-author on our album Many Worlds. He is a multi-talented composer and entertainer whose main instruments are flute and piano. DeBoer has been performing on stage and national television since he was four years old.
AB:
Do you have a new album in the works?
GK:
I'm planning to create three additional albums in the near future (in the next five years or so): blues, meditation, and experimental.
AB:
Which song means the most to you on your Many Worlds album?
GK:
Two—"A Minor Move," where DeBoer composed the song and let me play the flute along with him on keyboards, and "Steps in Space," where I was able to show off some of the more dynamic aspects of the Native American flute. The first album was written with a purpose. I dedicated it to a great man named Clyde Hoffman, my father-in-law.
AB:
D
o you have any upcoming performances? Where can the public hear more of your music?
GK:
My next performance is planned for Mother's Day at Rosebud's Café in Jackson. Later this year, I hope to perform for the kids again at the Crocker Art Museum. I also play three times a week at the El Dorado Hills Sports Club's yoga class.
For more information, visit
cdbaby.com/cd/gregorykiefer
or
facebook.com/manyworldsflutemusic
.