Meet Rich Pierucci
Apr 28, 2014 02:22PM ● By Amber Foster
Rich Pierucci – Photos by Dante Fontana © Style Media Gorup
"From early on, I had a desire to be successful in education," shares Roseville City School District Superintendent Rich Pierucci. He grew up in a family of educators: His father was a coach and an athletic director for over 30 years, and his uncle was an assistant superintendent. Pierucci's passion for team sports (he played football and baseball throughout high school and college) cultivated his desire to work in leadership positions. "I had a strong desire to be involved in a broader scope of things," Pierucci explains. "I wanted to be at the heart of where decisions [are] made."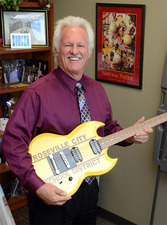 After college, Pierucci taught science and special education for eight years before shifting gears to the administrative side of education. He worked his way up the ranks before becoming superintendent in 1999. Since then, he's lead the charge to help the district successfully navigate though unprecedented growth in student population. All the while, Pierucci continued volunteering his time with the Rotary Club of Roseville and numerous other community organizations, including six years served on the board of the Child Abuse Prevention Fund (now KidsFirst).
Pierucci will retire from his role as superintendent in July, but he looks forward to spending more time with his wife, six children and two grandchildren. Even as this chapter in life ends, he isn't done making a difference. "I want to keep self-actualizing," Pierucci shares. "To grow as a person, and as a human being."
---
For more about Rich Pierucci and other local happenings and information, be sure to pick up this month's copy of Style – Roseville, Granite Bay, Rocklin edition.