Spring Eats
Apr 02, 2014 11:31AM ● By Style
CARROT POLENTA CAKE WITH MARSALA
It's time to let the season dictate what's for dinner. With so much available at local farms and farmers' markets, there's no excuse not try a delicious Chicory Salad with Anchovy Dressing followed by a nice slice of Carrot Polenta Cake with Marsala. Find these recipes below from this month's Taste featured cookbook,
The Glorious Vegetables of Italy
(Chronicle Books, 2013, $30).
CARROT POLENTA CAKE WITH MARSALA
Makes one 8-in cake; 6 to 8 servings
Have you ever experimented with a recipe that turned out so well that you can't quite believe you made it? This is that recipe. I made this simple cake on a brisk, cold day in January. As the cake baked, it filled the kitchen with the warm scent of Marsala and citrus, so that even before I tasted it, I had a feeling it would be more than the sum of its parts. This cake has a lovely, tender crumb thanks to the olive oil and grated carrots. It is a typical Italian home dessert, not at all fancy, and a good companion to an afternoon espresso—or hot tea, if that is your preference.
1⁄2 CUP EXTRA-VIRGIN OR LIGHT OLIVE OIL, PLUS MORE FOR THE PAN
1 CUP GRANULATED SUGAR
2 LARGE EGGS
1⁄2 CUP DRY MARSALA WINE
FINELY GRATED ZEST OF 1 LEMON
FINELY GRATED ZEST OF 1 ORANGE
1 1⁄4 CUPS UNBLEACHED ALL-PURPOSE FLOUR
1⁄2 CUP FINELY GROUND POLENTA
2 TSP. BAKING POWDER
3⁄4 TSP. FINE SEA SALT
PINCH OF FRESHLY GRATED NUTMEG
2 CUPS SHREDDED CARROTS (ABOUT 3 LARGE)
CONFECTIONERS' SUGAR FOR DUSTING
Heat the oven to 375 degrees. Lightly coat an 8-in square or round baking pan with olive oil and set aside.
In a large bowl, whisk together the olive oil, granulated sugar, eggs, Marsala, and the lemon and orange zests until well blended (the sugar will not completely dissolve).
In a separate medium bowl, whisk together the flour, polenta, baking powder, salt, and nutmeg. Pour the flour mixture into the egg mixture, whisking all the while to avoid lumps. Using a silicone spatula or wooden spoon, stir in the shredded carrots. Scrape the batter into the prepared baking pan.
Bake for 35 minutes, or until a cake tester inserted into the middle of the cake comes out clean. Transfer the pan to a rack to cool for 20 to 30 minutes. Remove the cake from the pan and set it on the rack to cool to room temperature.
Transfer the cake to a decorative platter. Dust the cake lightly with confectioners' sugar right before serving.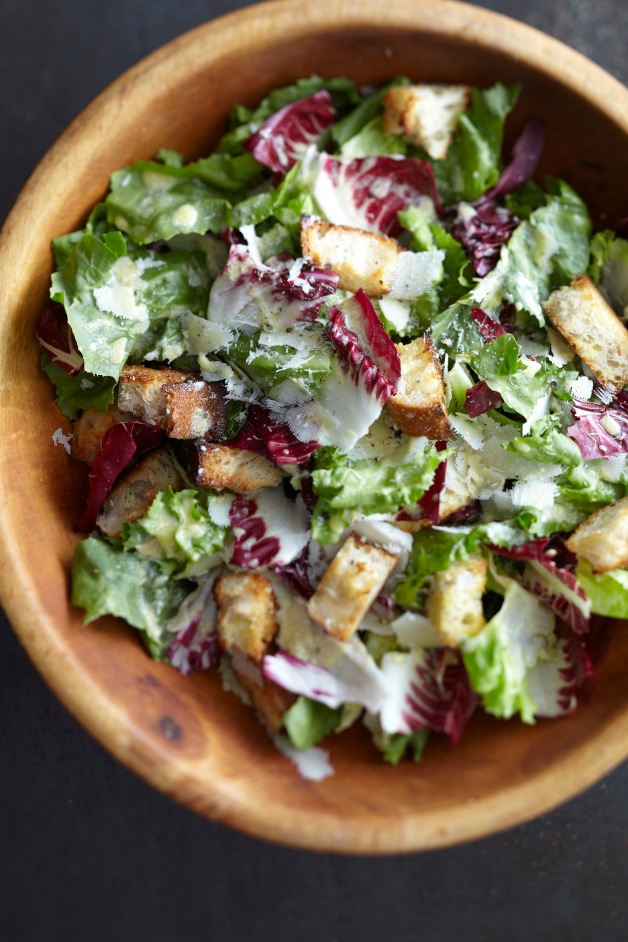 CHICORY SALAD WITH ANCHOVY DRESSING
Makes 6 to 8 servings.
Every now and then I like a salad with attitude. This one has it, with its mix of assertive, crunchy radicchio, pungent anchovy-lemon dressing, and crispy croutons. Serve it with a rich main course such as Vegetable-Stuffed Pasta Shells or Crêpe Cannelloni with Mushrooms and Zucchini.
1 TSP. FINE SEA SALT
1 GARLIC CLOVE, PRESSED
4 RIZZOLI-BRAND ALICI IN SALSA PICCANTE OR BEST-QUALITY IMPORTED ITALIAN OR SPANISH ANCHOVY FILLETS IN OLIVE OIL, COARSELY CHOPPED, PLUS 1 TBSP OF THE OIL
1 TBSP. SMOOTH DIJON MUSTARD
1 TBSP. MAYONNAISE
2 DASHES OF WORCESTERSHIRE SAUCE
JUICE OF 1 SMALL LEMON
1⁄3 TO 1⁄2 CUP EXTRA-VIRGIN OLIVE OIL
1 LARGE HEAD RADICCHIO DI CHIOGGIA (8 OZ.), TORN INTO LARGE PIECES
1 HEAD RADICCHIO DI CASTELFRANCO (8 OZ.), CURLY ENDIVE, OR FRISÉE, TORN INTO LARGE PIECES
1⁄2 CUP FRESHLY GRATED PARMIGIANO-REGGIANO CHEESE
2 CUPS BREAD CROUTONS (SEE COOK'S NOTE)
In a small bowl, mix together the salt and garlic to form a paste. Whisk in the anchovies and 1 tbsp of their oil, and then whisk in the mustard, mayonnaise, and Worcestershire sauce. Whisk in the lemon juice. Drizzle in the olive oil, whisking constantly, until the dressing is thick and emulsified.
Place the radicchios in a large bowl and toss together. Pour the dressing over and toss to combine. Sprinkle the cheese on top and toss again. Transfer the salad to a decorative bowl and top with the croutons. Serve immediately.
COOK'S NOTE:
To make bread croutons, spread 2 cups cubed Italian country bread on a rimmed baking sheet and drizzle 1 to 2 tbsp. extra-virgin olive oil over them. Toss well with a wooden spoon or spatula. Season with salt and freshly ground pepper, if you like, and toss again. Spread the bread cubes out in a single layer. Bake at 400°F for 15 to 20 minutes, or until they are evenly browned and crisp. Let cool before using.