Goings on in the Roseville, Granite Bay & Rocklin areas
Apr 01, 2014 04:34PM ● By Style
Fairytale Town
Compiled by Alyssa Wong
Happy 105th Birthday to Roseville! On April 2, 1909, Roseville officially became an incorporated city in California.
Antelope High School teacher, Daniel Flinn, recently published a book, Dancing with the Ants, about his experience teaching in Kenya. The book, available on amazon.com, also features artwork by local high school student Megan Sobieralski.
Don't miss the array of events at Fairytale Town this month, including the Sutter Children's Center Wellness Festival on April 5, Puppet Show: The Adventures of Sir Enamel on April 5-6, and a Spring Eggstravaganza on April 19-20. For more info, visit
fairytaletown.org/calendar
.
Congrats to Keenan Mayo, a 13-year-old Roseville resident who claimed a top-two finish at the United States Tennis Association playoffs in Florida and moved on to the Nike Junior International Teen Tennis Premier in England and Les Petit As tournament in France.
Soroptimist International of South Placer has teamed up with Working Women International to open 925 Boutique, a thrift store located at 216 Douglas Boulevard in Roseville to help women without work find employment; or for those with jobs, they assist with professional attire. For details about donating clothes and volunteering, visit
workingwomeninternational.org
.
April 26 is your last chance to check out the Earth from Space exhibit, which features large color reproductions of pictures taken by hi-tech satellites, at the Roseville Utility Exploration Center. For more info, visit
roseville.ca.us/explore
.
Congrats to Rocklin engineering firm Stantec Consulting Services for receiving the Honor Award from the American Council of Engineering Companies of California. The company was recognized for their project that eliminates groundwater pollution by using the largest solar dryer in North America.
Roseville resident Mark Gee will appear on the silver screen next year in the comedy Hollywood, Here We Come. Produced by Croatian actor Vjekoslav Katusin, the movie features Gee as the U.S. president. Gee has toured globally and regularly performs at Laughs Unlimited.
Rocklin will host a Community Clean Up Day on April 26 to dispose of items that weekly trash collectors don't take. A pick-up service is available for the elderly and disabled. Drop-off locations include Sierra College, City of Rocklin Corp Yard, and Lonetree Park from 8 a.m. to 3 p.m. For more info, visit
rocklin.ca.us
.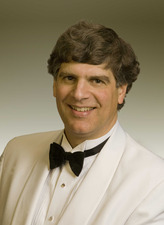 Auburn Symphony and Stockton Symphony conductor, Peter Jaffe, will be the new conductor for the Folsom Symphony following the March retirement of Michael Neumann. Jaffe has been conducting for the Auburn Symphony since 2012, has a music degree from Oberlin Conservatory of Music, and a doctorate and master's degree in conducting from Stanford University. For a list of upcoming symphony performances, visit
folsomsymphony.com
.
Ronald McDonald House Charities recently provided a $7,500 grant to Placer Food Bank's BackPack Program, which ensures children living in food insecure households are supplied with nutritious, easy-to-prepare food on weekends and holidays. For more info, visit
placerfoodbank.org
.
That's all for now, but check back next month for
Style
's annual
Student Spotlight
feature.