Dinner Date
Apr 01, 2014 10:04AM ● By Style
SPRING RISOTTO WITH GREEN AND WHITE ASPARAGUS
From The Glorious Vegetables of Italy by Domenica Marchetti
(Chronicle Books, 2013, $30)
8 oz. green asparagus
8 oz. white asparagus (peel off any tough outer skin)
3 tbsp. extra-virgin olive oil
Fine sea salt
Freshly ground black pepper
1 tbsp. unsalted butter
1 red spring onion, diced (including some of the green stem)
3 cups arborio, carnaroli or other short-grain rice
1⁄2 cup dry white wine
7 to 8 cups vegetable broth (visit stylemg.com for the recipe, or use high-quality commercial vegetable or chicken broth, heated to a simmer)
1⁄2 cup freshly grated Parmigiano-Reggiano cheese
1⁄2 cup shredded Sottocenere al Tartufo or Fontina Val D'Aosta cheese
1 tbsp. minced fresh flat-leaf parsley
Position the oven rack 4 inches below the broiler before preheating. Arrange the asparagus on a rimmed baking sheet to fit snugly in one layer. Drizzle 2 tablespoons of the olive oil and sprinkle a little salt and pepper over the top. Use your fingers to rotate the spears to coat with the oil and seasonings. Broil for about 4 minutes, until browned and just tender; check often to prevent the spears from burning. Remove asparagus from the oven and let cool slightly. Cut the spears crosswise into bite-size pieces and transfer to a bowl.
Heat the remaining 1 tablespoon of oil and the butter in a large, heavy-bottomed pot over medium-low heat. When the butter is melted and begins to sizzle, add the onion and cook, stirring frequently, for 7 minutes, or until softened and translucent. Stir in the rice and 1 teaspoon of salt and cook, while stirring, for 2 to 3 minutes, until the rice grains are shiny and glassy-looking. Raise the heat to medium-high and pour in the wine; let it bubble for a minute or so, until almost absorbed.
Reduce the heat to medium-low and begin to add the broth, a ladleful at a time, stirring frequently, until the liquid is almost absorbed. You do not need to stir the risotto constantly, but be sure to stir it often, making sure, the grains do not stick to the bottom of the pot. Continue to cook the risotto and add broth, one or two ladlefuls at a time, for 18-20 minutes, until the rice is almost but not completely cooked. It should be al dente—still rather firm and chalky at the center. Check by tasting a few grains. Gently stir in the asparagus and a little more broth. When the broth has been absorbed, stir in the cheeses and the parsley. Stir in a final ladleful of broth to achieve a creamy texture. The risotto should not be stiff or runny; it should mound softly on a spoon. Season with salt and pepper to taste. Spoon the risotto into shallow, rimmed bowls and serve immediately. Serves 6.
---
GREEN FLASH WEST COAST IPA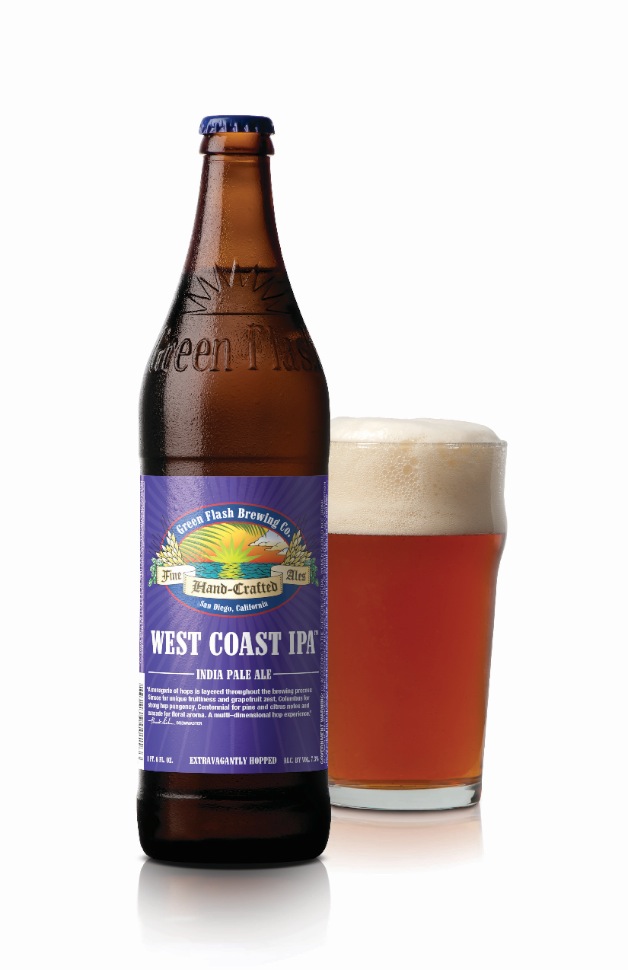 From the renowned Green Flash Brewing Company in San Diego—which specializes in making assertive, distinctive and cutting-edge beers—comes the West Coast India Pale Ale (IPA), an award-winning brew that's helped define the identity and characteristics of a true "West Coast IPA." Known for its hoppy characteristics, this particular IPA uses Cascade hops for the floral aroma, Centennial hops for the pine and citrus notes that are quintessential West Coast, and Columbus hops for a nice strong punch. At 7.3 percent alcohol by volume, this complex and delicious beer pairs well with any dish, including this month's Spring Risotto with Green and White Asparagus.