Paul Zappettini
Mar 26, 2014 05:28PM ● By Style
Photos by Dante Fontana – © Style Media Group
by Amber Foster
As a child, Paul Zappettini remembers watching his mother doing wh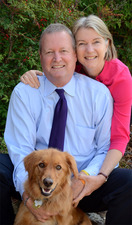 atever she could to help others, despite having six children of her own. "She led by example," he recalls. "She taught me the importance of giving back." Zappettini is now an attorney for a personal injury law firm in Sacramento, but he dedicates most of his free time to community outreach. He is currently president of Placerville Kiwanis and serving a two-year term as board president of the El Dorado Community Foundation, a group that raises funds in support of area nonprofits. Many of his family members (including his mother) are involved in the foundation—so much so that they created the Zappettini Family Fund. Zappettini's daughter, Gianna Zappettini, is a board member for the Sugarloaf Station Foundation. Each year, they help organize the Sugarloaf Summer Fine Arts Camp for children, of which his wife Erin Dealey is director of the drama department. The camp frequently subsidizes the tuition for children from underprivileged backgrounds.
For Zappettini, it's all about family—not just his own, but the larger family of El Dorado County residents. Although his daughter is now an adult, he remains passionate about children's causes; many of his activities, such as his volunteer work for the Teen Court program with the El Dorado Superior Court, are about protecting kids and keeping them out of the juvenile court system. "I think it's important, if we are able, to create a better world for the next generation," Zappettini shares.
---
For more about Paul Zappettini and other local happenings and information, be sure to pick up this month's copy of Style – El Dorado County Foothills edition.