Clean Up
Mar 26, 2014 10:54AM ● By Style
by Kerrie L. Kelly, ASID
Utilitarian spaces, like laundry rooms and mudrooms, seldom receive the attention they deserve, which is odd considering how often they're used. A properly planned utility room can be a complete housekeeping area that simplifies chores and serves multiple purposes. A mudroom, for example, may double as a grooming center for the family pet and a storage room for sports gear, while an overhead rack in a laundry room can be used for drying flowers or clothes, and the sink can be turned into a potting center.
MUDROOM
LEVERAGE THE SPACE
A mudroom is the ideal storage space for shoes, lunch bags, sports equipment, and pet essentials like food dishes, leashes, blankets and toys. You don't even need an entire room to reap a mudroom's benefits. A narrow hall, a partial wall and even space carved out between wall studs will do just fine.
MAKE STORAGE SMART
Instead of letting a mudroom become cluttered, take advantage of its potential. Counters, tables and benches can be storage pieces that collect and organize both day-to-day and seasonal items. A built-in cabinet that resembles a set of lockers will allow individual family members to have their own space. Other essentials for the room might include an umbrella stand, boot tray, baskets and a chalk or message board.
TIDY ON A BUDGET
Many cost-effective storage solutions are tailored specifically for utility spaces. You'll find a wealth of inexpensive storage ideas—think wall-mounted racks for boots, shelving for hats and hooks for sports gear—at home centers and container stores.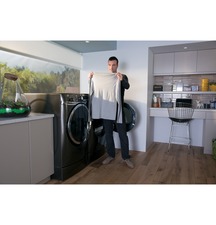 LAUNDRY ROOM
INVITE FUNCTIONALITY
A full-sized laundry room offers more options than just doing laundry. If there's space for more than appliances and a sink, add a table or table-height shelf for folding laundry, wrapping gifts or potting plants. Add additional shelves or cabinets to store supplies. A drying rack over the sink that folds up against the wall makes it easy to hang clothing directly from the washing machine. If there's room, add a rack for hanging clothes and even an ironing board.
PAINT THE WALLS
You may spend a lot of time in this area, so make sure it's attractive. Paint the room a vibrant color that draws you in or a soothing color that calms. Wall inscriptions or murals are a fun way to add interest, too.
CONTAIN IT
Laundry rooms are more functional if organized. Use clear jars for clothespins, sewing items and detergent. Choose various heights to add interest. A great, inexpensive design idea is to hang black and white photos with clothespins. Place the photos around the room as a border, or on one wall for a gallery look.
PLAY IT UP
"Dirty Laundry" never sounded so good when sung by Don Henley. Make sure you have access to music for some background curiosity. This utilitarian space should be just as interesting as the balance of your home!
---
Kerrie L. Kelly is an award-winning interior designer, author and multimedia consultant. She has authored two books: 'Home Décor: A Sunset Design Guide,' published by Oxmoor House, and the newly released 'My Interior Design Kit,' with Pearson Professional and Career Education. To contact her, visit kerriekelly.com or call 916-919-3023.