Get Fresh
Feb 28, 2014 03:26AM ● By Style
Photography by Dante Fontana, © Style Media Group.
If you want to eat local, fresh and sustainable foods, the farm-to-table movement is for you.
BUY LOCAL!
Farm-to-table is all about supporting local farms and sustainable practices. Once you know where to go, you can buy fresh and local fruits and vegetables, as well as eggs, honey and meats. Check out these Community Supported Agriculture (CSA) groups and local farms:

CSAs:
El Dorado Hills Natural Farms:  edhfarms.com
Farm Fresh to You:  farmfreshtoyou.com
Full Belly Farm:  fullbellyfarm.com
It's Organic:  itsorganicdelivery.com
The Natural Trading Co.:  naturaltradingco.com
Vierra Farms:  vierrafarms.com

FARMS:
The Casey Family Farm for chicken and rabbit meat, as well as free-range eggs: penrynrabbitfarm.com
Delta Farm, LLC for beef, sheep, honey and free-range eggs: delta-farm.com
Flying Mule Farm for lamb, mutton and free-range eggs: flyingmulefarm.com
Sinclair Family Farm for beef, lamb, pork, poultry and eggs: sinclairfamilyfarm.net
Tumbling Creek Ranch, LLC for eggs: tumblingcreekranch.com
Wintun Ranch for grass-fed beef: wintungrassfedbeef.com
"Farm-to-table is a celebration of seasonality," says Harvindar Singh, local forager for Whole Foods Markets in northern California, explaining the movement is about celebrating local food, knowing where products are grown and building a healthy community. "Every day we eat, but do we think about where it comes from?" asks Singh. Do you know where and how your food is grown? Were chemicals used?
"Farm-to-table isn't a movement or fad for our customers, it is a way of life," says Carol Arnold, executive director of Foothill Farmers' Market Association/PlacerGROWN. The concept of farm-to-table, or farm-to-fork as it's often called, isn't new. In fact, consuming fresh, local, chemical-free fruits, vegetables and meats is a very traditional idea. That's the way food was produced and consumed until modern times. Consumers are now realizing that using preservatives, freezing food and trucking it long distances isn't necessarily a good idea.
The State of California and regional elected officials recently proclaimed Sacramento the "Farm-to-Fork Capital of America." The Art of Real Food co-author Joanne Neft, who also co-authored Placer County Real Food with Laura Kenney, says, "People want to know they are eating healthy food and are willing to spend a bit more time preparing meals." The pair shopped farmers' markets every week for a year buying fresh, local foods and then prepared home-style dinners for 8-10 people; the recipes can be found inside Placer County Real Food. "Eating farm-to-table is having an impact and this is just the beginning."
Shop area farmers' markets for local fruits and vegetables that are picked when they're ripe, in addition to seasonal jams, honeys and cheeses. "I don't take a 'list' to a farmers' market," says Neft. "Whatever is at the market that week is what we eat, including ingredients for a soup or salad, grain or starch, at least two or three different vegetables, some wild fish or grass-fed meat and dessert." Also, consider joining a Community Supported Agriculture (CSA) group, where you pay a subscription for fresh produce. Every two weeks, for example, Singh receives a basket of fruits and vegetables from his CSA. "You get to experiment with a variety of foods," he says.
Read on as we take you to local restaurants embracing the movement (with a recipe from each!), and explore area markets and ranches. It's time to get healthy, eat fresh and help your community.

Foothill 5 Citrus Salad with Honey-Tarragon Vinaigrette
Café Zorro
Specializing in California cuisine, Café Zorro fully embraces farm-to-table dining. "We change our menu and side dishes frequently, in order to follow what's in season," says owner Matt Williams, explaining farm-to-table is so appealing because it tastes great. "I was instilled with this ideal [while] working at Chez Panisse in college, and it makes sense," he says. "Good produce grown nearby and used quickly tastes better."
The restaurant's menu varies throughout the year based on what's in season, with winter being the "most difficult" time of year to prep a farm-to-table menu. Summer is the best season with an abundance of fresh fruits and vegetables, like heirloom tomatoes, which Williams says he'll use in a lot of dishes, including margarita pizza, Caprese salad and chicken Parmesan.
While serving the best produce is a priority, Williams doesn't pass the extra costs on to diners, explaining, "We think it's the quality of our ingredients, the care in preparation and the fair price that is our formula for success."
One of the keys to following the farm-to-table style is forming personal relationships with local farmers. Being in the know helps restaurants like Café Zorro stay on track with what's available, as well as foods that are early or late in the season. The restaurant also harvests food from their own garden, which is tended to by Williams' father. Other farm-to-table providers for the restaurant include Pilz Produce in Penryn, Twin Peaks Orchards, Produce Express and Mary's Free Range Chickens of Pitman Family Farms.
Customers love Café Zorro without labeling the food "farm-to-table." "I think that my customers like the quality of what they get on the plate; fresh and well-prepared foods will keep you coming back," says Williams. "We do highlight our growers when we can so guests get to see where our food is coming from on the menu."
---
Foothill 5 Citrus Salad with Honey-Tarragon Vinaigrette
Submitted by Café Zorro Chef Scott Burns
Pancetta, cut into fine cubes and baked until very crispy
Fennel, shaved thin on mandolin or with a sharp knife
Arugula
2 mandarin oranges
2 pink grapefruits
2 blood oranges
2 white grapefruits
2 tangerines
Peel and segment all fruits with a sharp knife.
Vinaigrette:
1/2 shallot, chopped
1 clove garlic, chopped
1 tsp. lemon juice
1/2 cup cider vinegar
1 tsp. Dijon mustard
1 tbsp. honey
1/2 bunch fresh tarragon
Salt and pepper, to taste
1-1/2 cups blended oil
Combine all ingredients except oil in blender or food processor and add oil slowly to desired consistency.
To assemble salad:
Arrange arugula on plate and toss citrus segments and shaved fennel in the vinaigrette. Place the dressed citrus segments and fennel over the arugula. Drizzle with reduced balsamic to finish.
Café Zorro
5911 King Road,
Loomis
916-660-1612  |  cafezorro.com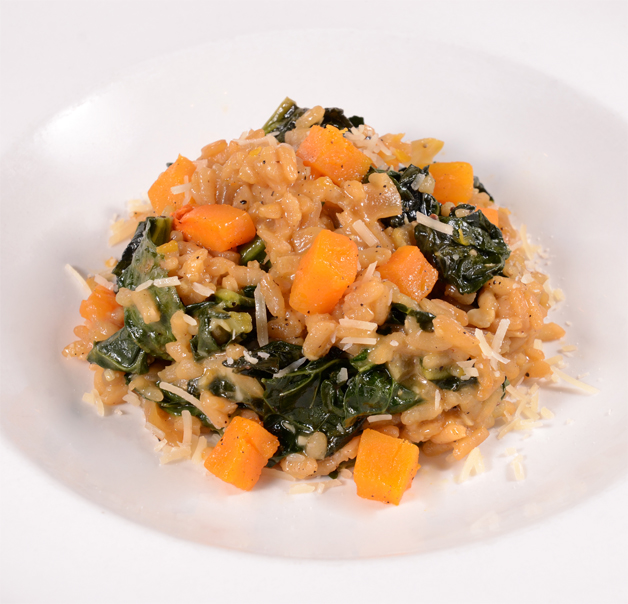 The Chef's Table
Local ingredients, fresh food and a sense of community inspire The Chef's Table. "The farm-to-table movement has created relevance to so many farmers in our area—an area rich in consumable products and services," explains Erick Johnson, the restaurant's owner and general manager, noting it's "a huge benefit for us to support local farmers, as our patrons want to support the Sacramento area's 'little' guys."
Since the restaurant is known for its commitment to local products, they work with many great vendors, including: Capay Organics, Little Organic Farms, Twin Peaks Orchards, Del Rio Botanical, Vierra Farms, Riverdog Farm, Passmore Ranch, SunFed Ranch, and Joe Yeung Farms. Their produce supplier, Produce Express, has "done a lot of the hard work for us," says Johnson. "They have contracted with local farmers and have a great season chart on their website that shows what is available."
While The Chef's Table has some menu items that never change, they have many seasonal dishes that "focus on what's available from our purveyors, creating new items for 'regulars' to enjoy every week," says Johnson, noting some customers habitually order the free-range fried chicken, while others "try something new every week, or day for that matter."
The focus, however, is always on providing high-quality food. Patrons love the farm-to-table style at The Chef's Table, with many telling Johnson, "I've never had that before."
---
Vierra Farms Butternut Squash Risotto with Capay Organics Dino Kale
Submitted by The Chef's Table
Extra virgin olive oil
1-1/2 cups local Arborio Rice
8 cups vegetable stock
1 yellow onion, diced
1 cup shredded Parmesan
2 bunches Dino kale
1 tbsp. garlic, minced
1/2 cup dry white wine
1 butternut squash, peeled and diced medium
Sea salt and pepper, to taste
Squash:
Peel squash and cut into 1/4-inch cubes; toss with olive oil and roast in a 350-degree oven for 25-30 minutes.
Kale:
Remove ribs and stems and cut into 2-inch pieces. Heat a pan big enough to house all kale with oil; when hot, add kale and cook for 1 minute, then add garlic and wine and cook until wilted (about 3 minutes).
Risotto:
Sauté diced onion in olive oil, and when translucent add rice to gently toast (about 3 minutes). Add 1/4 cup of stock at a time until absorbed; each time fold in Parmesan.
Add squash and kale. Salt and pepper to taste, and garnish with Parmesan.
Makes 8 servings.
The Chef's Table
6843 Lonetree Boulevard, Suite 103, Rocklin
916-771-5656  |  thechefstablerocklin.com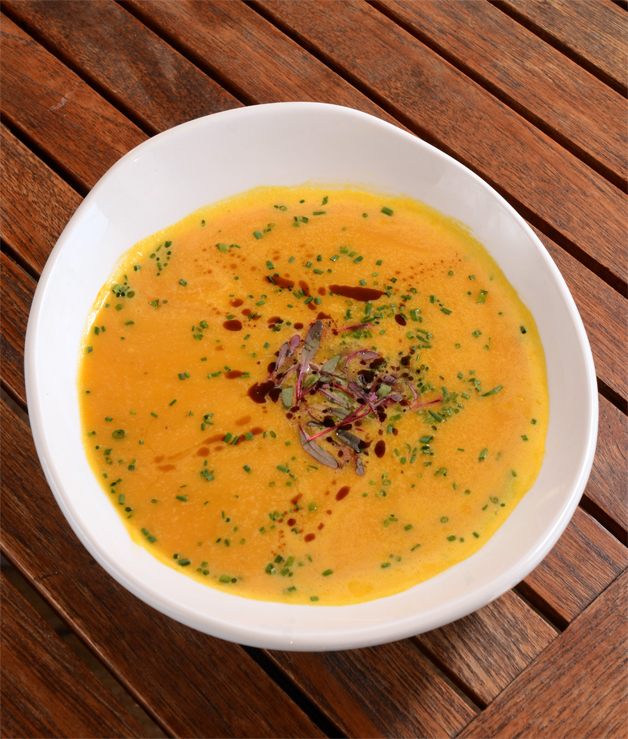 Source Global Tapas
Sourcing fresh, local food is what Source Global Tapas does. "You're always eating what's in season and grown locally and always supporting your neighbors who in return support you," says Irie Gengler, executive chef and owner of Source Global Tapas. Eating in the farm-to-table style is popular again but it's a pretty conventional concept. "Old traditional menus were farm-to-table, since products weren't being shipped long distances overnight and you had to use local products for freshness reasons," says Gengler.
From tapas to large-plate entrées, the restaurant's menus change based on what's available. Their farm resources include Otow Orchard in Granite Bay, Sinclair Family Farm in Penryn, Del Rio Botanical in West Sacramento, Passmore Ranch in Sloughhouse, Riverdog Farm in Yolo County, Twin Brooks Farm in Loomis, Niman Ranch in the Bay Area and Mary's Free Range Chickens of Pitman Family Farms in Sanger.
Since Source serves produce, fish and meats, their costs can be pricey, but by buying local and seasonal produce, they save on shipping and handling costs. Meat prices are more expensive though "since there is more care in the family-owned, hands-on farms in terms of nurturing the animals and better feed than the oversized corporate, non-nurturing farms," says Gengler.
---
Kabocha Squash Soup
Submitted by Source Global Tapas
2 kabocha squash, halved and seeded (from nearby Otow Orchard)
6 cups orange juice, no pulp
1/4 cup chicken stock/demi-glace
1 cup white verjus
4 cinnamon sticks
1 tsp. nutmeg, ground
12 garlic cloves, chopped
3 shallots, chopped
4 oz. ginger, peeled and chopped
4 tbsp. rice oil
1/8 cup chicken stock/demi-glace
1 quart water
1 quart braising liquid
2 cups heavy cream
Salt and pepper, to taste
Mix the orange juice, chicken stock/demi-glace, verjus, cinnamon sticks and nutmeg in a pan, or roasting pan. Place squash in the pan, skin down, and fill voids in squash with braising liquid. Cover tight with foil and place in 375-degree oven for 1 hour and 45 minutes. Remove; place all liquid—minus cinnamon sticks—in separate container and scoop out squash meat (place in another container).
In a heavy bottom pot, sauté garlic, shallots and ginger in oil for 5 minutes. Place all squash meat and 6 cups of braising liquid in pot. Add chicken stock/demi-glace and water; simmer for 20 minutes while stirring. Blend mixture in pot for 2 minutes; slowly add cream while stirring on low heat and season with salt and pepper.
Source Global Tapas
5540 Douglas Boulevard, Suite 110
Granite Bay
916-772-3900  |  sourcetapas.com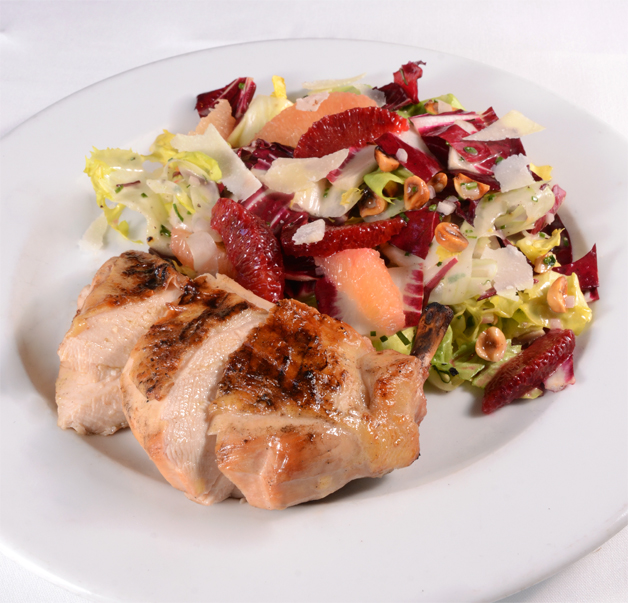 Hawks Restaurant
"More and more, people want to know where their food comes from," says Molly Hawks, chef and proprietress at Hawks Restaurant, where farm to table is an everyday reality. "One of the major benefits is that we, as chefs, get to work with superior products because the flavor and quality of our locally sourced [goods] tends to outshine anything we can bring in from a large purveyor."
Hawk's menu changes frequently. The dinner menu (at the time of press) features a Dino kale and Treviso salad with candied walnuts, shaved Parmesan and bacon vinaigrette; a pork chop entrée served with broccoli Romanesco and salsify; and a Meyer lemon soufflé, which is made with seasonal Meyer lemons. (The restaurant always has a soufflé on the dessert menu!) Even the drinks, like the Lemon Drop and Grapefruit Drop often have locally sourced ingredients. What's more, Hawks makes its own limoncello and grapefruitcello. "We keep both of these drinks on our cocktail list all year, due to customer demand," says Hawks. "They just shine a little brighter when the winter fruit is truly in season."
Planning menus by season isn't too tough for Hawks, unless "Mother Nature throws us a curve ball," she says, explaining that when their local mandarin grower lost much of his crop this year, Hawks' menu had to quickly be modified.
While farm-to-table often focuses on produce, there's also an increased consumer interest in responsibly farmed meats and poultry. Prices can vary though. Hawks, for example, offers Bill Niman turkeys for their "Thanksgiving To Go program," which can be pricey, as well as all-natural Diestel turkeys, which are more affordable.
Hawks Restaurant buys large quantities of local products and mentions the sourced farms on their menu, which brings awareness to the individual farms and encourages customers to buy from those same vendors at farmers' markets. Pine Hill Orchard in Loomis provides citrus for the restaurant, while tomatoes come from Pierce Family Farm in Loomis. They buy strawberries at Saeng's Strawberry Stand in Granite Bay; fall apples and spring stone fruit are from Ron Mansfield at Goldbud Farms in Placerville; and ducks are from Jim Reichardt at Sonoma County Poultry, Libery Ducks in Penngrove. Hawks also supports local wineries by offering several area selections on the menu.
The restaurant hosts monthly cooking classes, where guests can see the quality of the food and learn how to prepare it. Next up at the eatery? Creating a garden. "I think this would be a great opportunity for our cooks to connect with the land," says Hawks. "Perhaps we could even make this a community project and get our local schools involved."
 
---
Escarole and Citrus Salad
Submitted by Hawk's Restaurant
1 head escarole, dark outer leaves discarded and pale green and yellow inner leaves washed and torn
1 blood orange
1 pink grapefruit
1 fennel bulb, stalk discarded
2 tbsp. citrus juice
1/4 cup plus 2 tbsp. extra virgin olive oil
Kosher salt and black pepper, to taste
1 small chunk Parmesan
1/4 cup hazelnuts, peeled, toasted and roughly chopped
Use a knife to remove the peel, including all white pith, from both the blood orange and grapefruit. Use a paring knife to cut the citrus segments free from the membranes, working over a bowl to catch any citrus juice. Once the segments are removed, squeeze the membranes to extract any remaining citrus juice. Keep the citrus segments cold while you make the citronette.
To make the dressing, which Hawks' terms a "citronette," place the 2 tbsp. citrus juice in a small bowl; gradually whisk in the extra virgin oil. Season, to taste, with a pinch of salt and black pepper.
Thinly shave the fennel bulb, using a mandolin or food processor fitted with a slicer attachment. Begin shaving at the stalk end of the bulb, until you have approximately 1 cup. Reserve any remaining fennel bulb for another recipe. Place the shaved fennel in an ice bath for approximately 2 minutes and then drain. This process will crisp up the fennel.
Toss the escarole, citrus and fennel with the citronette in a large bowl until combined well. Season with salt and pepper. Divide the salad among 4 chilled plates. Using a peeler, shave 2-3 strips of Parmesan over each salad. Sprinkle hazelnuts over each salad before serving. Serves 4.
Hawks Restaurant
5530 Douglas Boulevard, Granite Bay
916-791-6200  |  hawksrestaurant.com