Family Jewels
Feb 28, 2014 04:34AM ● By Style
Photography by Dante Fontana, © Style Media Group.
Working as a team, artists Connie Omans and her granddaughter, Tara Beaton, fashion wonderful pieces of wearable jewelry art from just about anything—found objects, old items friends give to them, stones, pearls and more.
"In our business, The Plain Jayne, we recycle and reconstitute all types of items," Beaton explains. "My gram gets some amazing finds at thrift stores; for me, the sky's the limit [when I work] with rocks and crystals." Omans, on the other hand, loves working with beads and pearls. "I just love knotting and stringing different beads," she says.
Omans, along with her brother Bill Clemmer, started working at their mother's jewelry gallery in Miami Beach, Florida, when they were youngsters. It was there where she caught the art bug and has surrounded herself with it ever since. More than 50 years ago, she and her husband, Don, made a career move to the Sierra foothills and have never looked back. "I love the Roseville/Rocklin area," Omans says. "I feel safe and cared about here."
Besides being an accomplished jewelry designer and craftswoman, Omans has also carved stone, worked in clay and now paints. Her passion for the arts expands to performing, too. A Screen Actors Guild member, Omans has even appeared as an extra in several major television shows such as The Mentalist and Big Love.
She and her husband started teaching acting and all things theatrical at the Roseville Theater years ago, and when Rocklin's Finn Hall was being rebuilt, they decided to take over the stage area—bringing their troupe of actors with them. It was truly a family affair: Omans was the director and producer, Don ran the stage lights, daughter Jessica Jean made the costumes, son-in-law Michael designed and built the sets, and granddaughter Beaton was the performer of the family (she starting dancing in productions at age five). For more than 20 years, Omans produced five plays annually—bringing local children and adults the joy of being on stage. "It was a great run," Omans said. "We had a blast." Several of their students have even gone on to perform on New York's Broadway and in Hollywood productions. Longtime friend and fellow artist Gayle Rappaport-Weiland knows Omans' guiding hand helps transform her students. "It has been a pleasure sharing Connie's journey," Rappaport-Weiland explains. "She is a mentor to all ages of people in the arts and she has changed lives."
Beaton, who currently lives near Colfax, recalls a fulfilling childhood with all types of art supplies available in her grandmother's home. "My mom and I loved living with Grandma—we had tons of farm animals, cats and dogs. [She] was a real hoot to grow up with," Beaton admits. "She is an incredible problem solver." The pair shared a normal grandparent-grandchild relationship with the usual generational differences, until two unexpected tragedies struck.
Statesman Winston Churchill advised: "If you're going through hell—keep going." Omans lost her daughter when she suddenly and unexpectedly died. With the same tragic loss, Beaton lost her mother. So, although the grandmother and granddaughter were somewhat close before, the passing of Jessica Jean four years ago glued these two into an unbreakable, loving bond. Together they were able to face anything—a mutual support they would continue to need. Not long after her mom's passing, Beaton's husband, Ryan, was diagnosed with an aggressive cancer and soon succumbed to the horrible disease. "I realized that family is everything," Beaton says. "Nothing else matters."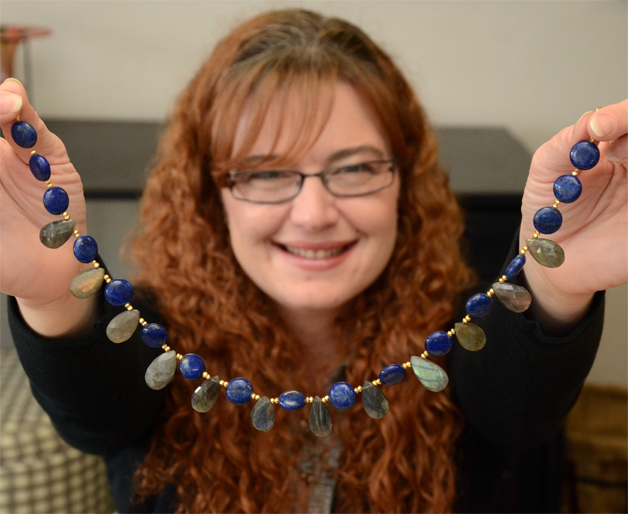 Making jewelry and art has endured as a huge part of their relationship and really bolstered both of them in the healing process. It was Omans who taught Beaton how to string beads; however, Beaton soon tired of stringing and realized that metal wire was her medium of choice. Whether creating side by side or solo, they seem to constantly be mentally connected. While working together, they may get inspiration from a special stone, vintage carving or other materials. Just as the old saying goes, "one man's junk is another's treasure," these two are able to reuse and combine older pieces of broken or unwanted items into new, dramatic designs. They never incorporate cheap glass or plastic; it is always something organic and precious. Natural pearls, semi-precious stones, crystals, rough rock, copper, silver, gold, Swarovski crystals, blown-glass beads and more are fashioned to enhance other elements in a necklace, bracelet, earrings or a natural piece of stone. Every design is unique and handmade. "God made them as one of a kind," Omans explains.
Gini Crepps, artist and owner of Rocklin's wonderfully eclectic Gallery IQ, loves the pair's creations and offers them for sale. "I am happy to provide an environment where artists have an opportunity to exhibit their art," Crepps says. "I love helping artists develop partnerships across all genres and encouraging a flow of ideas."
Keeping to their mutual love of animals, they'll both be participating in Art & Brew, an art show at Roseville Brewing Company on April 26. Portions of sales will go directly to Placer SPCA—helping to support local homeless animals needing love and forever homes.
Science fiction author Suzette Haden Elgin once wrote, "A grandmother is a safe haven"—a sentiment that perfectly describes the affectionate relationship and life journey between Beaton and Omans. "My grandmother is resilient and kind," Beaton says. "I aspire to be like her when I'm older: happy with an open heart." Omans feels just as fondly toward her granddaughter. "I always promised Tara my door would be open and I would always be there for her," Omans shares. "I am blessed and lucky to have her."
---
For more information, visit theplainjayne.com.