Get Fresh
Feb 28, 2014 04:24AM ● By Style
Photography by Dante Fontana, © Style Media Group.
If you want to eat local, fresh and sustainable foods, the farm-to-table movement is for you.
"Farm-to-table is a celebration of seasonality," says Harvindar Singh, local forager for Whole Foods Markets in northern California, explaining the movement is about celebrating local food, knowing where products are grown and building a healthy community. "Every day we eat, but do we think about where it comes from?" asks Singh. Do you know where and how your food is grown? Were chemicals used?
"Farm-to-table isn't a movement or fad for our customers, it is a way of life," says Carol Arnold, executive director of Foothill Farmers' Market Association/PlacerGROWN. The concept of farm-to-table, or farm-to-fork as it's often called, isn't new. In fact, consuming fresh, local, chemical-free fruits, vegetables and meats is a very traditional idea. That's the way food was produced and consumed until modern times. Consumers are now realizing that using preservatives, freezing food and trucking it long distances isn't necessarily a good idea.
The State of California and regional elected officials recently proclaimed Sacramento the "Farm-to-Fork Capital of America." The Art of Real Food co-author Joanne Neft, who also co-authored Placer County Real Food with Laura Kenney, says, "People want to know they are eating healthy food and are willing to spend a bit more time preparing meals." The pair shopped farmers' markets every week for a year buying fresh, local foods and then prepared home-style dinners for 8-10 people; the recipes can be found inside Placer County Real Food. "Eating farm-to-table is having an impact and this is just the beginning."
Shop area farmers' markets for local fruits and vegetables that are picked when they're ripe, in addition to seasonal jams, honeys and cheeses. "I don't take a 'list' to a farmers' market," says Neft. "Whatever is at the market that week is what we eat, including ingredients for a soup or salad, grain or starch, at least two or three different vegetables, some wild fish or grass-fed meat and dessert." Also, consider joining a Community Supported Agriculture (CSA) group, where you pay a subscription for fresh produce. Every two weeks, for example, Singh receives a basket of fruits and vegetables from his CSA. "You get to experiment with a variety of foods," he says.
Read on as we take you to local restaurants embracing the movement (with a recipe from each!), and explore area markets and ranches. It's time to get healthy, eat fresh and help your community.
---
buy local!  Farm-to-table is all about supporting local farms and sustainable practices. Once you know where to go, you can buy fresh and local fruits and vegetables, as well as eggs, honey and meats. Check out these Community Supported Agriculture (CSA) groups and local farms:
CSAs:
El Dorado Hills Natural Farms
Farm Fresh to You
Full Belly Farm
It's Organic
The Natural Trading Co.
Vierra Farms
FARMS:
The Casey Family Farm for chicken and rabbit meat, as well as free-range eggs
Delta Farm, LLC for beef, Berkshire Pigs, lamb, honey and free-range eggs
Flying Mule Farm for lamb, mutton and free-range eggs
Sinclair Family Farm for beef, lamb, pork, poultry and eggs
Tumbling Creek Ranch, LLC for eggs
Wintun Ranch for grass-fed beef
WHAT'S ON THE MENU?
What's on a farm-to-table menu? Anything local, fresh and sustainable. Nothing is processed. "Instead of meat, potatoes and a vegetable, you might find grass-fed lamb, roasted vegetables, fresh fruit and locally sourced high-quality bread," says Arnold.

Over time, you'll develop a sense of what's in season. February for example, is prime time for citrus like blood oranges and grapefruits. Winter squash is available from October through March, and tomatoes are at their peak from July through October.

Even with seasonal availability, you can still plan ahead to create menus. Arnold offers this tasty meal for an early spring dinner: an appetizer of leek, green garlic, and mushroom crostini; a whole roast chicken with root vegetables for dinner; a side dish of sautéed chard; and a sweet dessert of fresh navel oranges and Meyer lemon goat  cheese cheesecake.
Table Nectar Local And Organic Catering
And Manzanita Kitchen And Events
Forget mass-produced convenience food. Being "local and organic" is a way of life at Table Nectar. "The farm-to-table movement is about knowing where our food comes from and enjoying produce, meats and locally made products that haven't travelled halfway around the world, but were instead grown or produced in our backyards and communities," says Kimberly Medici, chef and owner at Table Nectar.
Medici calls farm-to-table "conscious eating" and explains it's local, pesticide-free and can help making and preparing food fun, since there are so many colors and flavors to choose from. "It's quality over quantity and healthier choices combined," she says.
In the spring, Table Nectar's farm-to-table menus include balsamic beet crostini with oven-roasted South Fork Farm's baby beets and arugula, Jollity Farm's fresh goat's chevré, Mad Dog Mesa's extra virgin olive oil and balsamic reduction; Flying Mule Farms' slow braised lamb shank served with Riverdog Farm's roasted fingerling potatoes, grilled spring asparagus, and creamy truffled polenta from Grass Valley Grains; and for dessert, orange cardamom creme brulée, made with Local Yolk's pastured eggs, Clover Stornetta cream, and Hooverville Orchards' fresh citrus.
Sourcing ingredients takes time and great communication but Medici has a direct relationship with local farmers, which means she can arrange for a "limited number of custom-grown fruits and veggies." Medici says that while farm-to-table can cost at least 30-40 percent more than traditional dining, the cost is worth it, explaining, "When you pay a little more for higher-quality ingredients that taste better and are more appealing, you tend to waste less and therefore ultimately spend less."
Costs might get better as farm-to-table gets even more popular. "The good news is that the more we support our local food systems and organic farming, the greater the demand will be, and the more affordable it will get," says Medici.
---
Seasonal Kale Slaw
Submitted by Chef Kimberly Medici, Table Nectar Local and Organic Catering and Manzanita Kitchen and Events
2 bunches Dinosaur kale (de-stemmed and cut into thin strips or roughly chopped)
3 tbsp. extra virgin olive oil
1 tbsp. hemp seed oil
1 tbsp. + 1 tsp. Dijon mustard
3/4 tsp. sea salt
Fresh ground pepper, to taste
2 tbsp. Grade B pure maple syrup
2 tbsp. fresh squeezed lemon juice
1 tbsp. apple cider vinegar
2 cups red and green cabbage (cut into thin strips or shredded by hand or with food processor)
1 medium sized tart/sweet apple such as Granny Smith, Fuji, or Pink Lady (shredded or thinly sliced)
2 medium sized carrots (peeled and shredded by hand or with food processor)
1 medium sized red beet (peeled and shredded by hand or with food processor)
1/2 cup  pumpkin seeds, sunflower seeds, walnut pieces or slivered almonds
Wash all fresh ingredients thoroughly.
Remove stems from the kale, as they tend to be slightly tough and woody when served raw.
Bunch up or stack the de-stemmed greens and thinly slice them to about 1/4-inch thickness. Place them in a medium-sized mixing bowl.
Add ingredients (olive oil through cider vinegar) directly to the kale; wash hands, and then thoroughly massage the dressed greens mixture with your hands.
Massage the greens with the same intensity you might tenderize meat with a malate. By doing this, the acids in the dressing act to gently tenderize and "cook" the kale without loosing any flavor or nutrients. This is the fun part, so don't be afraid to really get in there!
Prep all of the remaining ingredients. Using a food processor with a shredding attachment works most quickly; otherwise, shred the carrots and beets by hand. The apples can be sliced, diced or shredded, whichever you prefer.  
Add the cabbage, carrots, beets and apples to the kale mixture and gently toss—mixing all ingredients throughout.  
If you prefer your nuts and seeds toasted, put them in the oven for about 8 minutes at 350 degrees; let them cool before folding into the salad.
Table Nectar Local And Organic Catering
And Manzanita Kitchen And Events
4232 Fowler Lane, Suite 101, Diamond Springs
530-344-7613  |  tablenectar.com
Selland's Market-Café
There are many reasons why this El Dorado Hills eatery embraces the farm-to-table concept. "People like to know where their food comes from; it helps create a connection to [it] and helps create a sense of community," says owner Randall Selland, who also praises the health benefits of eating "a balanced diet of things grown locally or regionally, because you can track what's in it and how it was raised." Further, the farm-to-table style allows the restaurant to back the regional economy by supporting farmers and produce suppliers close to home.
Some of their vendors include Lienert's Honey, Kelly's Crayfish, Aoyama Farms (for peaches, grapes, tomatoes and onions), Cache Creek Meat Co. (for chicken, turkey and lamb), and The Chef's Garden (for micro greens and micro herbs, plus specialty lettuces and heirloom vegetables), among other suppliers. Selland also values having a good rapport with local farmers and growers. "They are really our first line of defense and our eyes and ears on the ground to let us know what, where and when the best stuff will be ready, and how long we have left in the season," he says.
The restaurant plans ahead throughout the year to maximize what's fresh in fruits, vegetables, herbs, grains and nuts. Still, flexibility is required because serving fresh, local quality foods is a priority. Selland's Market-Café in El Dorado Hills and its sister restaurants, The Kitchen, Selland's in East Sacramento, and Ella, have been farm-to-table for more than 20 years. "We've always had guests who are overwhelmingly positive about it," says Selland. "The food tastes better, it makes guests feel good, and it's good for the community and the local economy."
---
Chef Randall Selland's Heirloom Tomato Soup
Submitted by Selland's Market-Café
2-1/2 lbs. heirloom tomatoes (any variety you prefer)
3 tbsp. extra virgin olive oil
1/4 bunch cilantro
1 to 2 cloves garlic, coarsely chopped
2 tsp. salt
Additional salt and pepper, to taste
Core tomatoes and cut into quarters. Combine tomatoes, olive oil, cilantro, garlic and 2 tbsp. salt in a large bowl and gently mix together. Cover and let marinate for 4-5 hours at room temperature, and then run through a food mill or blender. Add salt and pepper to taste. Serve at room temperature with your choice of accompaniments, such as avocado, burrata or fresh mozzarella, or crab. Serves 4.
Selland's Market-Café
4370 Town Center Boulevard
916-932-5025  |  sellands.com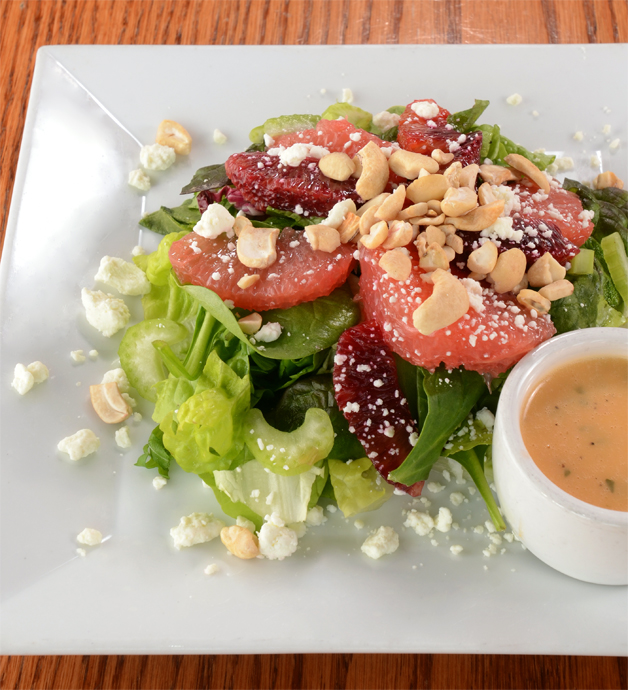 The Smith Flat House
This Placerville restaurant's farm-to-table strategy is three-fold: Customers can eat seasonal food, thus varying their diets; food is served and eaten at the peak of freshness; and local farmers financially benefit from the restaurant buying their products.
"In general, our customers seem to enjoy the variety on the menu and the ever-changing nature of what is offered, as well as the commitment to creative and quality ingredients," says the restaurant's managing partner Jason Spencer. "They've quickly realized they can come back regularly and try different items and types of food throughout the year, but know that the quality of the ingredients will always be consistent, the things featured will regularly change, and the menu will always have a fresh look."
Throughout the year, The Smith Flat House sources food from Perez' Red Shack, South Fork Farm, Sorenson Family Farms, Boa Vista Orchards, Barsotti Juice Company, Penrod Farms, Willow Pond Organic Farm and Mad Dog Mesa Olive Oil. What's more, the restaurant features only El Dorado County wines on their wine list.
Since menu items are seasonal, here's what can be found: in winter, a salad with mixed greens and ruby red grapefruit, blood red oranges and tangerines, tossed in a citrus vinaigrette and topped with cashews; in spring, an entrée of gemelli pasta with spring asparagus, grape tomatoes and a light basil cream sauce; and a fall dessert of pear and cranberry cobbler with house-made whipped cream. The eatery's salad changes throughout the year as well. In spring and summer, it has local heirloom tomatoes and cucumbers while in fall and winter, heirloom radishes, pickled red onions and shredded carrots can be found in it. "By changing our menu regularly, we can feature produce and items that are priced appropriately," adds Spencer.
---
Winter Citrus Salad with Blood Orange Vinaigrette
Submitted by The Smith Flat House
Organic mixed salad greens
Wedges from 1/2 tangerine
Wedges from 1/2 blood orange
Wedges from 1/4 ruby red grapefruit
1/4 cup chopped cashews
1/4 cup goat cheese
Blood Orange Vinaigrette:
1 tsp. finely chopped shallots
Zest and juice from 1 blood orange
Zest and juice from 1 lime
2 tbsp. white vinegar
1 tsp. parsley
2/3 cup extra virgin olive oil
Salt and pepper, to taste
Shake or mix vigorously.
To Prepare Salad:
Toss organic mixed salad greens lightly in dressing. Top with wedges of blood orange, tangerine and ruby red grapefruit. Sprinkle cashews and goat cheese on top.
Serves 4, plus leftover vinaigrette.
The Smith Flat House
2021 Smith Flat Road, Placerville
530-621-1003  |  smithflathouse.com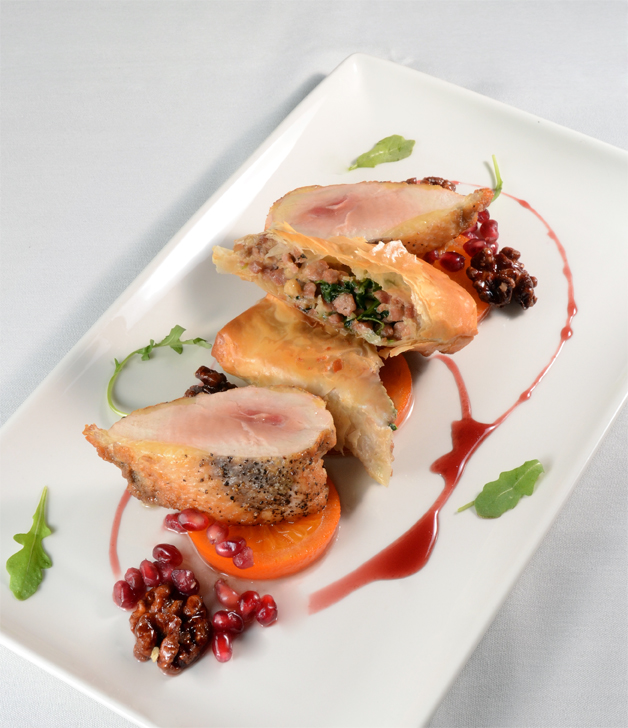 Taste Restaurant
Using fresh ingredients is the way Taste in Plymouth does business. "I talk to a great deal of the customers, and they enjoy the fact that we are always on the lookout for new and interesting produce," says James Ablett, the restaurant's chef de cuisine, talking about the great quality of local produce they get, concluding, "Every day is really like Christmas."
Customers value quality over cost, too. "They will pay for the love that the farmers and my staff put into these ingredients," says Ablett. "These products are better for people's health and the environment."
Creating farm-to-table menus isn't difficult for Ablett since he and the Taste staff work with what foods are in season, such as fava beans. Flexibility is required though since the seasons for certain foods can vary in length. What's more, the restaurant makes almost everything from scratch and with advance notice, they'll accommodate customers' dietary needs such as gluten-free and vegan.
Taste sources fresh ingredients from many local farms including Del Rio Botanical, Passmore Ranch, Rosen Farms, Abondonza Farms, Grimaud Farms, Macy's Eggs. Joe Yeung Farms, Riverdog Farm, Twin Peaks Orchards, and Apple Hill.
---
Guinea Hen Spanakopita
Submitted by Chef James Ablett, Taste Restaurant
2 lbs. ground hen thighs (skin on)*
3 oz. baby arugula
1 large shallot, minced
2 cloves garlic, minced
3 oz. Brie cheese
1 stick butter, melted
2 tbsp. mixed herbs (such as rosemary, thyme and chives)
6 sheets #4 phyllo dough
Salt and pepper
Mix the ground hen meat with shallot, garlic, salt pepper and herbs.
Add 1 tablespoon of melted butter to an 11-inch skillet, over medium heat.
Sauté the mixture until just cooked through; while it is cooling, add the arugula and wilt, then allow to cool.
Place the phyllo on a tabletop and brush with butter.
Fold in half, and butter again.
Place 1/6 of the mixture, and 1/2 of Brie onto the closest corners, and fold over the mixture, like a burrito, making sure to butter each fold generously. This should form a 2" x 6" rectangle.
Bake at 400 degrees, 10 to 15 minutes, until golden brown.
Makes 6 spanakopita.

*Taste uses a Guinea hen from Grimaud Farms.
Taste Restaurant
9402 Main Street, Plymouth
209-245-3463  | restauranttaste.com
---
COSTLY OR COST-EFFECTIVE?
Eating well can be a challenge on any budget, so is farm-to-table affordable or expensive? It depends who you ask.
Arnold says farm-to-table saves her money since the produce lasts longer than its grocery store counterparts, and there's less waste. "I find that my family eats more simply," she says, explaining she doesn't buy any processed foods. "The flavor of the fresh food becomes the center of the experience, so I don't need to buy many ingredients."
Even if farm-to-table is more expensive, Neft says it's a choice she's willing to make. "For me, it's a privilege to eat good, nutritious food, and I'm healthy because of it," she says. "We are what we eat." For example, while a free-range chicken is pricey, Neft says it will yield 10 servings, for example four servings of thighs, legs and wings; four servings of breast meat for one; a stir-fry meal for two; a vegetable salad for two topped with pulled chicken; and a chicken broth soup. "I make chicken broth from all of the bones/throw-away pieces and use it as a basis for a yummy chicken-vegetable soup," she says. "We always eat meat, but not too much."