Brews Cruise
Feb 25, 2014 03:33AM ● By Style
Photo by Dante Fontana, © Style Media Group.
I'm at my third microbrewery in one afternoon.
WHAT'S THE DIFFERENCE?
All beers are either ales or lagers. Most mass-produced commercial beers are lagers but most craft beers are ales.  Why? Ale yeasts mature more quickly than lager yeasts and therefore don't need to be stored as long. Thus, quicker turnaround. As Mike Mraz from Mraz Brewing Company says, "A lot of it is about time and space." Ales also tend to be more full-bodied, full-flavored and higher in alcohol, and lagers crisper tasting, clearer and more effervescent. Oh, and the "hoppiness" you hear about? It refers to the amount of hops in a beer—primarily ales. Originally, just enough hops were added so their bitterness could balance out the sweetness of sugars from the brewing process, but in the last few decades the taste experience of hops themselves have become a thing—with many brewers seeing how far they can push it, and many beer lovers eager to see how much they can take.
I'm not going to lie: My head is spinning a bit and my notes have gone from tidy penmanship to something resembling the EKG of a winded jackrabbit. Another flight of beer arrives, seven five-ounce samples of fresh-made, handcrafted ales that I now must, in the name of research, consume. Pour me. I mean, poor me. Meanwhile my wife, who is my designated driver, sits patiently, munching on pretzels from a bowl at the bar and coming up with new and creative ways I'm going to owe her for the next six months.
According to the latest data, the craft beer industry now commands nearly seven percent of the national beer market—a number that will continue to rise as more people discover that beer can be every bit as complex and flavorful as a good glass of wine.
Now, if your interest in fermented hops stops at whether or not the mountains on your can have turned blue, skip this read. But if you can appreciate what I've come to call "consumable craftsmanship" (I think I was on my second flight when I came up with that gem) and you have a safe ride home? Keep reading. It's a fun time to be a beer lover around here.

American River Brewing Company photo by Vickie Mailey
1. AMERICAN RIVER BREWING COMPANY
11151 Trade Center Drive, Suite 104 Rancho Cordova, 916-635-2537
americanriverbrewingcompany.com
With a degree in brewing from the American Brewers Guild, Dave Mathis opened American River Brewing Company (ARBC) two years ago because, as he proclaims, "Beer is life." Can't argue with that. Working alongside Andy Armstrong—a former brew master at the late, great Beermann's—life is good: They move 200 kegs a month and come the weekend, their tasting room is packed.   
ARBC has several styles on tap, like the light, crisp AU Golden Ale and the State Fair gold medal-winning Coloma Brown. The Hop Herd Double IPA was my favorite, with a great finish that reminded me of a good party guest: spirited and a little loud, but knows when to tone it down.  The Fire Break Red Ale, brewed in honor of firefighters, is wonderful, with pine notes reminiscent of late summer in Tahoe. ARBC also features seasonal and special batches, including the amazing, wine-barrel-aged Prudence Porter.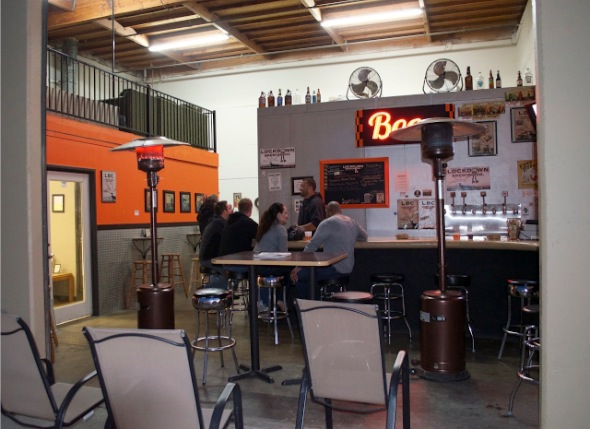 Lockdown Brewing Co. photo by Vickie Mailey
2. LOCKDOWN BREWING CO.
START ME UP
So you want to brew your own, eh? You're in good company.  According to brewersassociation.org, there are approximately 1.2 million home brewers in America and Erik Shmid, who owns the home brew supply store The Brewmeister (shopbrewmeister.com) with locations in Roseville and Folsom, says he sees more people getting started every year. The best way to begin?  A class. Schmid acknowledges that you can learn a lot online but..."you can also get confused. A three-hour beginner class will eliminate a lot of that and help you focus on getting started with minimal equipment." Take good notes and Schmid says you can have a good first batch in about a month. It doesn't need to be expensive, either. Shmid says you can get going for as little as $99, and then it "just depends on how much you want to get into the hobby." The Brewers Barn (thebrewersbarn.com) in Diamond Springs and Whole Foods Market (wholefoodsmarket.com) in Folsom and Roseville also offer home-brewing materials.
11327 Trade Center Drive, Suite 350
Rancho Cordova; 718 Sutter Street, Suite 200
Folsom, 916-358-9645
lockdownbrewingcompany.com
The tasting room at Lockdown's brewing facility in Rancho Cordova—less than a mile from American River Brewing's—is very casual. The bar is just inside the open warehouse door and a two-story mixed assemblage of couches, overstuffed chairs, foosball and pool tables give it a frat house feel. Barkeep Julien Adams says it's like "hanging out in a neighbor's garage"—a neighbor who happens to brew some really tasty beer.
Emma's Blonde Ale is a summer ale with a restrained presence of citrus; a little citrus goes a long way for me, and Emma's finds that balance. Barkeep Adams' favorite is the Powerhouse Pale Ale. "It's got everything going on," he says, and I can't disagree: great flavor and finish. But it's the Stony Bar Scotch Ale that has brought Lockdown the most attention. A multiple award winner, it's strong but not overpowering, sweet but not cloying, and a hint of smoke gives it a nice organic profile; it's the brewery's number one beer. Lockdown has several other styles, too, including seasonal selections and, for your designated driver, a really terrific root beer.
NOTE:  Lockdown also has a lively taproom in Historic Folsom.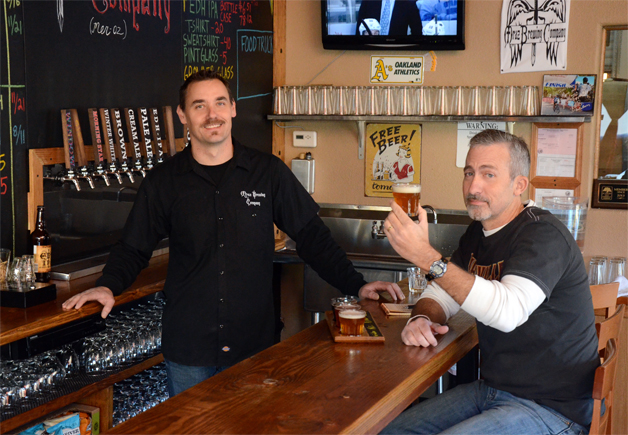 Tom getting tasting advice from Mike Mraz at Mraz Brewing Company
Photo by Dante Fontana, © Style Media Group.
3. MRAZ BREWING COMPANY
2222 Francisco Drive, Suite 510
El Dorado Hills, 916-934-0744
mrazbrewingcompany.com
At only 1,000 square feet and tucked into a little strip mall off Green Valley Road in El Dorado Hills, Mraz Brewing Company could easily be overlooked. But it shouldn't be. Named the "California Home Brewer of the Year" in 2008 and 2009, Mike Mraz has turned his passion into his paycheck. And while, like any good businessman, he's open to growth, he says, "If we stay a nice little neighborhood brewery, we're happy with that."
With 6-10 very palatable presentations on tap, staying small shouldn't be a problem. Try the EDH IPA, with a peppery profile that resonated nicely inside my face (yes, that thought actually occurred to me), and the Winter Wheat, a citrus-and-coriander-infused Belgian white ale with a hint of celery that would be a great backyard summer sip; also, a buoyant Pale Ale that took third place in a nationwide home brewer's contest in 2009, and maybe the most interesting beer I tried on this assignment: an aesthetically gorgeous Belgian Ale colored red from dark cherries. If dessert beers existed, it would be one.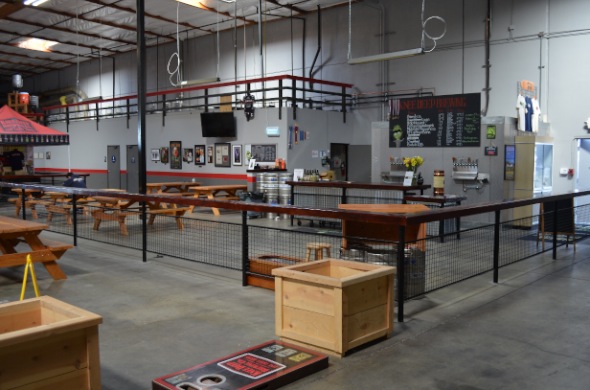 Photo by Chris Moore.
4. KNEE DEEP BREWING CO.
13395 New Airport Road, Suite H, Auburn 530-797-4677
kneedeepbrewing.com
If there's a 900-pound gorilla on the local microbrewery scene, it's Knee Deep. In just two years they've gone from the backroom of a shuttered Lincoln restaurant to a spacious new facility next to the airport in Auburn, where they're currently shipping more than 8,000 kegs a month to places as far away as the East Coast.
Owner Jerry Moore (his business card lists him as "janitor") says a couple years of retirement was all it took for him to realize he "didn't like golf," so he followed his passion—hooking up with brewer Jeremy Warren (whose mantra is "respect the beer"); together becoming a potent combination, producing concoctions like the multi-award-winning Hoptologist, a double IPA with a sweet, grassy aroma and a clean, tidy finish. The Belga Hoptologist is the Hoptologist using Belgian yeast to give it a zippy, almost fruity taste and would be an ideal introductory IPA for the uninitiated. The Simtra, on the other hand, is for the hardcore hophead: a gripping triple IPA and 11 percent alcohol-by-volume. It's also the one Warren is most proud of, due to the challenge in making it.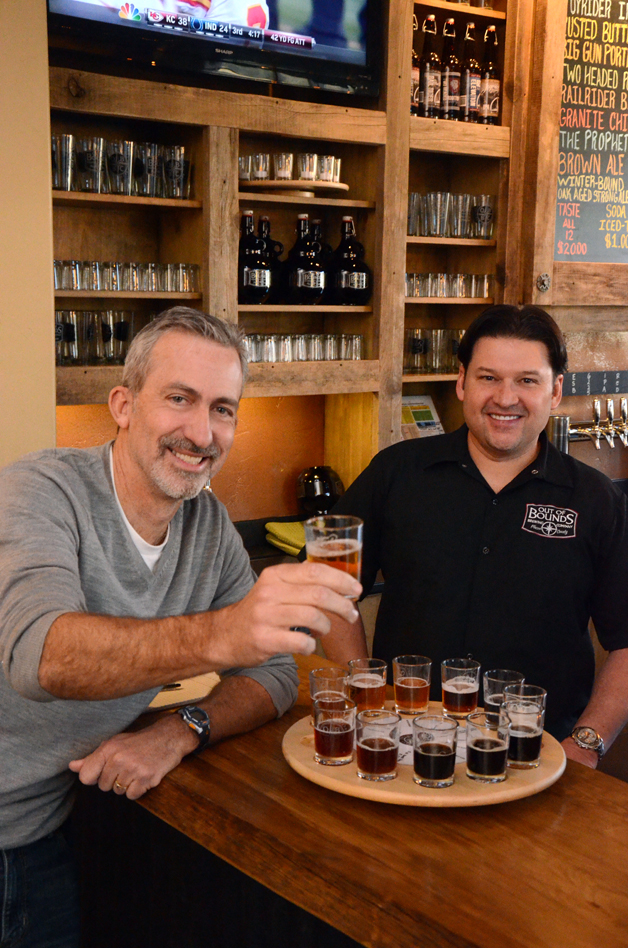 Cheers! Tom sips his tasting flight while getting expert advice from Out of Bounds Brewing Company Co-founder Anthony Brown.
Photo by Dante Fontana, © Style Media Group.
5. OUT OF BOUNDS BREWING COMPANY
4480 Yankee Hill Road, Suite 100 Rocklin, 916-259-1511
outofboundsbrewing.com
Only open since Labor Day, Rocklin's Out of Bounds has nevertheless hit the craft brew playing field running. Co-founders Eric Johnson and Anthony Brown lured one of the West Coast's most respected brew masters, Bruce MacPhee, away from one of the West Coast's most respected breweries, Deschutes of Bend, Oregon. They built the brewing facilities to his specifications and designed a spacious, comfortable tasting room. They also feature quite a few beers for such a new place, something that customer Christy Burg says initially made her wary. But as she makes her way down the menu board? "I don't think there's a beer I've been disappointed in yet."
Brown says one thing that sets Out of Bounds' beers apart is no filtering. "When you filter...you can get the beer onto the market quicker, but it takes out a lot of the rich-tasting organics that really make it a craft beer." I liked the Joyrider, an easy-drinking IPA that doesn't punch you in the mouth. Also noteworthy is the maple-y Big Gun Porter, which also has a hint of chocolate. But my favorite was the robust, roasty Granite Chief Stout, which was so good the first sip made me cuss.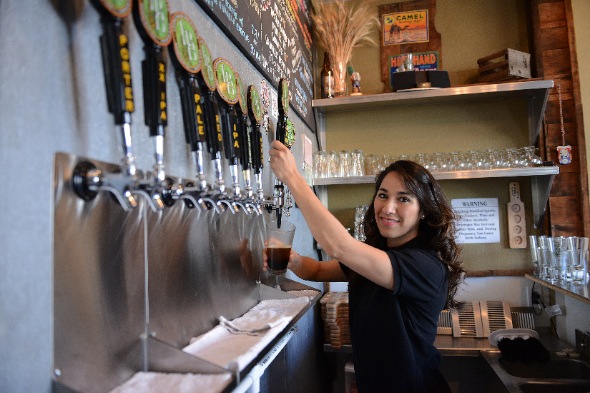 Loomis Basin Brewing Company photo by Kim Palaferri-Loomis News
6. LOOMIS BASIN BREWING COMPANY
Feed Me, Seymour
All of these breweries have at least some of their products available in bottles or on tap locally, but half the fun is visiting their taprooms, where you'll hang out with other beer fans and often be able to chat up the brewers themselves. However, many locations are no frills. If it's busy you may have to stand. You might need a jacket if it's cool. And, if you're thinking about food, know that—like wineries—they have rules that prohibit serving much more than pretzels or peanuts. But that doesn't mean food trucks can't stop by. From wood-fired pizzas and barbecue to burgers, tacos and Asian fusion, you name it and you can get it, usually Fridays and Saturdays. Also, several locations—like Loomis Basin Brewing Company—are totally cool if you bring your own grub. Tasting rooms also have different guidelines when it comes to children and pets, and most welcome both.  A quick phone call or check of a brewery's website will tell you everything you need to know.
If you like businesses that are family owned and operated, you'll love Loomis Basin. Opened by Kenny Gowen and his dad, Jim, in March 2011, the operation has grown substantially in just three years. And while assorted family members help out, Kenny and his dad are still the only two actual brewers in the building. The downside? "A lot of 16 hour days." The upside? "I get to work with my dad every day."
All that time and effort together has paid off in some great brews, like the Mandarin Wheat, an American wheat infused with locally sourced oranges from Sunset Ridge Mandarins and a second place finisher at the 2013 California State Fair.  Before your mouth even touches the glass, the hoppy aroma from the Vindicator IPA greets you like a happy dog and with a clean finish—it doesn't leave paw prints.  The more adventurous can try the Avenger Double IPA, a jacked-up 4X4 cousin of the Vindicator, and a porter aged in Jack Daniels barrels called Still Jacked with hints of oak, JD, and flame. Yes, flame.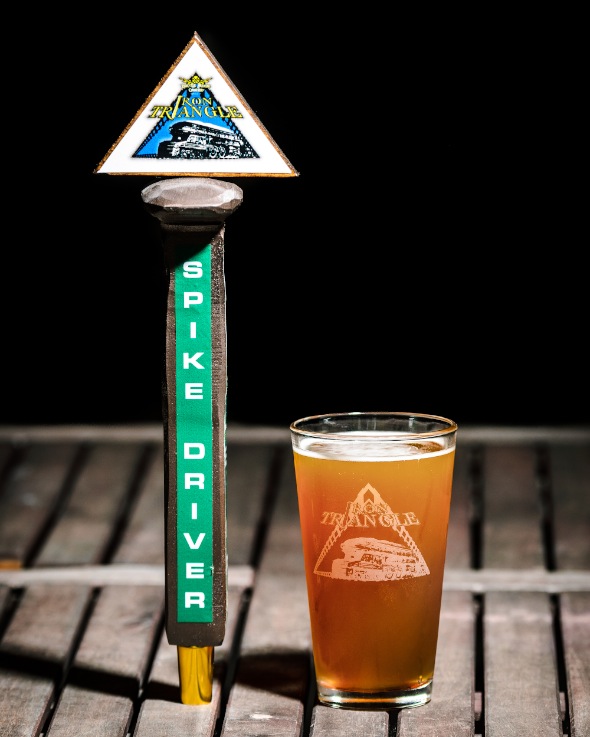 Photo courtesy of Roseville Brewing Company
7. ROSEVILLE BREWING COMPANY
If the three keys to a successful business are "location, location, location," Roseville Brewing Company (RBC) should have never opened two years ago. Instead, I'm halfway through a line 15 people deep, looking for an empty seat and hoping to reach the bar before the pie I ordered from the mobile, brick oven pizza guy is done. RBC is at the end of a long, dark industrial cul-de-sac in West Roseville. It's a crowd owner Kelly Rue doesn't take for granted. Even when they're slammed, Kelly says he still tries to "go around and say hi to people [to] let them know we really appreciate them coming down this weird little road to find us."
Frequent patron Erik Smith says he enjoys "the laid-back atmosphere," and his buddy Paul Gerstle agrees. "It's easy to feel comfortable here and you're enjoying good beer." The Blackberry Wheat is snappy-crisp and refreshing, almost like a cider but not as sweet. Their marquee beer is the Heavy Rail Pale Ale—full-bodied with an assertive combination of flavors that all manage to get along.  If your palate needs a jolt, the hopped-up Spike Driver will give the back of your eyeballs a tug. Rue's favorite?  The Steam Horse, a cinnamon coffee stout with a touch of honey and a yummy (did I just use that word?) chocolate influence from roasted barley.

Photo by Dante Fontana, © Style Media Group.
8. GOLD HILL VINEYARD AND BREWING
5660 Vineyard Lane, Placerville
530-626-6522
goldhillvineyard.com    
Unless you're a bird, this is not the easiest place to get to, but so worth it. Tucked into the foothills off the serpentine asphalt of Highway 49 near Coloma, Gold Hill was founded as a winery in 1985 by Hank Battjes. But Hank wasn't just a vintner, he was a home brewer too, and in 2000 he started making beer. Sadly, Battjes passed away in 2012, but his legacy lives on in the winery he established, the beer that is still brewed, and the view that accompanies the tasting of both. Good Lord what a view.  
Sit out on the deck and taste the 49'er Red, which server Rob Bietz says is one of their most popular beers. The Helles Bock is "hella" good (sorry), too. Bietz says it was intended to be an autumn seasonal but its brown-sugary-ish taste proved so popular they now serve it year-round.  Frequent customer Jim Critz is a fan of the Old Miner's Scotch. He says he loves the choice a winery/brewery gives: "Some days are great for wine, some for beer." He does have a point.