Taste New Orleans Without Leaving Home
Feb 05, 2014 04:04AM ● By Style
Photos courtesy of Ulysses Press.
ASTE NEW ORLEANS WITHOUT LEAVING HOME!
RECIPES FROM THE SOUTHERN PO' BOY COOKBOOK by Todd-Michael St. Pierre
(Ulysses Press, 2013, $16.95)
Baby, I Knead You! Homemade Po' boy Bread
This is a recipe from my book Taste of Tremé. The consensus from my readers and several food bloggers is that this is pretty close to the real thing. So if you want to test your baking skills, try this out.
4 cups all-purpose flour
1 cup cake flour
1 packet (2¼ teaspoons) active dry yeast
2 tablespoons nonfat dry milk
1 tablespoon sugar
1 tablespoon salt
2 cups hot water (130°F)
1 tablespoon unsalted butter
1 tablespoon cold water
1. In a stand mixer fitted with the paddle attachment, mix together 1 cup of the all-purpose flour and the cake flour, along with the yeast, dry milk, sugar, and salt. Pour in the hot water and butter, mix well, then add remaining flour ½ cup at a time. Near the end of the adding the flour, switch to the dough hook attachment. Add more flour if needed to get to an elastic but not sticky ball of dough. Cover the bowl with a clean kitchen towel and let rest for 12 minutes. Knead on speed 2 for about 12 minutes. The dough should clean the sides of the bowl. Turn out into a lightly oiled bowl with a capacity at least 2½ times the size of the dough. Cover with a clean kitchen towel and let rise until doubled.
2. Punch down the dough and turn it out onto a lightly floured surface. Knead briefly, then divide into 2 pieces. Shape one half at a time into a loose rectangle. Cover loosely and let rest for 12 minutes.
3. Line a rimmed baking sheet with parchment paper. Press and roll each half of the dough into a 10 x 16-inch rectangle. Use your fingers to roll the dough into a 10-inch-long log. Seal the seam and ends. Roll and stretch each log to the length of the longest side of the parchment and place on the prepared baking sheet. Cover loosely with plastic wrap and let rise for 50 minutes. The dough should double easily.
4. Preheat the oven to 400°F. Brush the dough with cold water and use a sharp knife to cut slashes in the top of each log. Place an ovenproof dish on the lowest oven rack and fill the dish with hot water to create steam in the oven; this will help ensure that the crust on your bread is crispy while the inside stays tender. Bake the dough until golden brown, about 35 minutes, rotating the pan halfway through for even color. Cool on a wire rack.
---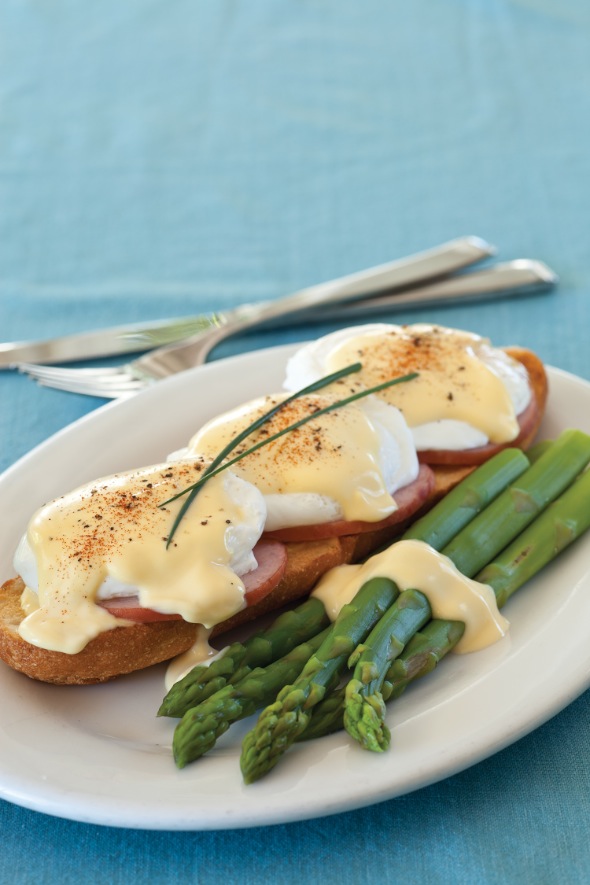 The Benny (Eggs Benedict Po' Boy)
What could be better than this NOLA breakfast to kick your day off right or to refuel and replenish yourself after a night of French Quarter–style drinking and debauchery? In fact, the perfect combeaux is one of these with a spicy, Cajun-style Bloody Mary for breakfast or brunch. You'll enjoy it so much that you'll soon forget you ever had a hangover, just in time to hit the pavement and do it all over again! Serves 2
Hollandaise
2 egg yolks
2 tablespoons fresh lemon juice
¼ teaspoon cayenne pepper
1 tablespoon red wine vinegar
½ cup (1 stick) butter, cut into small cubes
Poached eggs
2 tablespoons white vinegar
3 or 4 eggs
Assembly
1 (12-inch) loaf French bread, split and toasted
Canadian bacon or bacon strips
1 tablespoon chopped fresh chives
1. In a nonstick skillet over medium-high heat, cook the bacon until crisp on both sides. Remove and drain on paper towels.
2. To make the hollandaise sauce, whisk together the egg yolks, lemon juice, cayenne, and red wine vinegar in a small saucepan over low heat. Turn the heat to medium, slowly add the butter, and whisk until the butter and the eggs are thoroughly blended. If the sauce separates, add 2 teaspoons of water and continue to whisk until it thickens.
3. To poach the eggs, bring a sauté pan (wide enough to accommodate all the eggs without crowding) of water (about 2 inches) to a simmer over medium heat until water temperature is 180°F, and add the white vinegar. The water should never boil. Crack an egg into a cup and carefully slide it into the liquid. Repeat quickly with the remaining eggs. Cook the eggs until the whites are firm and the yolks nearly done, about 3 minutes.
4. Meanwhile, spread a little of the hollandaise sauce on the bottom half of the toasted bread, and top with the bacon. When the eggs are done, remove them with a slotted spoon to drain the liquid, and place them over the bacon. Top with more hollandaise sauce, and sprinkle on the chives. Serve the top half of the loaf with butter, cane syrup, or your favorite jam or jelly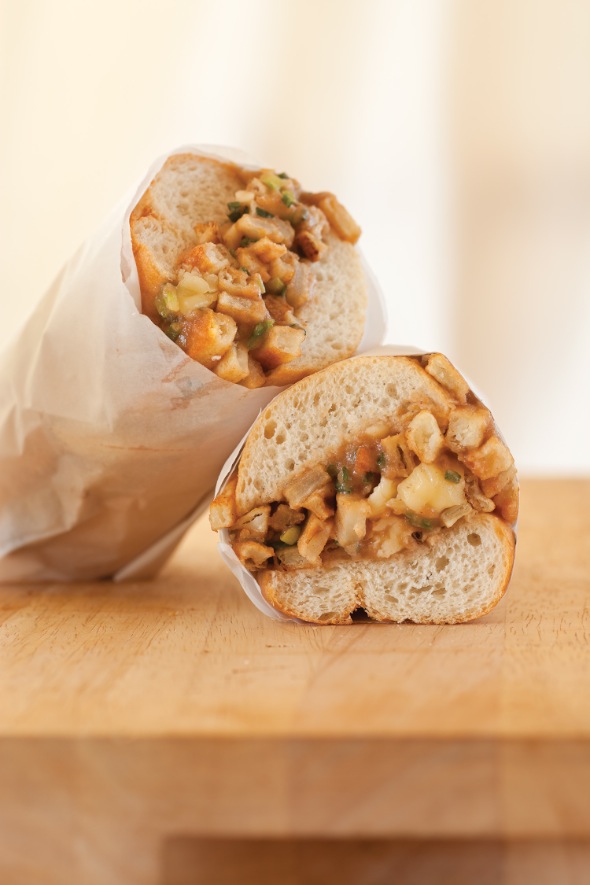 The French Canadian Poutine Po' Boy
By most accounts, the original Martin brothers' free po' boys were filled not with oysters or meat but with a much cheaper carbohydrate combo: french-fried potatoes and brown gravy. You can still get these types of po' boy in The City That Care Forgot. In fact, this is one of my favorites. In her book Gumbo Tales, Sara Roahen writes about having to lie down on the floor after eating one: "I could only guess that digestion had usurped all available energies." Truer words have never been written, Sara! Invite the neighbors, unless you don't like them. Regardless, these are worthy of a party. Serves 2 to 4
Canola oil
4 large russet (baking) potatoes cut into 1⁄4-inch slices
1 tablespoon plus 11/2 teaspoons unsalted butter, divided
3 tablespoons minced green onion 3 tablespoons fresh thyme1/2 cup dry red wine1 tablespoon water
3/4 teaspoon cornstarch
1 cup beef broth
1 teaspoon Kitchen Bouquet
1 tablespoon Worcestershire sauce
1 teaspoon coarsely cracked black pepper
1/2 teaspoon salt
5 ounces cheese curds
2 tablespoons finely chopped fresh chives
2 (12-inch) loaves French bread, split nearly apart
1. Place an oven rack in the middle position, and preheat the oven to 200°F.
2. Attach a deep-fry thermometer to the side of a 5 to 6-quart heavy pot, and add enough oil to measure 3 inches deep. Over medium heat, heat the oil to 375°F.
3. Peel the potatoes, cut lengthwise into 1⁄4-inch-thick sticks, and submerge in a bowl of ice and cold water. Drain in a colander, then spread in a single layer on paper towels, and pat very dry.
4. Start the gravy by melting 1 tablespoon butter in a small heavy saucepan over medium heat. Add the green onion and thyme, stirring frequently, until the onion is softened and golden, about 2 minutes. Pour in the wine, and bring to a boil. Cook until reduced by half, stirring occasionally, then discard the thyme. While the wine mixture is reducing, stir together the water and cornstarch until the cornstarch has dissolved. Add the beef broth, Kitchen Bouquet, and Worcestershire to the wine, and bring to a boil. Whisk in the cornstarch mixture, and return to a boil. Stir frequently and boil until the sauce is slightly thickened, about 3 minutes. Remove from the heat, and stir in the black pepper, salt, and 11/2 teaspoons butter until the butter has melted.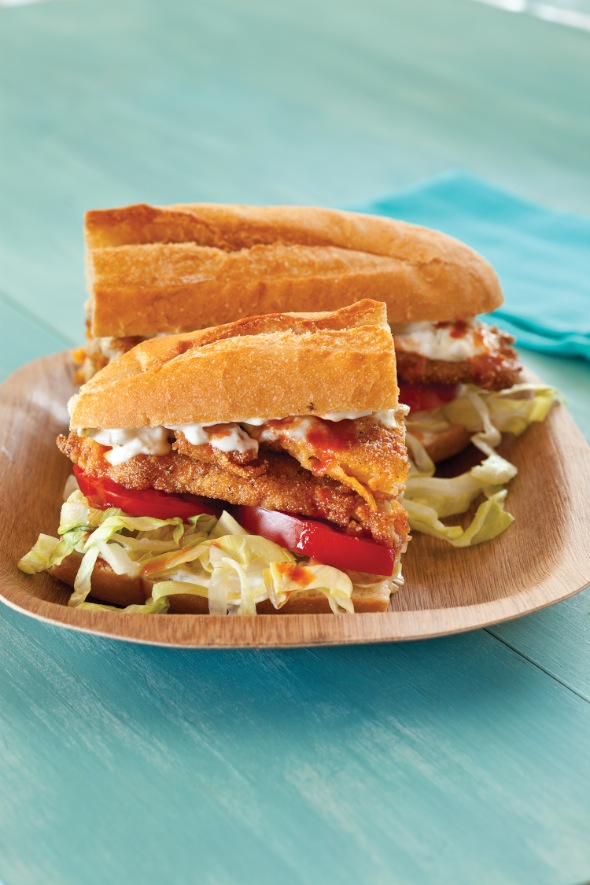 The Tremé (Fried Catfish Po' Boy)
The now-famous Tremé neighborhood of New Orleans is famous for lots of things, like being the actual birthplace of jazz, and that same jazzy rhythm has seemingly made its way into the food the folks there cook and serve on a daily basis. This catfish po' boy is one testament to that glorious truth! Serves 4
½ cup buttermilk
1 teaspoon Tabasco sauce
½ teaspoon salt
¼ teaspoon cayenne pepper
¼ cup yellow cornmeal
¼ cup flour
2 teaspoons Cajun or Creole seasoning
¼ teaspoon minced fresh garlic
3 tablespoons canola oil, divided
4 (6-ounce) catfish fillets
Assembly
4 (6-inch) French rolls, split
½ bottle Louisiana-style tartar sauce
2 cups shredded lettuce
1 large Creole or beefsteak tomato, sliced
1. Whisk together the buttermilk, Tabasco, salt, and cayenne in a medium bowl. In a large shallow dish, stir together the cornmeal, flour, Cajun or Creole seasoning, and garlic.
2. In a large skillet over medium heat, heat half of the oil. Dip two catfish fillets into the buttermilk mixture, and dredge in the cornmeal and flour mixture, tapping off the excess. Fry the fillets until golden brown, turning once, about 6 minutes. Heat the remaining oil, and repeat the procedure for coating and cooking the other 2 fillets.
3. Spread tartar sauce on both sides of the rolls. Layer on lettuce and tomato slices on each roll, and top with a catfish fillet. Serve immediately.