Education Guide
Feb 03, 2014 09:19AM ● By Style
This month, Style Magazine presents our education special advertising section.
From learning centers, tutoring programs and preschools to adult education, colleges and universities, our area scores high marks for the number of ways to enlighten and be enlightened. The following are some of the area's premier educational resources. And when you visit these businesses or schools, tell them you saw their profile in Style!
---
SPECIAL PROMOTIONAL SECTION
---

Acceptance of All, Exclusion of None
Guiding Hands School
4900 Windplay Drive  |  El Dorado Hills
916-939-0553  |  www.ghandsschool.com
Guiding Hands School just celebrated 20 years as a non-denominational Non-Public School (NPS) serving special needs children from preschool through high school, ages 2-21. Fully accredited for K-12 by the Schools Commission of the Western Association of Schools and Colleges (WASC), Guiding Hands is certified by the California State Department of Education and licensed by Community Care Licensing. Students are privately or district-placed.
Students are taught by credentialed teachers in academically-based classrooms with an average of 15 students per class. Staff-to-Student ratio is 1-to-5 allowing for individualized and appropriate support focused on academic, social, self-help and positive behavioral growth. The high school offers diploma and certificate tracks.
Services on campus include Speech & Language Therapy, Occupational Therapy, Guidance Counseling, Educationally-Related Mental Health Services, Behavioral Education, Social Skills Training, Functional Life Skills and Community-Based Instruction. Staff on campus includes Board-Certified Behavior Analyst, Licensed School Psychologist, and Pediatric & Adolescent Psychiatrist.
Guiding Hands School has a hot lunch program, transportation option, and licensed childcare center with before and after school care for younger students. Teen Center on campus provides after-school program for all teens, including homework support, structured social interaction and scheduled outings.
---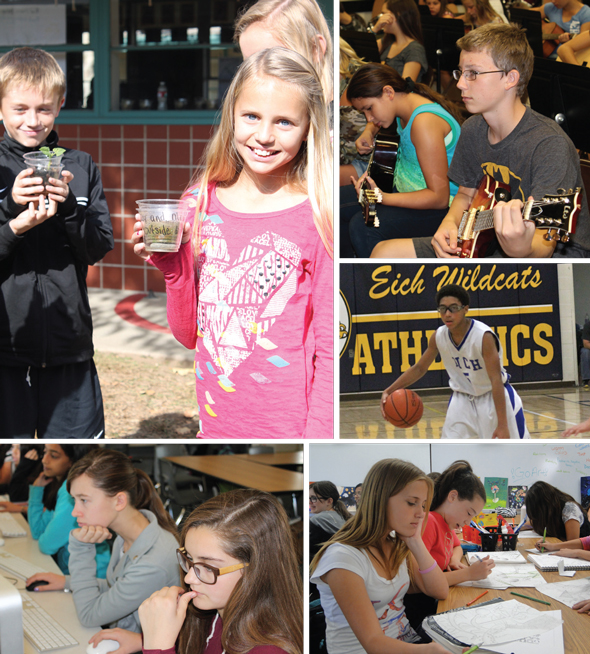 W.T. Eich Middle School
1509 Sierra Gardens Dr.  |  Roseville
916-771-1770  |  www.IBEich.com
Warren T. Eich Middle School is an International Baccalaureate (IB) Candidate School serving students in Roseville, CA. The IB teaching philosophy is known to develop internationally minded, creative and reflective thinkers.
Why Choose Us?
WE BELIEVE IN EDUCATING THE WHOLE STUDENT
Our students are encouraged to become well-rounded, accountable and caring individuals. We believe in fostering individuality to create a better, more peaceful world through intercultural understanding and respect.
WE INVEST IN STUDENT SUCCESS THROUGH IB EDUCATION.
We incorporate the rigors of Common Core, Visual and Performing Arts and Foreign Language. Through global citizenship, holistic learning and intercultural awareness, students are prepared for college and career.
WE LET OUR STORY TELL ITSELF
At Eich, we are all about history, and not just the kind you find in books. Our roots run deep here and we take pride in our achievements. We've earned awards such as National Blue Ribbon, California Distinguished and Project Fit America School and we've met AYP Growth Targets in all significant subgroups. Our API has reached 884 in recent years. What's even better? Our campus is brimming with considerate, kind, eager teenagers who are preparing to make their mark on this planet. Watch out, world!
Learn more at www.IBEich.com or 916.771.1770 ext. 123
---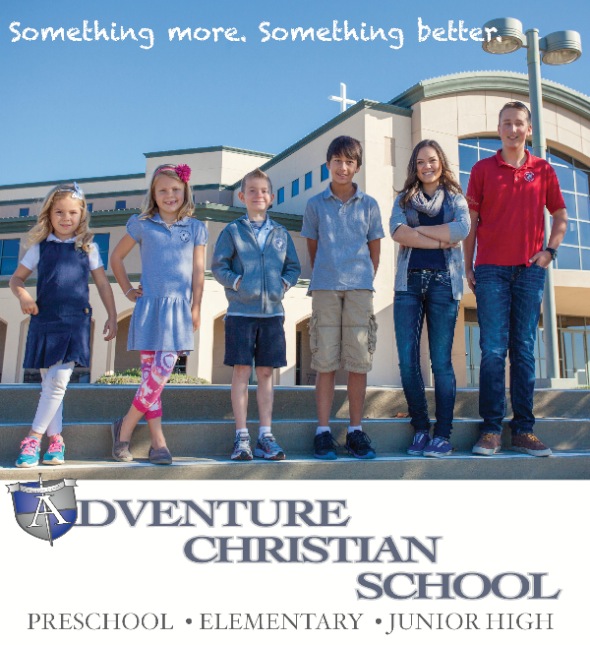 Adventure Christian School
Adventure Christian School is home to an award winning Preschool, Elementary, and Junior High program.  Our school is dedicated to offering challenging academics in a Christian environment with credentialed teachers, state of the art facilities, and extended care for working families.  In Preschool, your child will develop socially, academically, and fine tune their basic motor skills.  Our Elementary and Junior High school curriculum includes teaching core subjects in addition to music, physical education, Spanish, and computer technology.  Class sizes are maxed at 24 students per class to ensure that every child receives the educational attention they deserve.  In Junior High, students have the ability to take high school level coursework and various electives to best prepare them for their coming high school years.  We'd love for your child to join our Home of Warriors!  Check out our website for more information.  Applications for the 2014-15 school year are currently being accepted with enrollment beginning in March, so contact us today!
---
SPECIAL PROMOTIONAL SECTION
---
If you would like to be included in one of Style's Special Promotional Sections, please contact Debra Linn at 916-988-9888 x114 or [email protected].
---
SPECIAL PROMOTIONAL SECTION
---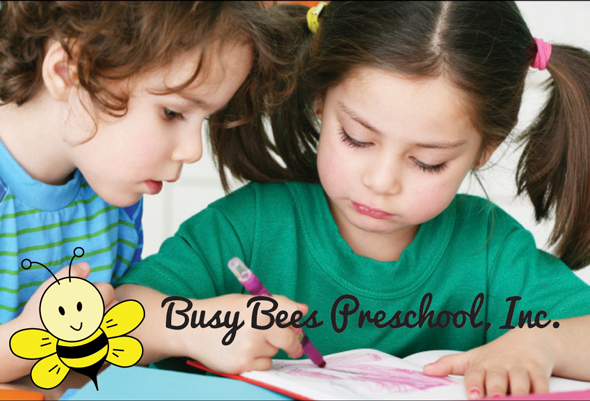 Busy Bees Preschool, Inc.
1261 Hawks Flight Court, Ste. F  |  El Dorado Hills
916-933-3797  |  www.busybeesedh.com
Lic. #093615280
Our mission is to ensure we provide the very best in Early Childhood Care and Education. We strive to meet every child's individual needs, to build self confidence and a love of learning. Our dedicated teachers, bright, welcoming classrooms and developmentally appropriate curriculum are what make us special and are the reason why we have consistently been voted 'Best Preschool' by the local community. We have 2 day preschool classes for 2 and 3 year olds and 3 or 5 day Pre K classes for 4 and 5 year olds. Schedule your tour to enroll for our 2014/15 school year.
---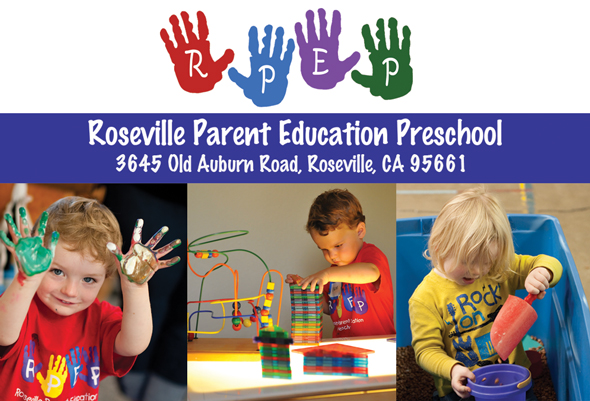 Roseville Parent Education Preschool
3645 Old Auburn Rd.  |  Roseville
916-782-7458  |  www.rpeproseville.com
RPEP is a parent co-operative preschool offering a play-based curriculum for ages 18 months to 5 years, as well as parent education and support at our monthly parent meetings. Come visit us at our Open House Playdate on March 29, 2014 from 10-1. Meet our teachers, Miss Stacey and Miss Megan, as well as other families in our community. Explore indoor and outdoor play spaces, toys and play-based learning activities. Learn how the RPEP community can benefit you and your children! Call us at 916-782-7458 or visit www.rpeproseville.com for more information.
---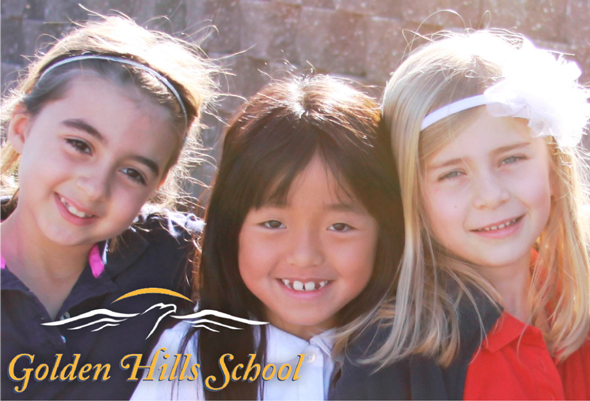 Golden Hills School
1060 Suncast Ln.  |  El Dorado Hills
916-933-0100  |  www.goldenhillsschool.net
Golden Hills School is the only CAIS/WASC accredited, NAIS member independent school located on six beautiful acres in El Dorado Hills. Our comprehensive curriculum includes daily P.E., as well as fine arts and performing arts, athletics, Spanish, and technology instruction. A close and diverse community of parents and teachers form educational partnerships to provide a high-quality education with a personalized approach for the whole child. Credentialed teachers know each child and create enriched programs that inspire a love of learning and empower students to achieve their personal best. Leadership and character education programs foster confident, socially-conscious graduates for successful lives in a global world.
---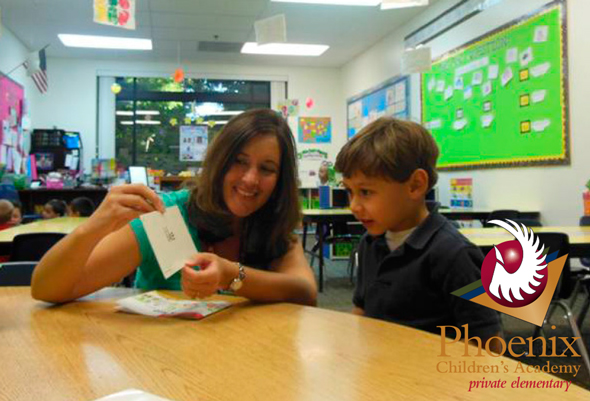 The Phoenix Schools Folsom Private K-8
You know your child is one in a million……does your child's teacher know that? The Phoenix Schools Folsom Private Kindergarten-8th grade teachers provide educational programs that focus on your child as an individual.
Traditional and Accelerated Classes
Challenging and Dynamic Curriculum
Safe, Clean, Organized, Professional, and Educational
Nurturing teachers in small classes
Spanish, Music, Art, Technology, Physical Education, and Library Time
Please call to schedule a visit at our premier Phoenix K-8 Campus in Folsom to see the magic!
---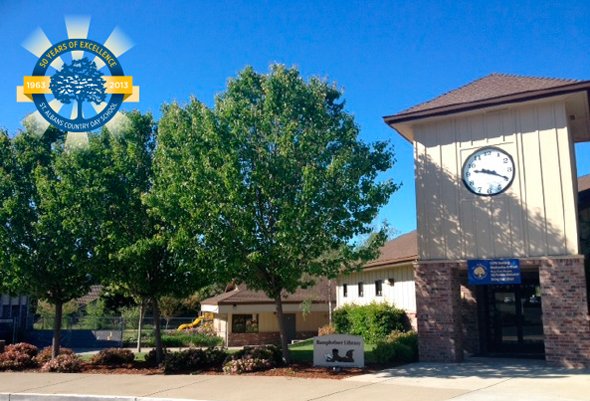 St. Albans Country Day School
2312 Vernon St.  |  Roseville
916-782-3557  |  www.stalbans.org
St. Albans is a non-religious, pre-K through eighth grade private school with a 50-year tradition of academic excellence. Small class size and extraordinary faculty nurture each child's success in the core subject areas of math, science, history, social studies, English, computer, and Spanish. Along with rigorous academics, all grades enjoy a well-rounded curriculum including visual and performing arts, and a myriad of athletic and enrichment activities.
Classrooms are powered by state-of-the-art technology and the open-air campus includes a spacious, modern library, a dedicated computer laboratory, an expansive extended day care center, and a spacious gymnasium and auditorium.
---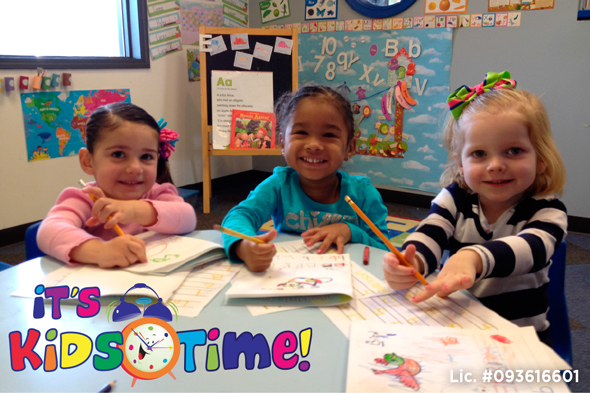 It's Kids Time
4363 Town Center Blvd., Ste. 110  |  El Dorado Hills
916-932-8463  |  www.itskidstime.com
Located in El Dorado Hills Town Center, "It's Kids Time" is not the typical daycare facility but rather an upbeat, new, contemporary center offering education services. "It's Kids Time" focuses on Pre-K development: math, writing, language, and social development. This wonderful preschool program is not only fun and engaging, but also academically driven to get your preschooler ready for kindergarten. "It's Kids Time" is equipped with numerous amenities for children, including a computer café for self-paced research or games, as well as an arcade, LCD projector system with 110" screen, a classroom, and a separate toddler room. We provide full-time, part-time and drop-in childcare. "It's Kids Time" is licensed by the State of California to provide childcare to children ages 18 months to 12 years of age.
---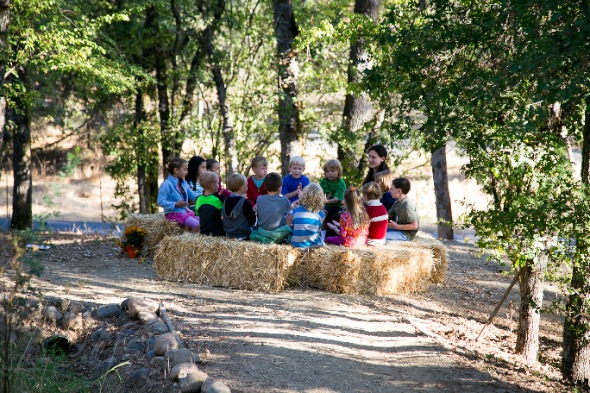 Cedar Springs Waldorf School
6029 Gold Meadows Rd.  |  Placerville
530-642-9903  |  www.cedarspringsonline.com
Have you ever wondered what lies behind the classroom doors of a Waldorf School? Serving children from Early Childhood through Eighth Grade, Cedar Springs Waldorf School welcomes you to visit our campus to experience our inspired teachers and students in action. Waldorf curriculum is robust in academics enriched with foreign language, music, art, physical education, drama, gardening, woodworking, handwork, and meaningful parent education. Our five-acre wooded campus is located off Highway 50 just minutes from El Dorado Hills and Folsom.  Call to attend an Open Classroom Tour on February 11 or March 4 for a window into the wonder of Waldorf.
---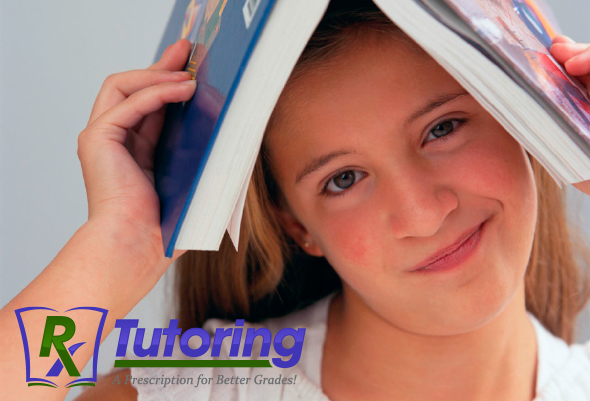 Rx Tutoring
9700 Village Center Dr.  |  Granite Bay
916-289-4992  |  www.rxtutoring.com
Is your child struggling in school or having trouble concentrating? Does your child need help with organization and study skills? Rx Tutoring is an innovative program designed to give your child highly individualized tutoring allowing your child to learn new skills, overcome challenges and manage homework. Rx Tutoring provides an ideal environment for middle school and high school students. Our quiet office is nestled in the heart of Granite Bay.
New student special-50% off initial consultation.
Please call for details.
---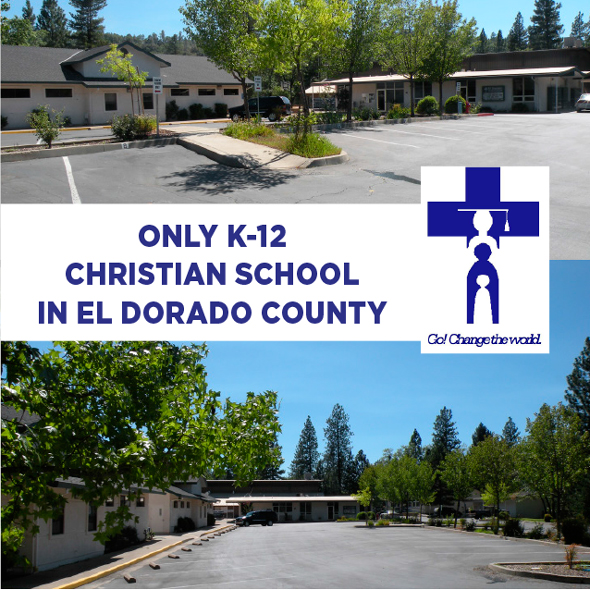 El Dorado Adventist School
Come visit! Family-oriented, safe, nurturing Christian environment, WASC accredited, UC approved classes, K-12 Music Program, Varsity/JV Sports, extracurricular activities, hot lunch program, extended care, community service. Credentialed professionals, most with advanced degrees, instill a love for learning and community.
---
SPECIAL PROMOTIONAL SECTION
---
If you would like to be included in one of Style's Special Promotional Sections, please contact Debra Linn at 916-988-9888 x114 or [email protected].