Puerto Vallarta
Jan 15, 2014 02:25AM ● By Style
Photo courtesy of Puerto Vallarta Tourism Board.
When John Huston filmed Night of the Iguana in 1963, Puerto Vallarta blipped onto the tourist radar.
Resorts and restaurants began to pop up, but the little city on Mexico's Pacific Coast stayed true to its roots. With a recent facelift, and a renewed focus on sustainable tourism, the city has found even more ways to show itself off, and save its natural beauty.

Cathedral of Our Lady of Guadalupe
Photo courtesy of Puerto Vallarta Tourism Board.
CHECKING IN AND CHILLING OUT
A six-hour flight and a short shuttle hop dropped me at CasaMagna Marriott Puerto Vallarta Resort & Spa. The AAA four-diamond property has four world-class restaurants, an oceanfront infinity pool with a swim-up bar, and the city's largest full-service spa. With 433 rooms, the CasaMagna is large, but doesn't feel crowded. The resort's colorful, contemporary Mexican décor, easy-to-navigate layout and friendly, attentive staff give it the welcoming feel of a much smaller hotel. You won't find crowds of rowdy spring breakers here, but you will find families having fun, and plenty of quiet spaces inside to hang out with a cocktail, a book or a laptop.
From my eighth-floor balcony, scarlet bougainvillea petals fluttered up from the pool garden as fishing boats returned to shore, and people began to gather at the water's edge. After checking out the view, I wandered down to the beach and was invited—along with other guests—to participate in "Secretos del Mar"—the local sea turtle rescue program. Hosted by several hotels, the program encourages visitors and local schoolchildren to release new hatchlings into the bay as they learn about protecting the area's turtle population.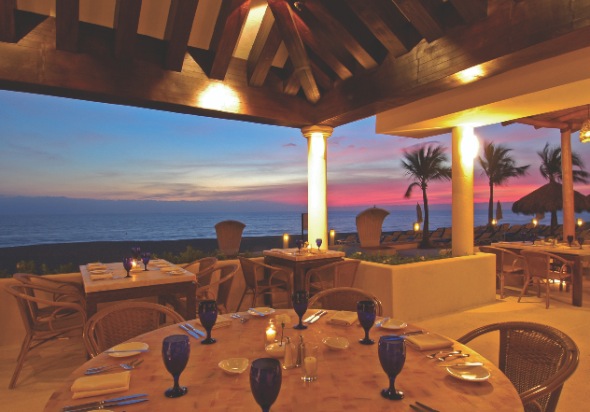 Ocean view from Las Casitas Restaurant
Photo courtesy of CasaMagna Marriott Puerto Vallarta Resort & Spa.
DINE
Fredy's Tucan. Locals know where to find the best breakfast in town. Join them for banana pancakes, eggs Benedict, or one of the many Mexican specials. Great service, huge portions, and most importantly, non-stop coffee.  
La Chata. Ask for one of the private balconies overlooking El Malecón (boardwalk). This downtown spot is a good place for a traditional Mexican lunch, or Happy Hour with large margaritas and strolling mariachis.
CasaMagna's La Casitas Restaurant. Dine alfresco on the beach with seafood and sunsets, as Chef Fred Ruiz recreates continental cuisine with a Mexican twist. Try the lime-marinated grilled mahimahi with black bean sauce and a goat cheese tostada.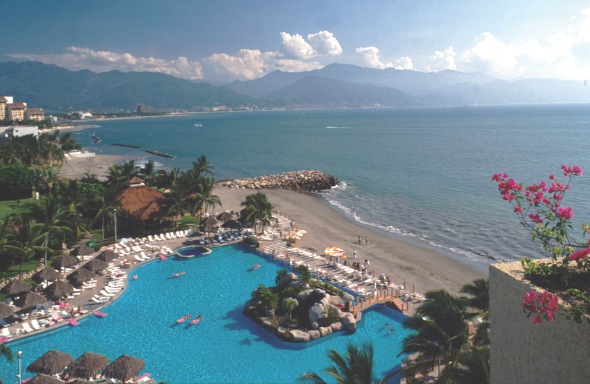 View from CasaMagna Marriott Puerto Vallarta Resort & Spa.
Photo courtesy of CasaMagna Marriott Puerto Vallarta Resort & Spa.
EXPLORE
El Malecón. Take a quick taxi ride to the center of town, and get an eyeful of art and culture from around the country. Recent renovations have widened the seaside walkway and removed traffic from the mile-long public space. Look for Puerto Vallarta's iconic seahorse sculpture, El Caballito, and Alejandro Colunga and Sergio Bustamante's quirky sculptures of sea creatures and otherworldly beings. Performance artists impersonate sand sculptures, local painters sell their work, and shops along the way include art galleries, gift shops and restaurants. Be sure to catch a heart-stopping performance of the Papantla Flyers, where they spin upside down around a 70-foot-high pole as their ropes unwind toward the sand.
Cathedral of Our Lady of Guadalupe. Topped with a crown, this cathedral is a jewel box. Sunlight streaming through its stained glass windows sets off the gold leaf and filigree that decorates its high white walls; sit for a while and soak it all in.
Gringo Gulch. Take a stroll up the cobblestones for great views, and a close look at the hodge-podge architecture in this funky expat neighborhood. Near the top, you'll find the pink bridge that Richard Burton built to link his house with Elizabeth Taylor's place across the street.
Cuale Island. Hold onto your bags as you cross the swinging rope bridge; browse stalls filled with handicrafts, silver jewelry, luchador (wrestler) masks and sombreros; look for the statue of John Huston; and search for wild iguanas in the trees.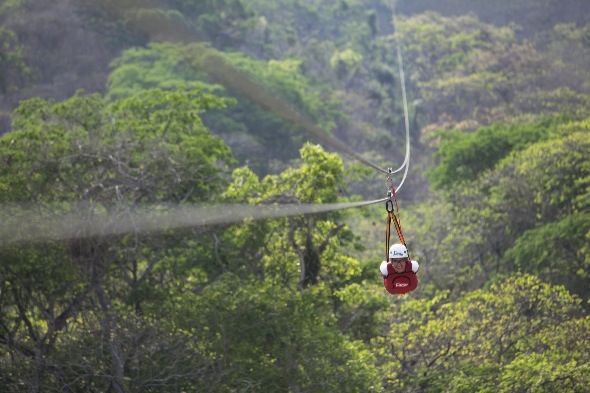 Vallarta Adventures Extreme Zip Line Adventure
Photo courtesy of Vallarta Adventures
Vallarta Adventures Extreme Zip Line Adventure. A 40-minute van ride takes thrill junkies deep into the Sierra Madre Mountains. Zip lining through the jungle canopy is just the beginning: The adventure includes a 50-foot rappel, a Tarzan rope swing, a crazy rope ladder, an ATV ride and a waterslide. The highlight of the trip is a 60-mph zip above the jungle for nearly a mile. It's unforgettable.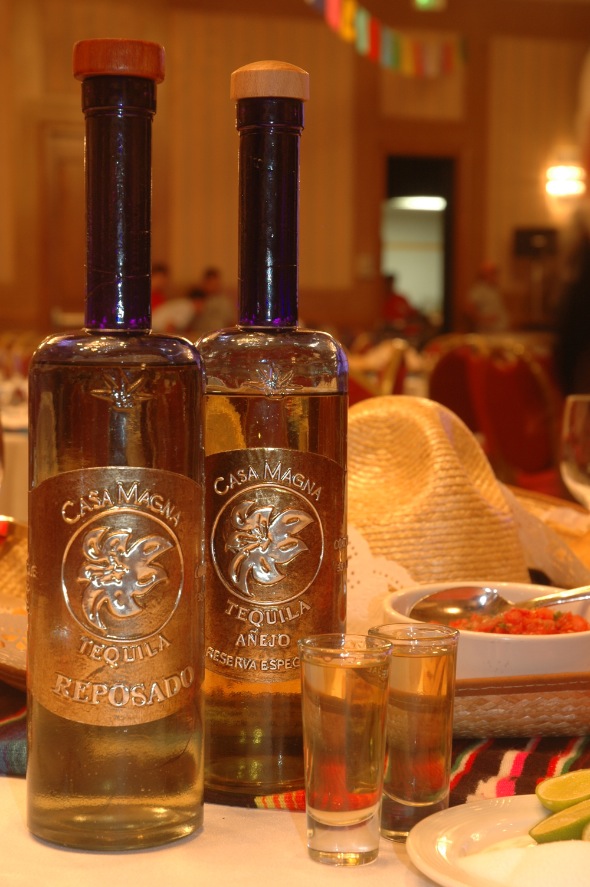 Tequila Tasting
Photo courtesy of CasaMagna Marriott Puerto Vallarta Resort & Spa.
INDULGE
Ohtli Spa. At 22,000 square foot, CasaMagna's Ohtli Spa is the largest in Puerto Vallarta. Ohtli—a Huichol Indian word for "path"—uses many healing treatments from the indigenous Sierra Madre Huichol culture. You'll be welcomed with a Huichol feather blessing, and rejuvenated with healing treatments using natural ingredients. Ohtli offers a variety of water therapies, Asian massage techniques, yoga and a fully stocked fitness center.
Tequila tasting. Jalisco's blue agave is the traditional source of tequila, and CasaMagna's own line has received tequila's highest honor, the Agave de Oro (golden agave). Join a group tasting led by the resort's tequila sommelier to learn the liquor's history, how it's made, and how to pair the different styles with food.