Taste-bud Touchdowns
Dec 31, 2013 03:32AM ● By Style
By the time we reach adulthood, most of us are well aware of the benefits that come with healthy eating habits—
lower cholesterol, decreased risk of heart disease and improved energy—but making sure the little ones in your life get their fruits and veggies can be an uphill battle, especially when dealing with picky eaters. If filling their plates with five a day tends to end in a tantrum, we recommend giving Style's collection of healthy recipes a try. Concocted by our favorite local caterers, each offers a healthy dose of nutrition and delicious—sure to please even the most particular palate.
WHOLE WHEAT SAUSAGE PANCAKES
Submitted by Hannibal's Catering & Events
1 cup whole-wheat flour
2 tsp. sugar
1/2 tsp. baking powder
1/4 tsp. baking soda
1/4 tsp. salt
1 cup buttermilk
1 large egg
1/4 tsp. melted butter
3 oz. cooked turkey sausage
Mix dry ingredients together. Mix wet ingredients together until smooth. Whisk wet mix into dry ingredients until thoroughly combined (some lumps are OK; don't over whisk). Fold in sausage and scoop onto hot, greased, non-stick griddle. When bubbles form on the surface, turn cakes over until other side is golden brown. Serve with butter and maple syrup.
---
PEANUT BUTTER AND BANANA ROLL-UPS
(pictured above) Submitted by Hannibal's Catering & Events
1 whole-wheat tortilla
Crunchy peanut butter
Sliced bananas
Honey, to drizzle
Top tortilla with peanut butter; spread evenly. Place banana slices on top of the peanut butter. Drizzle with honey, as desired. Roll tortilla and cut into disks.
---
HUMMUS
Submitted by Beth Sogaard Catering
28 oz. can garbanzo beans, drained, liquid reserved
1 tbsp. minced garlic
1/4 cup extra virgin olive oil
1 tbsp. lemon juice
1/4 bunch Italian parsley, chopped, tender stems are OK
2 tbsp. tahini
3/4 tsp. cayenne, or to taste
2 tsp. ground cumin
1 tsp. kosher salt, or to taste
Fill the work bowl of a food processor with beans, garlic, olive oil and lemon juice, and purée until fairly smooth, adding in the reserved garbanzo liquid a little at a time if needed. Pulse in the remaining ingredients just to blend—you don't want to purée the parsley and turn the hummus green. Taste and add more lemon, salt or cayenne if needed. A drizzle of olive oil and some lemon zest over the top looks nice, too. Serve with crisp vegetables, pita bread or baked chips. Serves 12.
---
TIPS FOR GETTING KIDS TO EAT HEALTHIER
Submitted by Chef Kim at Table Nectar Local & Organic Catered Events
Encourage them to help wash, chop, stir or mix whatever you're making. Kids love to get involved and are more inclined to eat what they've helped to prepare.
Grow an herb garden. Herbs are packed with nutrients and kids will love eating what they've helped to grow.
Sneak extra veggies into pasta sauces, casseroles, stews and soups. Chop them small, purée them in the blender, or shred them to hide from picky eaters.
Buy organic. Organic produce, dairy and meats are richer in vitamins and nutrients and tend to be more flavorful than their conventional counterparts.
Make subtle changes. Substitute brown rice for white, eat more whole grains (like quinoa) rather than processed ones, utilize healthier unprocessed sweeteners (honey, maple syrup, coconut sap sugar and Sucanat) instead of white granulated sugar, and opt for fresh fruits and veggies over canned and frozen products.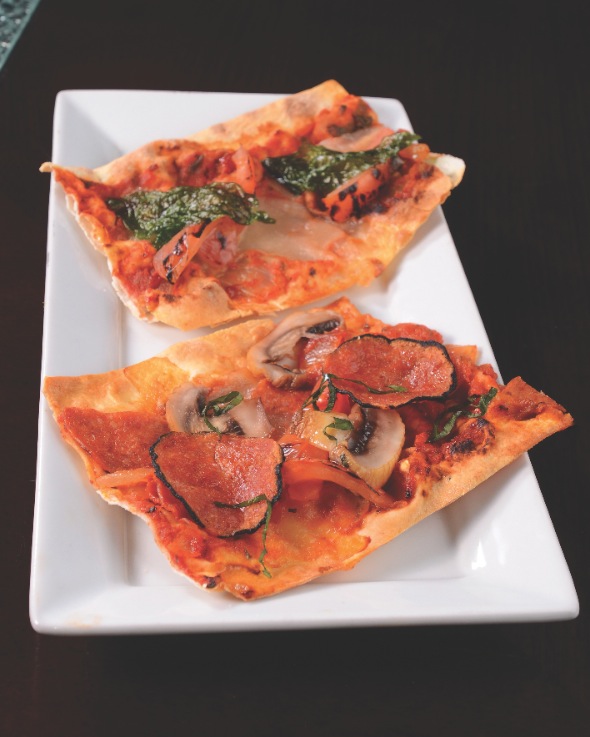 LAVASH PIZZA
Submitted by Hannibal's Catering & Events
1 lavash
1/2 cup marinara sauce*
8 slices of fresh mozzarella
Pepperoni slices (try turkey pepperoni!) or grilled chicken
Fresh tomato slices, or veggies of choice
Thinly spread marinara on lavash. Add toppings. Bake in 400-degree oven until cheese is melted. Cut and serve.
---
*VEGGIE MARINARA SAUCE
Submitted by Table Nectar Local & Organic Catered Events
Everybody has a favorite marinara sauce recipe and what kid doesn't love spaghetti?  
For this easy weeknight meal, prepare your favorite sauce and add a few handfuls of shredded zucchini or squash to the mixture; allow to simmer for an additional 5 minutes. Baby spinach and/or chard can also be chopped finely and added to the sauce for an extra serving of veggies.
---
DID YOU KNOW?
According to the Centers for Disease Control and Prevention:
Obesity is defined as having excess body fat, while overweight is defined as excess body weight for a particular height (from fat, muscle, bone, water, or a combination of these things).
Childhood obesity has more than doubled in children and tripled in adolescents in the past 30 years.
The percentage of children aged 6-11 in the U.S. who were obese grew from 7 percent in 1980 to nearly 18 percent in 2010.
Obese youth are more likely to have risk factors for cardiovascular disease, including high cholesterol and high blood pressure.
Obese adolescents are more likely to have pre-diabetes.
Obese children and adolescents are likely to be obese adults, which puts them at greater risk for heart disease, type 2 diabetes, stroke, cancer and osteoarthritis.
 
---
GREEN SMOOTHIE
Submitted by Table Nectar Local & Organic Catered Events

One of my favorite ways to get kids to eat a salad for breakfast, believe it or not, is in a smoothie. In our family, we call it a green smoothie, and my daughter loves it because of the green mustache she gets after slurping it down!
The best part about this recipe is its simplicity. All you have to do is add 1/2 to 1 cup of chopped raw baby spinach, romaine lettuce, cabbage, collard greens or green kale, and the juice of one lemon to your favorite fruit smoothie recipe and serve!  
Surprisingly, the fruit and citrus overpower the flavor of the greens and just about any kid will happily drink it—as long as they don't see what was put into the blender.  
TIP: Be sure to blend thoroughly and make the smoothie extra cold by adding additional ice or frozen fruit toward the end of blending. The low temp will help mask the flavor of the greens. Also, feel free to mix and match the types of greens you add. Spinach, romaine and cabbage are particularly mild and pleasant while collard greens and kale have a bit of a bite to them. I find that parents are most successful at getting their kids to drink a green smoothie when the quantity of greens increases gradually over time. Start off with just a 1/2 cup of chopped greens in a blender full of smoothie, taste it, and go from there…the sky is the limit!
---