Agape International Missions
Dec 03, 2013 04:46AM ● By Style
Following a 2005 trip to Cambodia,
Pastor Don Brewster and his wife Bridget were under the impression that poverty was the greatest issue facing the Southeast Asian nation of more than 14.8 million. It wasn't until they saw a Dateline NBC report back in the U.S. about the trafficking of children for sex that they realized nothing could be further from the truth. When they learned that hundreds of thousands of Cambodian youth were being exploited, they were moved to action.
Following weeks of research, Don and Bridget sold their home, quit their jobs and moved to Cambodia to fight child sex trafficking through the development of Agape International Missions (AIM). In 2006, the Brewsters and their team opened the Agape Restoration Center (ARC) to provide rehabilitation and transitional living services for the girls they rescued.

Mien, rescued by AIM, with her new husband
According to AIM Director of Development, Julie Harrold, the organization has impacted more than 10,000 Cambodians to date. "The center of our outreach is the church," Harrold explains. "Through the church we provide humanitarian aid, medical aid, church services and Kid's Club, where we reach over 350 kids a day." Additional services include an elementary school, employment center, two Rahab's House Community Centers and The Lord's Gym, a free workout center in Svay Pak, Cambodia, where, according to AIM's website, staff "develop relationships with traffickers, sharing the truth about salvation through Christ and the inherent evil of the [sex trafficking] industry."
"We want people to know that it is not necessary to be a lawyer or a police officer or even a social worker to be able to make a difference in this issue," share Clayton and Emily Butler, a husband-and-wife team serving as director and administrator, respectively, at Rahab's House in Siem Reap, Cambodia. "We've seen engineers help start employment centers, teachers educate and provide opportunities to kids who would have been exploited, and stay-at-home moms raise awareness and funds for kids who have no voice."
For AIM Board Member Ken Petersen, the decision to help the Brewsters was a personal one—more than two years ago, he and his wife opened their home to a young Cambodian girl.
"We knew we needed to join the fight, and I asked Don Brewster how we could help more," Petersen shares. "He said they needed jobs to help the rescued girls from Cambodia reintegrate back into their communities with dignity and honor."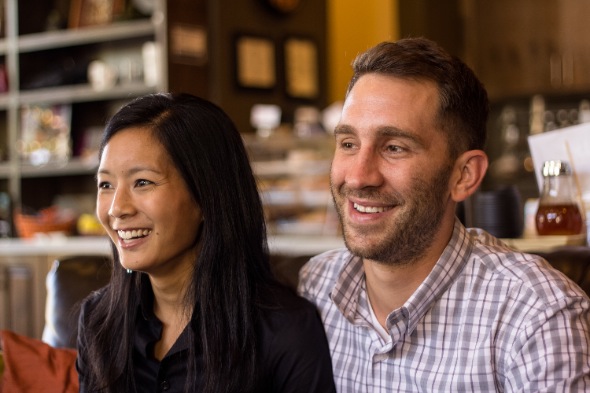 Emily and Clayton Butler
Petersen answered the call by founding 3Strands (3strandsglobal.com), a jewelry and apparel line produced at the Agape Training Center in Cambodia and sold locally at Origin Coffee & Tea, Bridgeway Christian Church and Apricot Lane Boutique. During eight-hour shifts, former victims of sex trafficking receive counseling, educational services, a meal and medical benefits, in addition to salaries that are three to four times higher than what other garment factories offer.
"AIM has transformed communities in Cambodia by caring and loving the people who live there. Trust has been developed over the years and family members are now coming to AIM with information about girls trapped in sex trafficking, often about their own daughters or granddaughters," Petersen says. "Locally and nationally, AIM has mobilized churches, businesses, organizations and individuals to join the fight against sex trafficking."
---
Visit agapewebsite.org for more information.