Kaua'i
Nov 04, 2013 03:12AM ● By Style
Photography by Jennifer and Cory Starr
The oldest of the Hawaiian Islands, Kaua'i is known as the Garden Isle.
With a reputation for lush rainforests, spectacular waterfalls and the friendliest residents in Hawaii, Kaua'i is an easy choice for an island-getaway like no other.

Mahaulepu Beach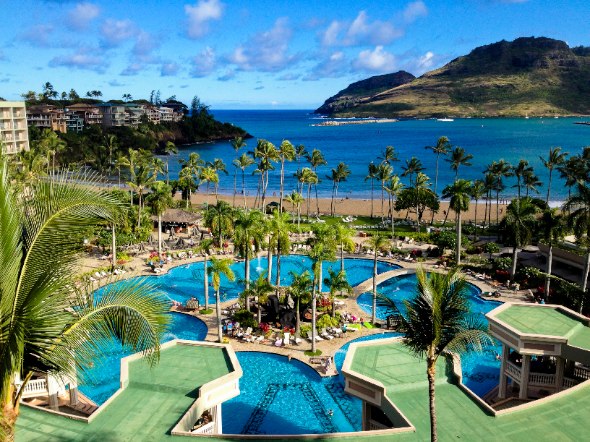 Marriott Beach Club
CENTRALLY LOCATED: Where to Stay
Major vacation spots in Kaua'i include Poipu in the south and Princeville in the north. The western Napali coastline roads don't allow access from north to south, requiring visitors to travel the long way around to each. Wanting to explore the entire island on my recent visit, I opted to stay somewhere more centrally located: Marriott's Kaua'i Beach Club in Lihue.
As expected, the Beach Club's room was nice and clean, but besides location, the hotel's enormous 26,000-square-foot swimming pool was a highlight not to miss. Typical morning adventures culminated with lounging at the pool each afternoon. Shady cabanas located poolside fill up quickly, so be sure to reserve early. Mornings were delightfully quiet, as I often had the entire pool to myself while swimming laps before breakfast.
Lihue is the governmental and commercial hub of the island, so it can get a bit congested with traffic at commute hours. Avoiding these times or taking the back roads is recommended. Home to Kaua'i's main airport, the Beach Club is a mere five minutes away; rest assured, however, as I didn't hear a single plane from my room. Lihue also boasts Nawiliwili Harbor, the island's major commercial shipping center and cruise port. I watched ships come into Kalapaki Bay from the balcony of my room with the dramatic Haupu Mountains set as the backdrop.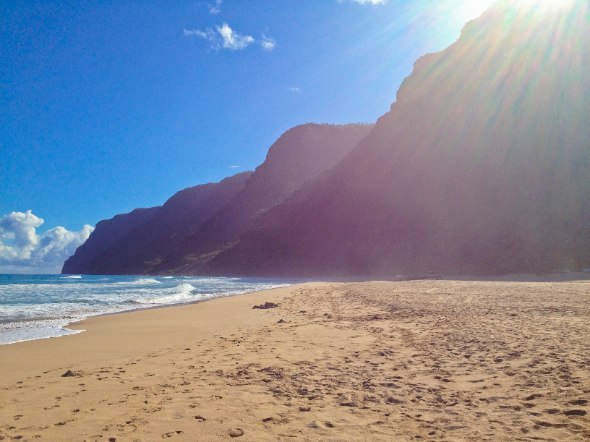 Polihale Beach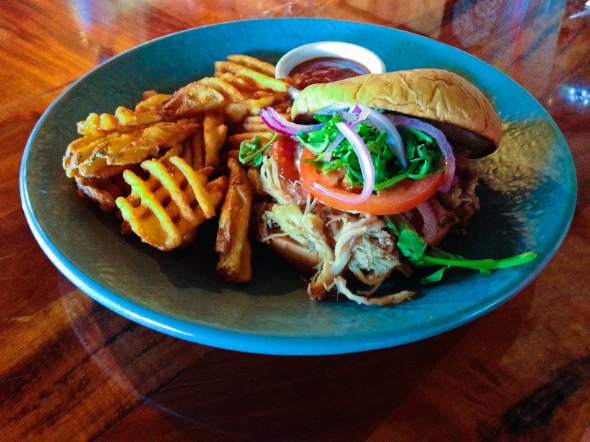 Kalua Pork Sandwich at Duke's Barefoot Bar
HOLES IN THE WALL: Where to Eat
Founded in November of 1916 by Denjiro Ota, and now run by his great-grandson, Tip Top Motel Café & Bakery has been serving the people of Kaua'i for more than 85 years. With such amazing food, including their famous banana/macadamia pancakes and local cuisine such as oxtail soup, I returned four times during my stay. Make sure to order the fried rice with breakfast and arrive early—it gets busy with locals.
Living Foods Market and Café is a healthy dining alternative featuring the island's largest selection of organic, sustainable and locally grown produce (comparable to Whole Foods). Located in the Kukui'ula Village on the South Shore, they even make fresh breads (including gluten free options).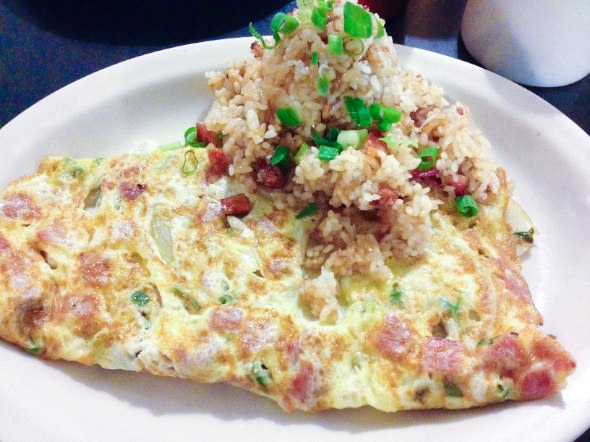 Tip Top Motel Café & Bakery
Preferring to end most days back at the Marriott pool, I didn't stray far for dinner. With Duke's Barefoot Bar mere steps from the hotel, you'll find happy hour from 4-6 p.m. daily, live local music and $3 Taco Tuesdays. Locals and tourists flock here so be sure to arrive early. I sampled almost everything on the menu, but the highlight was the kalua pork sandwich. Other delicious items included the Korean street tacos, calamari, cashew chicken stir-fry, and beet salad. After resolving to sample as many sugary drinks by the pool as possible, I found my favorite of the trip at Duke's: El Patron "da original," made with freshly squeezed limes.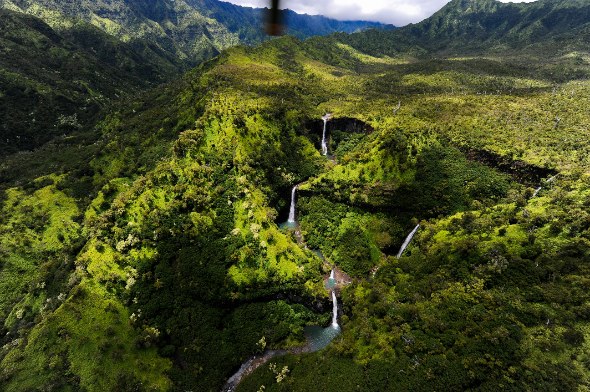 View of waterfalls from helicopter
TOP 5 HIT LIST: What to Do
Beaches. Some of the lesser-known beaches promise a more relaxing experience (arriving early before locals may even find you alone on the pristine sand). Maha'ulepu (south) and Polihale (west) were two of my favorites; SUVs or Jeeps are recommended, as the roads can be formidable to rental cars.

Jack Harter Helicopters. Riding in the Hughes 500 birds with the doors off and the wind in your hair, as you tour the Napali coastline and spectacular canyons—16 miles of cliffs rising 4,000 feet, harboring lush valleys and innumerable waterfalls—was an unforgettable experience.

Waimea Canyon. Known as "the Grand Canyon of the Pacific," the Waimea Canyon sparkles like jewels in reds and greens, as it covers the dramatic ridges and deep ravines shaped over centuries by Mother Nature's hands. Trails beckon as they extend in every direction for hikes of varying lengths.


Kilauea Point National Wildlife  Refuge and Lighthouse

Kilauea Point National Wildlife Refuge and Lighthouse. This 52-foot tall historical lighthouse, built in 1913, once boasted a 9,000-pound Fresnel lens—one of the largest in the world. In 1974 it was replaced with a low maintenance light beacon. While visiting, be sure to check out the endangered birds that fly above the cove near the lighthouse.

Waterfalls. One can't visit Kaua'i and not see Waihua Falls, the famous waterfall featured in the television show Fantasy Island. Just as spectacular and easy to visit is Opaeka'a Falls. Across the street from the viewing area is a panoramic view of the confluence of the Wailua River. Both falls are located off of Highway 56 on the west side of the island.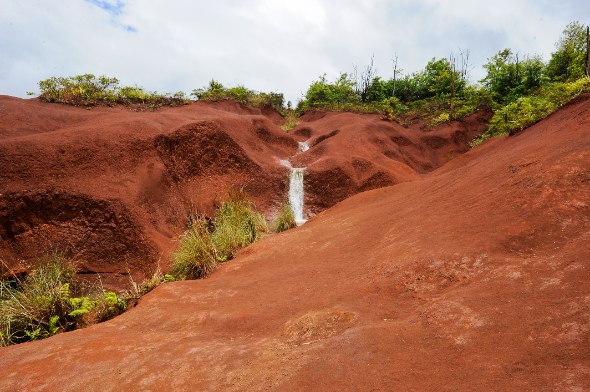 Waimea Canyon
START PLANNING: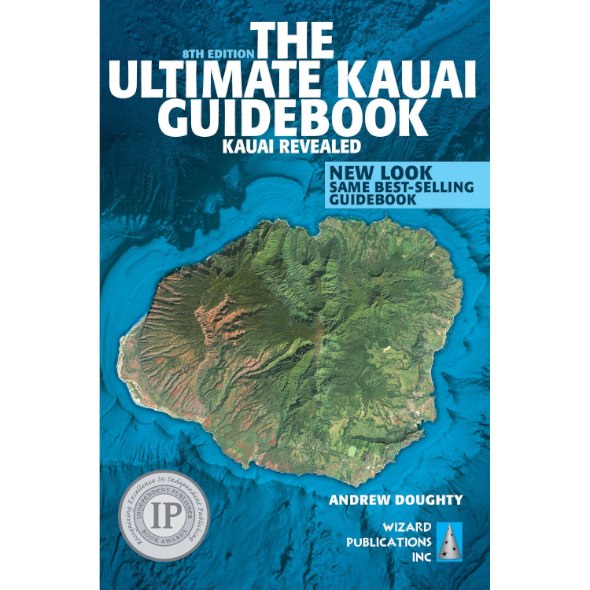 The Ultimate Kauai Guidebook: Kauai Revealed by Andrew Doughty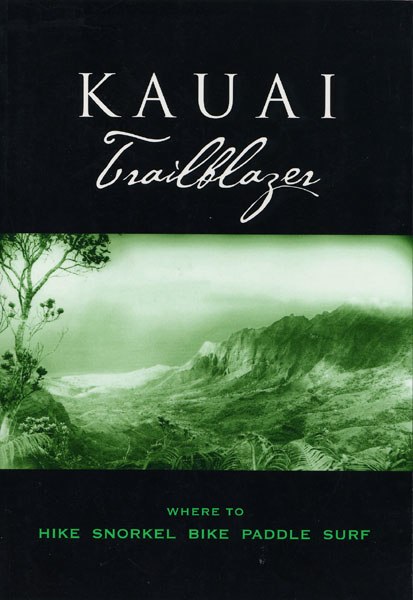 Kauai Trailblazer: Where to Hike, Snorkel, Bike, Paddle, Surf by Jerry and Janine Sprout