Placer County Youth Orchestra
Oct 25, 2013 06:06AM ● By Style
Photos by Dante Fontana, © Style Media Group
"Orchestras and symphonies always need viola players,"
Placer County Youth Orchestra's (PYCO) Artistic Director Margie Hartung explains. Who knew? Luckily PCYO is located in a locale where it seems there's an abundance of viola and other string masters. Hartung continues, "There's so much talent and capable musicians in this area."
Along with making and bringing beautiful music to residents of Placer County, the group, which formed in 2009, is committed to promoting and giving back to local charities, and encouraging members to collaborate with each other and the community. The mission of PCYO—a full symphony youth orchestra, which features brass, woodwinds, percussions and strings—is to educate youth on how to join in artistic community collaboration, create excellent music and train to be great musicians. By providing comprehensive musical education and fostering a sense of musicianship and duty, this objective comes to fruition.
Automaker and successful businessman Henry Ford once said, "Coming together is a beginning; keeping together is progress; working together is success." Hartung has the same idea for PCYO's leadership. "We are a team. No one person has the skills and abilities to run this—we need a team of skills."
The non-profit group has many events throughout the year, including their Summer Boot Camp—a series that helps aspiring musicians reach their goal of joining the full orchestra—and many performances during their regular season from September to May. However, it's the annual benefit concert of All I Want for Christmas that's one of their favorites. Every year, the group decides on a deserving nonprofit to receive the concert's proceeds. This year's concert, subtitled Christmas Through Children's Eyes, will assist the Cure Me Too Childhood Cancer Foundation, an all-volunteer foundation whose mission is to raise awareness and funds for the most difficult-to-treat childhood cancers. The nonprofit is the passion of orchestra member and high school junior Annina Hanlon. In 2009, she was diagnosed with osteosarcoma, a very aggressive type of bone cancer. Not only did Hanlon beat the disease, but she's now cancer-free.
Hartung understands that the kids participating in PCYO are privileged, and she strives to help them help others. "I want our members to know how lucky they are," Hartung says. "It is important to give your talent and time someplace outside yourself."
This year's Christmas concert—taking place December 1 at Valley Springs Presbyterian Church in Roseville—will not only feature the full orchestra but many other musical groups from throughout Placer County, too—including the Sierra College Chamber Choir, Northern California Children's Chorus and others, ensuring an evening of fine entertainment for all ages. Hartung explains, "The idea is to collaborate with other Placer County organizations to create great art."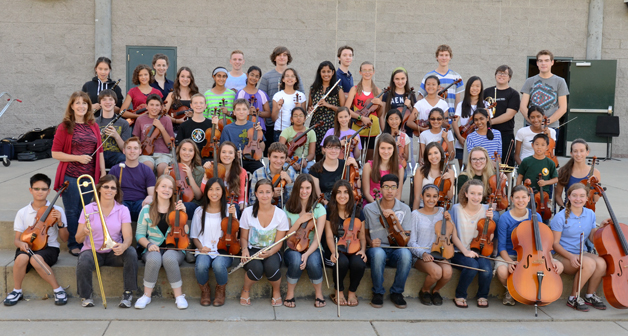 ---
For more information, visit pcyo.org and curemetoo.org.