3rd Annual Recipes Remembered
Oct 24, 2013 08:34AM ● By Style
Apple and Sausage Stuffing
Submitted by Debra Linn; recipe from epicurious.com
2 tbsp. vegetable oil                                     
1 lb. spicy pork bulk sausage     
1 cup celery, diced
1 cup onion, diced
1 cup peeled and cored apple, diced
2 garlic cloves, minced
1 tbsp. fresh parsley, chopped
2 tsp. fresh sage, minced
1 bay leaf
8 cups, 1-inch cubes French bread with crusts (from 1-pound loaf)
1 cup whole milk
1 cup low-sodium chicken broth
2 tbsp. (1/4 stick) butter, melted
3 large eggs, beaten to blend
Heat oil in heavy large skillet over medium heat. Add sausage and sauté until cooked through and brown, breaking into pieces with spoon (about 8 minutes). Using slotted spoon, transfer sausage to large bowl. Add celery and next 6 ingredients to drippings in skillet. Sauté over medium heat until vegetables are soft, about 5 minutes. Discard bay leaf. Add mixture to sausage. (Can be made 1 day ahead. Cover; chill. Reheat to lukewarm before continuing.)
Preheat oven to 350 degrees. Butter 13x9x2-inch glass baking dish. Add bread to sausage mixture. Whisk milk, broth and butter in bowl to blend. Mix into stuffing; season with salt and pepper. Mix in eggs; transfer to prepared dish. Bake uncovered until cooked through and brown, about 50 minutes. Yields 8-10 servings.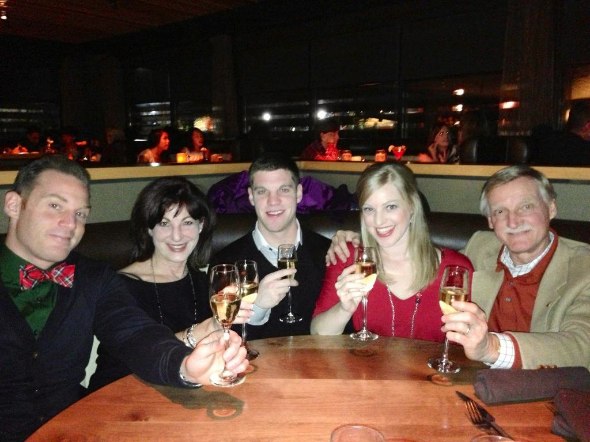 Thanksgiving Thought:
"I'm thankful that although none of my kids will be home for Thanksgiving, each of them will be spending the day with someone they love."
—Debra Linn
---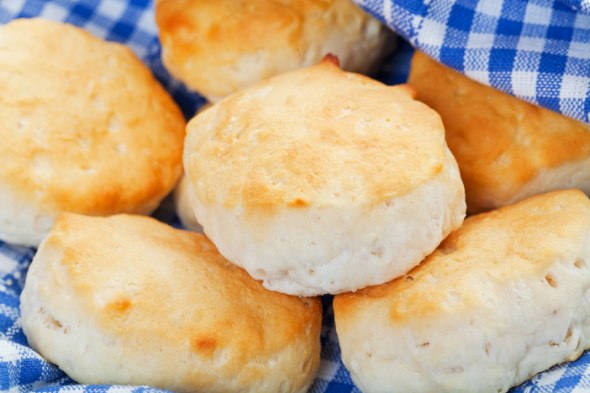 Grandma Ethel's Baking Powder Biscuits
Submitted by LeeAnn Dickson
4 cups unbleached flour
2 tbsp. baking powder
1 tsp. salt
1-1/2 cups of ice-cold butter
2 cups buttermilk (approximate)
Sift and combine the dry ingredients into a bowl and cut in the butter with two knives or pastry blender until butter is completely incorporated into the flour. Slowly add the buttermilk until the dough is just pulling off the sides of the bowl. The mixture should be somewhat dry. Roll out dough onto a lightly floured surface. Knead if needed. The trick to great fluffy biscuits is to handle the dough as little as possible.  
Pat or roll out dough until it's at a desired height (between 1/2 to 3/4 inches high). Cut into rounds with a biscuit cutter or section into squares with a knife. Bake on a parchment papered cookie sheet at 450 degrees for about 12-15 minutes. Serve hot with lots of butter. Yields about 24 biscuits.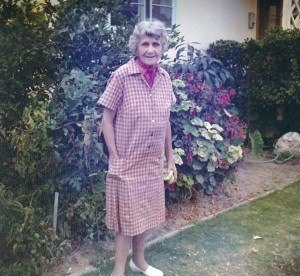 Thanksgiving Thought:
"Our holiday dinners were always special because my beloved Grandma Ethel would come visit for the whole week. Sometimes my dad, who worked on the railroad, had to work on Thanksgiving, so our big meal might be Friday or Saturday; you just never knew when the big bird would pop out of the oven. These were fun and memorable meals. Thanksgiving was not Thursday...it was the day my dad was home."
—LeeAnn Dickson
---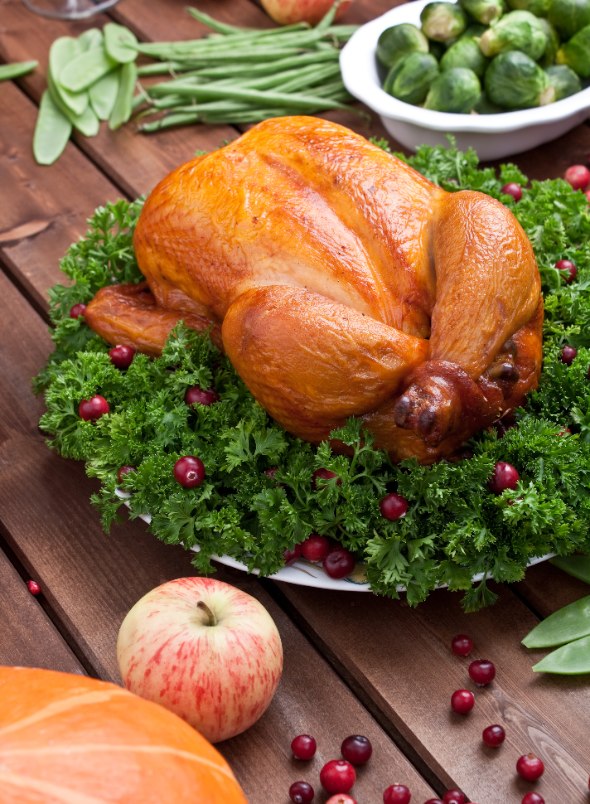 World's Best Turkey Brine
Submitted by Aimee Carroll; recipe from foodnetwork.com
This turkey brine recipe has become a favorite in my family. A few years ago, my husband roasted a turkey (with this brine recipe) and fried a turkey at the same time. This roasted turkey recipe unanimously won the taste test over the fried turkey! We were all shocked!
1 (14-16 pound) frozen young turkey
For the brine:
1 cup kosher salt
1/2 cup light brown sugar
1 gallon vegetable stock
1 tbsp. black peppercorns
1-1/2 tsp. allspice berries
1-1/2 tsp. chopped candied ginger
1 gallon heavily iced water
For the aromatics:
1 red apple, sliced
1/2 onion, sliced
1 cinnamon stick
1 cup water
4 sprigs rosemary
6 leaves sage
Canola oil
Two to three days before roasting: Begin thawing the turkey in the refrigerator or in a cooler kept at 38 degrees. Combine the vegetable stock, salt, brown sugar, peppercorns, allspice berries and candied ginger in a large stockpot over medium-high heat. Stir occasionally to dissolve solids and bring to a boil. Then remove the brine from the heat, cool to room temperature, and refrigerate.
Early on the day or the night before you'd like to eat: Combine the brine, water and ice in the 5-gallon bucket. Place the thawed turkey (with innards removed) breast side down in brine. If necessary, weigh down the bird to ensure it is fully immersed, cover, and refrigerate or set in cool area for 8 to 16 hours, turning the bird once half way through brining.
Preheat the oven to 500 degrees. Remove the bird from brine and rinse inside and out with cold water. Discard the brine. Place the bird on roasting rack inside a half sheet pan and pat dry with paper towels. Combine the apple, onion, cinnamon stick, and 1 cup of water in a microwave safe dish and microwave on high for 5 minutes. Add steeped aromatics to the turkey's cavity along with the rosemary and sage. Tuck the wings underneath the bird and coat the skin liberally with canola oil.
Roast the turkey on lowest level of the oven at 500 degrees for 30 minutes. Insert a probe thermometer into thickest part of the breast and reduce the oven temperature to 350 degrees. Set the thermometer alarm (if available) to 161 degrees. A 14 to 16 pound bird should require a total of 2 to 2.5 hours of roasting. Let the turkey rest, loosely covered with foil or a large mixing bowl for 15 minutes before carving. Yields 10-12 servings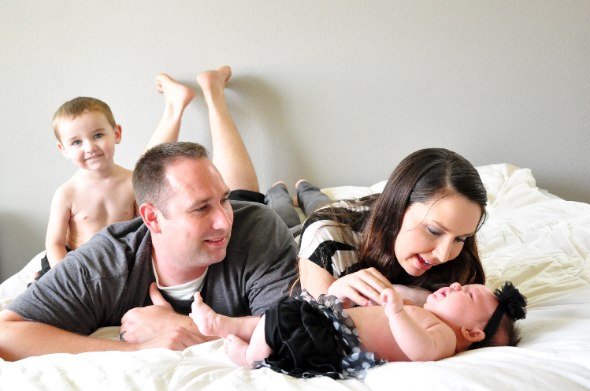 Thanksgiving Thought:
"This year I'm feeling especially grateful for the birth of our healthy baby girl. She has completed our little family and we're soaking in every moment of her sweetness."
—Aimee Carroll
---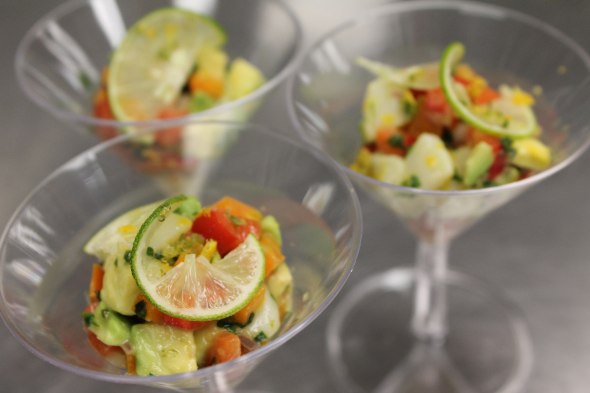 Shrimp and Scallop Ceviche
Submitted by Desiree Patterson, recipe by Emeril Lagasse
1/4 cup kosher salt, plus more for seasoning
1 lb. medium shrimp, peeled and deveine
1/2 lb. bay scallops
2 lemons, juiced
2 limes, juiced
2 oranges, juiced
1 cup peeled, seeded and diced cucumber
1/2 cup finely chopped red onion
2 serrano chiles, seeded and finely chopped
1 cup seeded and diced tomatoes
1 Hass avocado, peeled, seeded, and chopped into 1/2-inch pieces
1 tbsp. roughly chopped fresh cilantro leaves, plus leaves for garnish
1/4 cup extra-virgin olive oil
Your favorite tortilla chips, pita chips or crostini for dipping
Put a 4-quart stockpot over high heat and fill with 2 quarts of water. Season the water with 1/4 cup kosher salt and bring to a boil. Once the water comes to a boil, add the shrimp to the pot and immediately turn off the heat. Let the shrimp sit until just cooked through, about 3 minutes. Remove the shrimp from the water and spread out on a sheet pan to cool.
Once the shrimp are completely cooled, chop into 1/2-inch pieces and put in a medium-sized nonreactive bowl. Add the scallops, lemon, lime and orange juices and stir in the cucumber, red onion and chiles. Refrigerate for 1 hour.
Stir the tomatoes, avocado, chopped cilantro, and olive oil into the shrimp and scallop mixture. Allow it to sit at room temperature for 30 minutes, then season to taste with kosher salt.
To serve, divide the ceviche between 6 chilled martini glasses, garnish with cilantro leaves and eat as dip with chips or bread, or all by itself!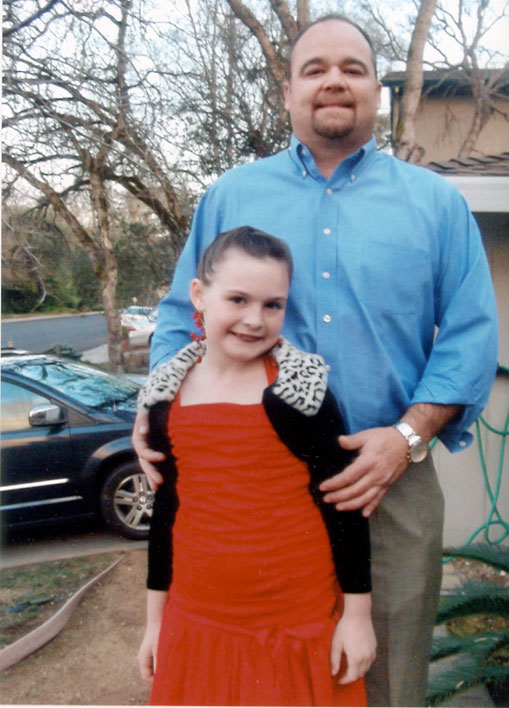 Thanksgiving Thought:
"I am thankful for my entire family. Through thick and thin, my love for them grows every day. Just when I think I can't love them any more, I do."
—Desiree Patterson
---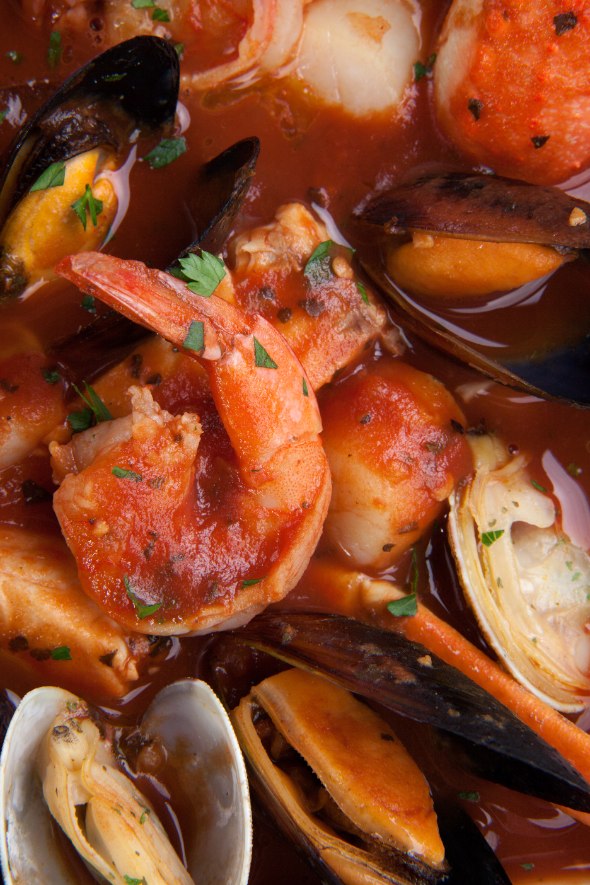 Chef Richard's Palazzo Giuseppe's Cioppino (San Luis Obispo, California)
Submitted by Kerrie Kelly
For the lobster stock:
5 lbs. lobster bodies
1/2 cup peppercorns
1 bunch celery, rough chop
1 yellow onion
4 bay leaves
1 tbsp. cayenne pepper
4 tbsp. paprika
2 tbsp. salt
2 gallons water
Juice and whole lemon
Toss lobster bodies, celery and onion lightly in olive oil, salt and pepper. Roast in the oven at 400 degrees until vegetables are slightly caramelized. In stockpot, add remaining ingredients. Bring to a boil and then reduce heat to medium low. Simmer for one hour. Reduce stock to 1/2-1 gallon.

For the cioppino sauce:
1/4 lb. butter
1/4 cup olive oil
1 lb. bacala or salt cod (rinse in water for three days prior)
3 red onions, julienned
1 tbsp. garlic
1/2 cup Italian parsley
2 tbsp. chili flakes
3 cups white wine
1/4 cup dry oregano
1 tbsp. cumin
1 tbsp. white pepper
3 tbsp. tomato paste
2 tbsp. celery salt
2 #10 cans San Marzano tomatoes with basil
Melt down butter, olive oil, bacala or salt cod and chili flakes until completely broken down. Add garlic and onions and sate until translucent. Deglaze with white wine. Add parsley, oregano, cumin, white pepper, tomato paste and celery salt and reduce wine by half. Add San Marzano tomatoes with basil and one gallon of stock. Bring to a boil and then reduce heat to low. Simmer for three hours. Add salt and pepper to taste. Blend until completely smooth, like soup. Sauté your favorite seafood, add sauce and pour yourself a glass of wine! Salute!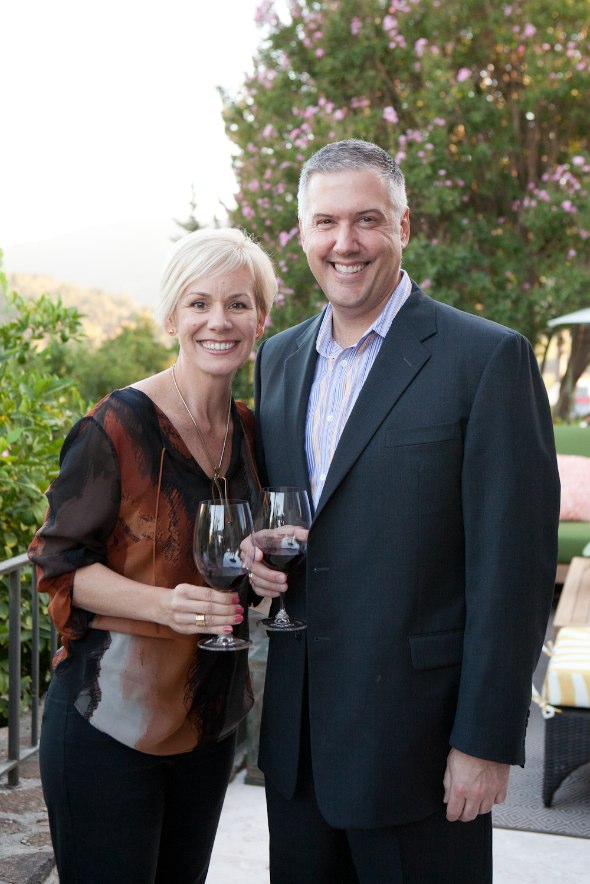 Thanksgiving Thought:
"We are thankful each day for our loving family, sincere friendships, and that we get to do what we love each and everyday."
—Kerrie Kelly
---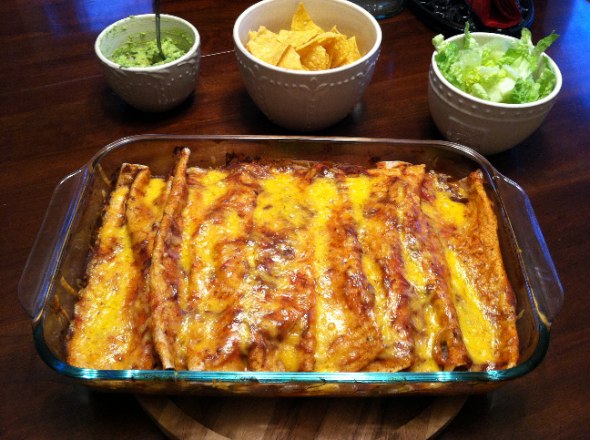 Slow Cooker Chili Colorado Beef Burritos
Submitted by Rachel Lopez
2 pounds cubed stew meat
1 large can enchilada sauce (at least 19 oz.)
2 beef bouillon cubes
Slow Cooker Refried beans*
6-8 burrito-size flour tortillas
2 cups shredded cheese (we used Colby jack, but any kind will work)
Spray your slow cooker with non-stick cooking spray. Put beef, bouillon cubes and enchilada sauce into slow cooker; cook on low for 7-8 hours, or until meat is very tender (you could also cook on high for approximately 3-4 hours). When beef is done (it will be very tender and flake off when stirred), turn oven on broil. On an ovenproof plate, lay out a tortilla. Place about 1/2 cup of the meat (drain first using a slotted spoon) and a spoonful or two of beans onto the tortilla. Roll into a burrito. Pour some of the remaining enchilada sauce from the slow cooker over the burrito to cover and top with cheese. Broil until cheese is bubbly, about 2-4 minutes.Makes 6-8 burritos (depending on how full you make them).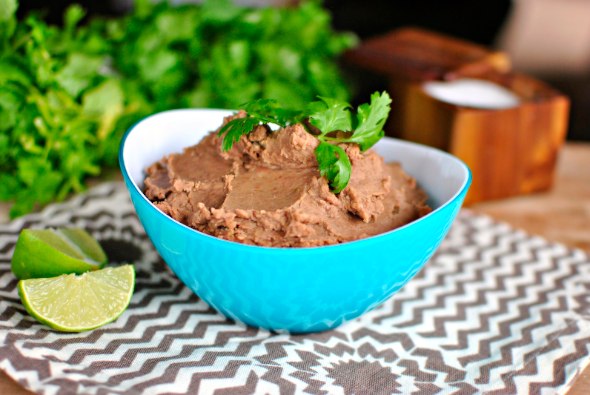 *Slow Cooker Refried Beans
Recipe from sixsistersstuff.com
1 onion, peeled and halved
3 cups dry pinto beans, rinsed
1/4-1/2 fresh jalapeño pepper, seeded and chopped
2 tbsp. minced garlic
3 tsp. salt
1-3/4 tsp. fresh ground black pepper
1/8 tsp. ground cumin (optional)
5 cups water
4 cups chicken broth
Place the onion, rinsed beans, jalapeno, garlic, salt, pepper and cumin into a slow cooker. Pour in the water and chicken broth and stir to combine. Cook on high for 8 hours, adding more water as needed. Note: If more than 1 cup of water has evaporated during cooking, then the temperature is too high. Once the beans have cooked, strain them, and reserve the liquid. Mash the beans with a potato masher, adding the reserved water as needed to attain desired consistency.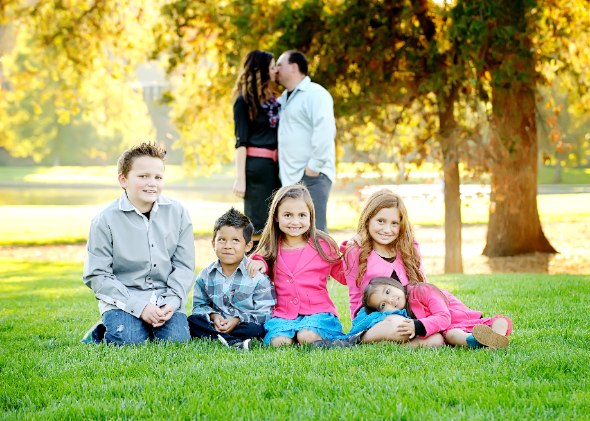 Thanksgiving Thought:
"I am thankful for every blessing God has given me. From my amazing husband and our five children to all the precious friends and families we have the privilege to do life with—it is truly a season of thankfulness."
—Rachel Lopez
---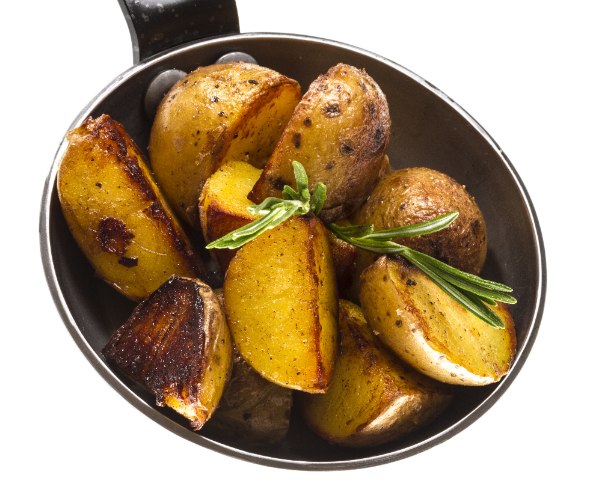 Homestyle Potatoes
Submitted by Josiah Velasquez
Potatoes (desired amount)
Vegetable or canola oil (whatever your preference)
Onion, diced
Garlic, minced
Red chili flakes
Rosemary
Salt and pepper
Take the desired amount of potatoes and put them in the microwave for 2 minutes. (You can boil them but it takes considerably longer.) Rotate the spuds and put them back in the microwave for another 2 minutes until medium soft to the touch. Dice to desired size (not too small or they will fall apart). Fry potatoes on medium heat with oil. Mix with diced onion, garlic, black pepper, red chili flakes, rosemary and salt (to taste). Fry for 10-15 minutes or until golden brown.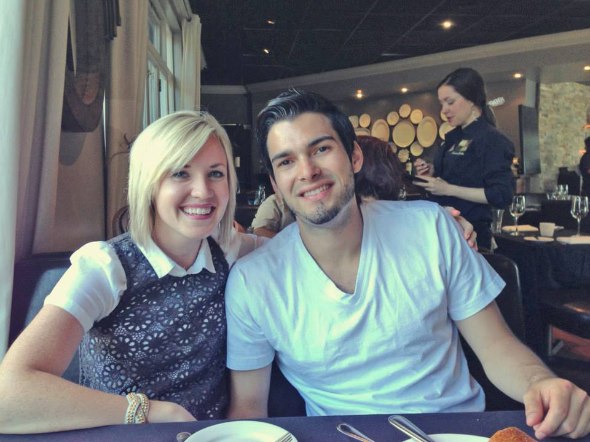 Haley and Josiah
Thanksgiving Thought:
"We are thankful for friends and family who we live close by."
—Haley Titus
---
Sonora Eggs
Submitted by Gena Wiskus
12 eggs beaten
1 pint cottage cheese
1 lb. Cheddar cheese
1 lb. pepper jack cheese
4 oz. Ortega diced green chiles
1/2 cup flour
1 heaping tsp. baking powder
1 cube melted butter
Mix eggs, cottage cheese, Cheddar cheese, pepper jack cheese and Ortega chiles together and add flour, baking powder and melted butter. Bake at 350 degrees for 35-40 minutes in a 13x9 inch pan. Serve with salsa and sour cream.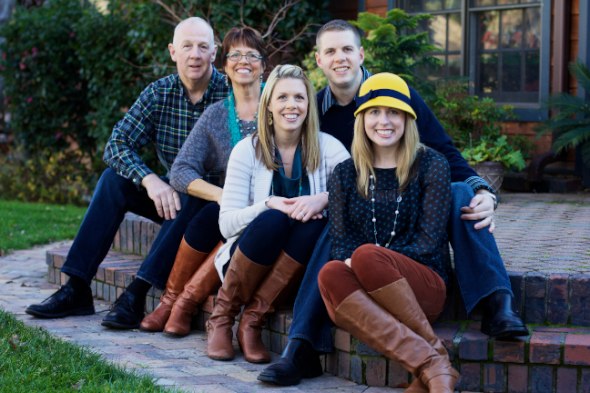 Thanksgiving Thought:
"I am thankful for my abundant blessings—my husband, our children, their significant others—and for the joy and love that they share not only with our family but with those people whose lives they touch on a daily basis. I am also thankful for the blessing of good health."
—Gena Wiskus
---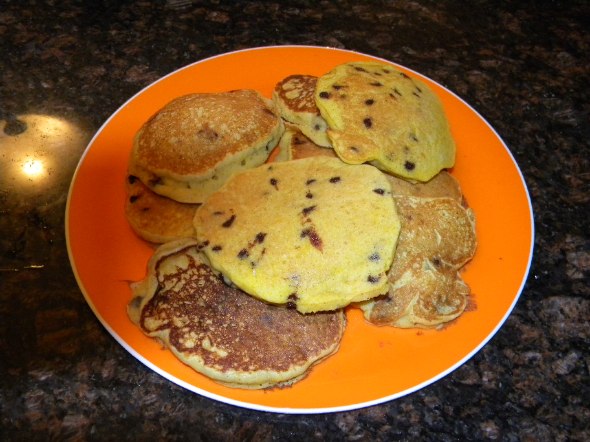 Pumpkin Chocolate Chip Pancakes
Submitted by Maria Garcia
These are such a fun, healthy treat, especially if you use dark chocolate chips, for big and little kids alike and have been a hit with our family for the past couple of years!
Pancake mix (preferably the kind where all you add is water)
1/2 cup canned pumpkin
1/2 cup chocolate chips
Prepare pancakes per package instructions (following the serving size of 8-10 pancakes). Stir in pumpkin and chocolate chips. Make pancakes on griddle per package instructions. Makes 8-10 pancakes (depending on their size).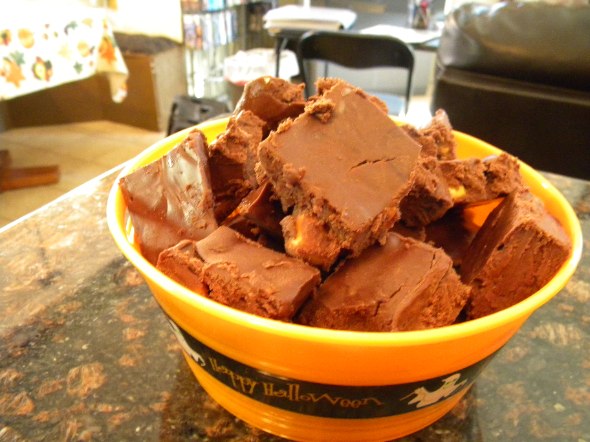 Harvest Fudge
Submitted by Maria Garcia
1 can chocolate frosting
1-8-10 oz. bag of chocolate chips
1/2 cup candy corn (any flavor)
Melt frosting and chocolate chips in nonstick (if you have it) saucepan over low heat until melted, remove from heat and stir in candy corn. Place aluminum foil on bottom and over sides (for easy removal of fudge once set) of an 8x8 pan and spray with nonstick spray. Pour fudge in pan and smooth out, place in refrigerator and let set for at least 2 hours, then lift out of pan using foil handles and cut into squares and eat!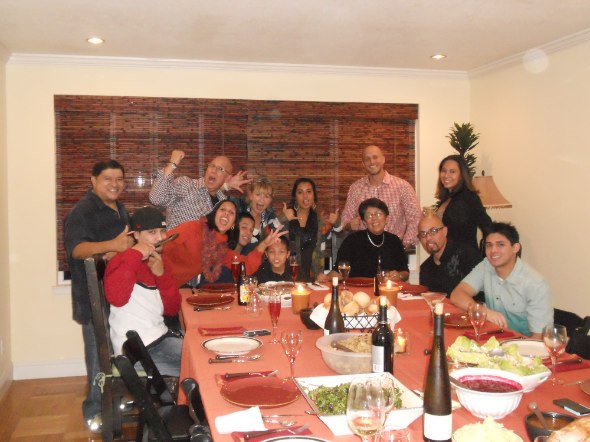 Thanksgiving Thought:
"I am always thankful for my healthy family but this year, in particular, I am thankful for second chances we get in life. I have the opportunity, thanks to my hardworking husband, to go back to school and am savoring every moment of learning and soaking up as much knowledge as I can get!"—Maria Garcia
---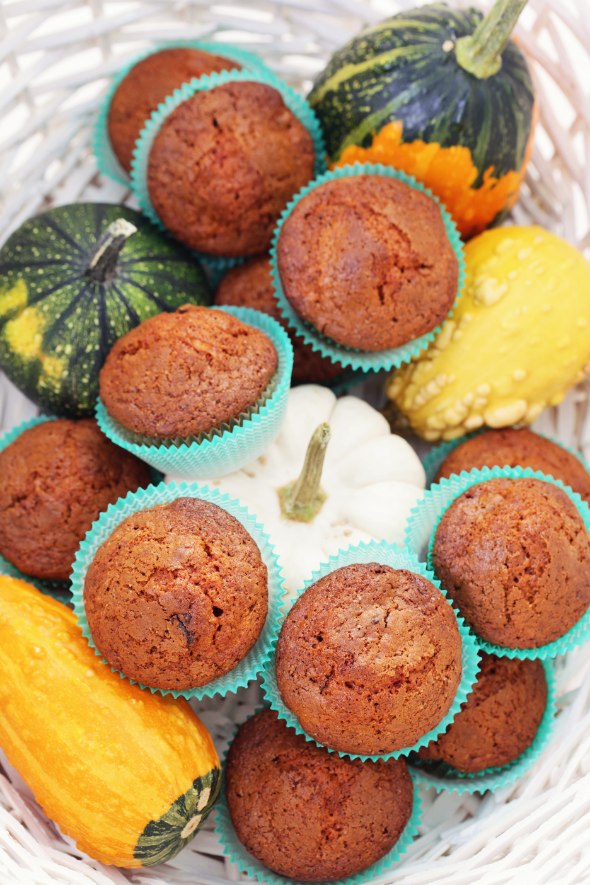 Pumpkin Poppers
Submitted by Emily Dallosta
1 3/4 cup all-purpose flour
2 tsp. baking powder
1/2 tsp. salt
1/2 tsp. cinnamon
1/2 tsp. nutmeg
1/2 tsp. allspice
1/8 tsp. ground cloves
1/3 cup vegetable oil
1/2 cup brown sugar
1 egg
1 tsp. vanilla extract
3/4 cup pumpkin
1/2 cup milk
For the coating:
1 stick unsalted butter, melted
2/3 cup sugar
2 tbsp. cinnamon
Preheat oven to 350 degrees and spray mini muffin tins with non-stick cooking spray. Combine flour, baking powder, salt and spices in a bowl and whisk until combined. In another bowl, mix oil, brown sugar, egg, vanilla, pumpkin and milk. Pour in flour mixture and mix until just combined. Fill mini muffin tins until almost full and bake 10-12 minutes. Melt butter in small bowl. Mix sugar and cinnamon in a separate small bowl. After poppers cool for a few minutes, LIGHTLY coat them in butter (I prefer to brush on the butter) and roll them in the sugar mixture.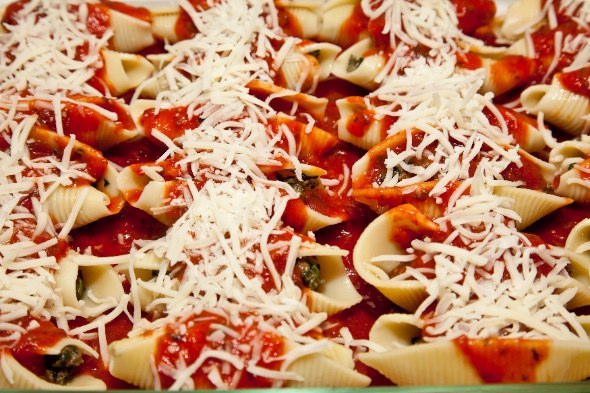 Pesto Stuffed Shells
Submitted by Emily Dallosta
12-16 jumbo pasta shells
4 oz. cream cheese, softened
1 cup freshly grated Parmesan or Asiago cheese + 1/4 cup for topping
3 tbsp. prepared pesto (homemade or store bought)
2 cups shredded cooked chicken
2 cloves garlic, minced
Tomato sauce
Salt and pepper, to taste
In a large pot over high heat, boil water and prepare pasta shells as directed on package. Cook pasta shells only until al dente. The pasta will finish cooking when the dish is baked. Drain the pasta shells and set aside. In a large bowl, combine the rest of the ingredients, except the 1/4 cup of cheese for the topping. Fill the pasta shells with the filling and place in a baking dish. Pour the tomato sauce over the shells, then sprinkle the remaining 1/4 cup of cheese over filled shells. Preheat oven to 350 degrees and bake shells uncovered for 30 minutes, or until shells are bubbling hot and cheese melts.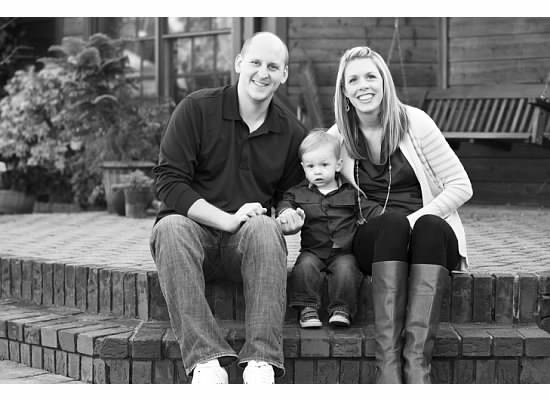 Thanksgiving Thought:
"This year I'm thankful to live so close to my family. It's fun to get together and hang out, and it's really nice to have parents who are willing to watch their grandson. I love having the extra help and they love doing it!"
—Emily Dallosta
---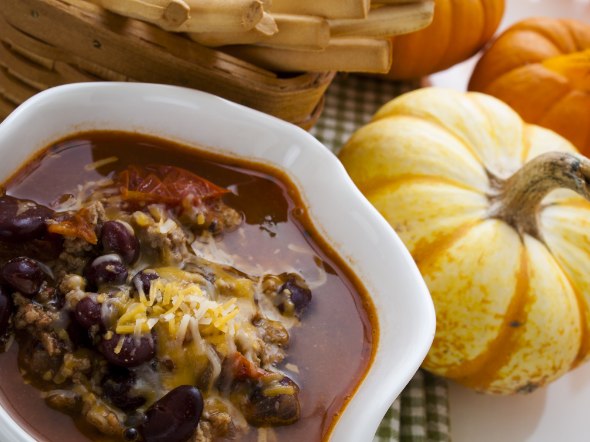 Easy Turkey Chili
Submitted by Breanne Randall
1 lb. ground turkey meat
2 tbsp. olive oil
2 packets taco seasoning
1 white onion, diced
1 can tomato paste
2 cans diced tomatoes
1 can kidney beans, drained
1 can corn, drained
1 can black beans, drained
3 cups water
Cook diced onion in olive oil until translucent, about 3-5 minutes. Add turkey meat and begin browning. Add tomato paste to turkey and onion mixture until thoroughly mixed. Continue cooking until meat is fully browned, about 3 minutes. Add remainder of ingredients, mix until combined, cover and cook on low for 30 minutes.
---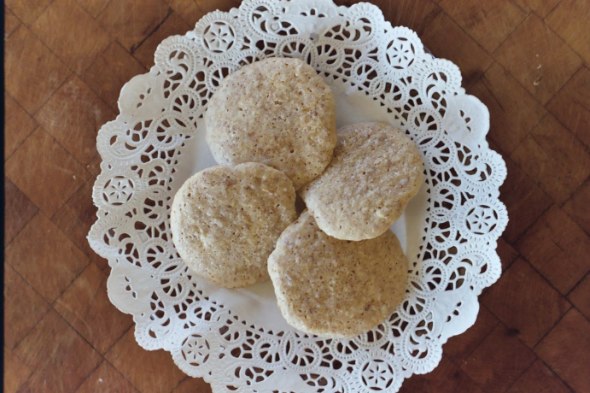 Bones of the Dead
Submitted by Jennifer Resnicke
This recipe is for an Italian cookie and is traditionally made for Day of the Dead festivities. In our family we don't celebrate Day of the Dead, so the cookie for us is something we make around the holidays. The cookies are a little unusual because they kind of hollow out when they're baked, and the inside falls to the side and cooks in a flat kind of pool; they end up being crispy and delicious and go perfectly with a cup of coffee. This particular recipe came to me from my dad, who got it from his Aunt Anne DiMaggio. One of the things we love about this recipe is that it came with a note from Aunt Anne saying, "This is Hope Mazza's recipe and she does not grease the pan! … that is a mistake …" She was definitely right about that one.
2 tbsp. plus 1 tsp. shortening (can use margarine)
2 pounds powdered sugar
4 tsp. baking powder
5 eggs
1/2 tsp. cloves
1/2 tsp. nutmeg
1 tsp. cinnamon
2 tbsp. vanilla extract
4 cups of flour (not sifted)
Mix all ingredients. Roll out pieces of dough on a floured cutting board into logs the width of your thumb. Cut the logs into about 1-inch or 1-1/2 inch long pieces. Leave them overnight to dry on a floured wooden cutting board (yes, it needs to be wooden, a plastic one or a cookie sheet won't work). They should get dried out. Preheat your oven to 350 degrees. Lightly spray a cookie sheet with Pam. Arrange the pieces with ample space in between (four rows of three should be about right). The cookies will spill out to the side when they cook, so you'll want the extra space. Cook for 8-10 minutes and leave on a cooling rack.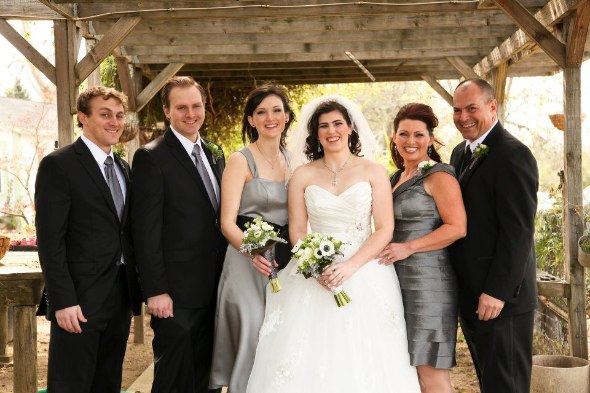 Thanksgiving Thought:
"This year I'm most thankful for my family. I know it's a cliché thing to say, but as I get older (and at the ripe old age of 24) I realize that not everyone is so lucky to be best friends with their siblings, parents, grandparents, uncles, aunts and cousins—and I really am. I'm so grateful that my family appreciates my brand of crazy, and that they love me not in spite of it, but because of it."—Jennifer Resnicke
 
---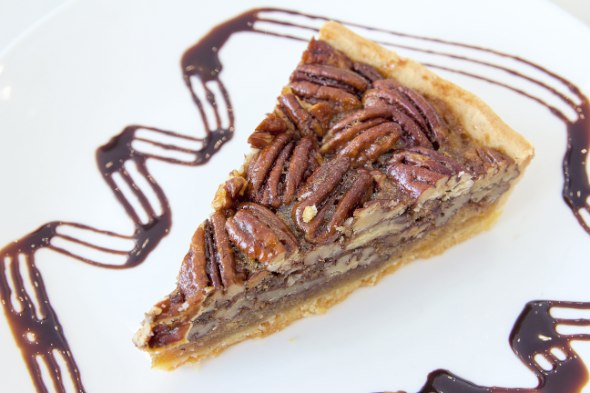 Chocolate Pecan Pie
Submitted by Breanne Randall
1 Pillsbury pre-made piecrust
1-1/2 cups pecans
1 cup semisweet or milk chocolate chips
4 eggs
1/2 cup sugar
1/2 cup light brown sugar
1/2 cup corn syrup
1 tsp. vanilla extract
1 tsp. cinnamon
Pinch of salt
Preheat the oven to 375 degrees. Spread the pecans and chocolate along the bottom of the pie shell. In a separate bowl, whisk all of the other ingredients together and pour into pie shell. Bake for around 50 minutes, or until the filling sets. Let cool for 30 minutes and serve with vanilla ice cream and caramel sauce.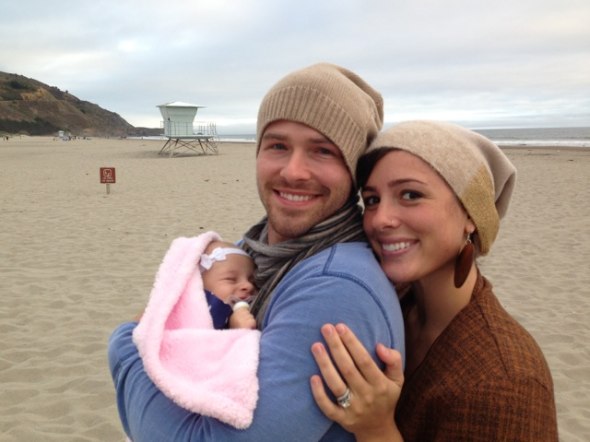 Thanksgiving Thought:
"This year our hearts are full of gratitude for our new baby girl, new beginnings, and a promising future. We really couldn't ask for more!"
—Breanne Randall
---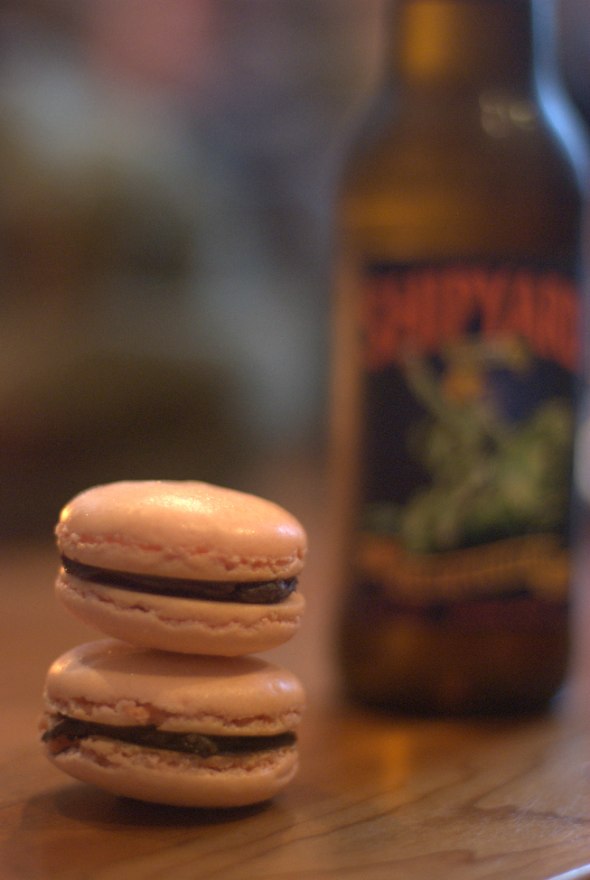 Macaroons
Submitted by Jessica DeLacy
For the shells:
4 egg whites, separated when cold, then "aged" for 24 hours (covered), to room temperature
1/4 tsp. cream of tartar
1/4 cup superfine granulated sugar
1 tsp. vanilla extract
2 cups powdered sugar (Don't use organic! Doesn't come out right.)
1 cup almond meal (can be found at Whole Foods or Trader Joe's, in the baking section. Can also be replaced with hazelnut flour.)
Food coloring, if desired. (Gel, if you can find it, works best.)
Preheat oven to 350 degrees. Line an aluminum or otherwise light-colored baking sheet with silpat. Sift together the almond meal and powdered sugar. There may be some small pieces of almond left in the sieve when you are done—add these to the sifted mixture. Sifting is optional, but gives the shells a smoother texture. Whisk the egg whites and cream of tartar on medium until soft peaks form.
Slowly add the granulated sugar, and whisk on medium high until stiff peaks start to form. Add the vanilla extract and food coloring, and then continue to beat until stiff peaks form. Fold in the powdered sugar/almond mixture carefully, as to not deflate the meringue.
Add the mixture into a pastry bag with a #11 or #12 type round tip. To pipe it onto the silpat, hold the bag over the silpat so that the nozzle is about a centimeter above the silpat, and squeeze so that the batter comes out of the pastry bag nozzle and spreads itself out until it's about the size of a half dollar. Space them about an inch apart on the silpat; they don't bake well if they are crowded. Once an entire sheet is piped, take the entire cookie sheet and whack it on the counter a few times to get the air bubbles out. Let the shells rest for about 45 minutes.
Bake the cookies for 14-16 minutes, or until the feet look mostly dried but the tops aren't golden. Let them completely cool before moving them off the sheet. To get off the silpat, gently peel the silpat out from underneath them. The bottoms should be flat, and they should peel off easily.

For the filling:
Any basic ganache can be used to fill the shells, and really, this is where most of your flavor is coming from.  The most basic recipe is for vanilla shells with a chocolate ganache, but some people opt to fill them with jam or lemon curd. My personal favorite is this whipped white chocolate ganache.
1/2 cup of heavy cream
1/2 cup of white chocolate chips
Heat the heavy cream in a small saucepan over medium heat. In a heat-safe bowl, add the chocolate chips. Once the cream is simmering, pour it over the chips and whisk until the chocolate is fully melted and incorporated. Refrigerate until quite cold (best to do this about the time you separate your eggs), and then whisk until the ganache takes on a "whipped" look. Pipe (or use a knife to spread) onto half of the shells, and then complete the cookie!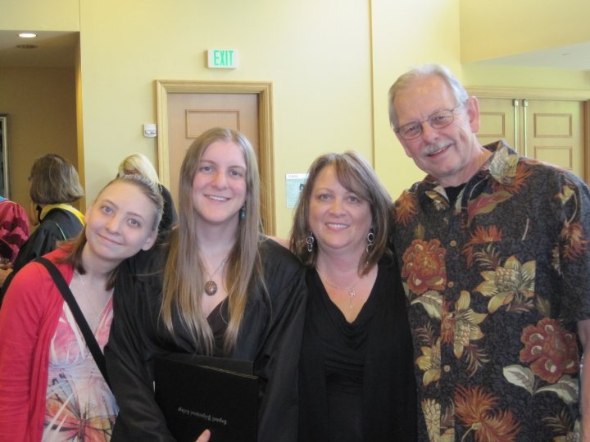 Thanksgiving Thought:
"We are so incredibly thankful for our family and our time spent together to love and laugh!"
—DeLacy Family
---
Harriet's Last Minute Peach Crisp
Submitted by Wendy Sipple
When I was a little girl we'd go to visit my grandmother and I always knew we would get to enjoy her delicious cooking, especially her desserts. I was always a big fan of her "crisps" (she had a few)—.here's her recipe for her peach crisp.
4-5 peeled, sliced fresh peaches
1 tbsp. lemon juice
1/2 cup sugar
1/2 cup graham cracker crumbs
1/2 cup slivered almonds
1 tsp. cinnamon
2 tbsp. butter
Preheat oven to 350 degrees. Spread peaches in a 9-inch pie pan. Drizzle with lemon juice. Mix sugar, graham cracker crumbs, almonds and cinnamon, then sprinkle over peaches. Dot with butter. Bake 30 minutes.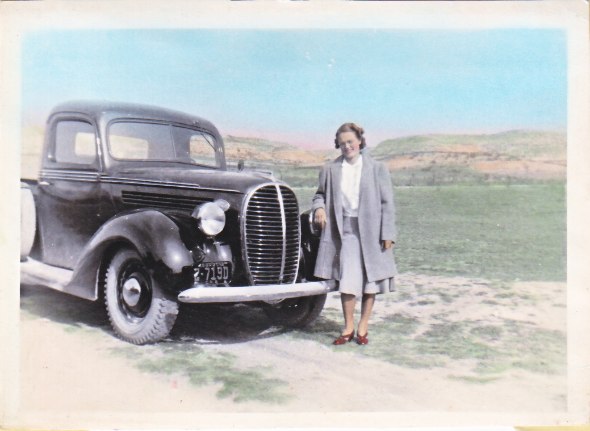 Harriet, circa 1942
Thanksgiving Thought:
I'm most thankful for healthy and happy friends and family—and a daily dose of laughter. Nothing feels better than a great big belly laugh, each and every day.
—Wendy Sipple