Dinner Date
Oct 07, 2013 03:56AM ● By Style
Cookbook and recipe photos courtesy of Arsenal Pulp Press.
Raspberry-Glazed Rabbit Roulade
From MODERN NATIVE FEASTS: Healthy, Innovative, Sustainable Cuisine
by Chef Andrew George Jr.
(Arsenal Pulp Press, Nov. 2013, $21.95)
Rabbit Roulade
6 boneless rabbit legs (or chicken)
2 tbsp. each chopped fresh sage, thyme, and oregano
Salt, to taste
Ground black pepper, to taste
1⁄2 cup sage hazelnut pesto (recipe follows)
2 cups baby dandelion greens or baby arugula
3 tbsp. olive oil
Raspberry Glaze
1 cup sugar
1 cup raspberry vinegar
2 tbsp. raspberry preserves or jam
1⁄2 cup fresh raspberries
Sage Hazelnut Pesto
2 cups fresh sage leaves, stems removed
1 tbsp. chopped garlic
2 tsp. lemon juice
1 tsp. lemon zest
1⁄4 cup toasted pine nuts or 1⁄2 cup toasted hazelnuts
1⁄3 cup olive oil
1⁄2 cup freshly grated Parmesan cheese salt, to taste
Ground black pepper, to taste
For the pesto:
In a food process or blender, process sage, garlic, lemon juice and zest, and pine nuts until a paste forms. Add oil and cheese and process until smooth. Season with salt and pepper. If not using right away, store in refrigerator for up to 1 week or freeze for up to 6 months in ice cube trays or small portion containers. Makes 2 cups

For the roulade:
Preheat oven to 350 degrees. Place rabbit legs into an oiled plastic bag, and pound to a 1⁄4-in (6-mm) thickness with a mallet. Remove legs from bag. Season with fresh herbs, salt and pepper. Spread pesto evenly across each leg. In a pot fitted with a steamer, steam dandelion greens until slightly wilted but still green. Spread greens over pesto. Roll up tightly and tie with butcher twine.
Heat oil in a large cast-iron pan on medium. Brown rabbit on each side, until golden. Bake for 20 minutes. Remove from oven and let rest for 5 minutes before slicing.

For the glaze:
In a large saucepan, bring sugar and raspberry vinegar to a boil. Reduce heat and simmer until reduced by half. Add raspberry preserves and fresh raspberries and let simmer for another 1–2 minutes. Pour over slices of roulade before serving.
Wine bottle photo courtesy of Diageo Chateau & Estate Wines.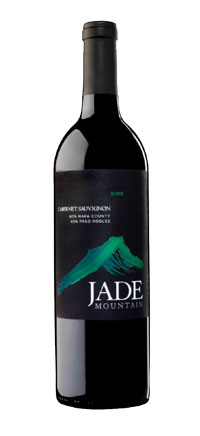 JADE MOUNTAIN 2010 CABERNET SAUVIGNON
Utilizing multiple appellations and blending them together, Jade Mountain produces wines with great flavor and exceptional quality. The winemaker, Domenica Totty, is very well known and respected in the industry. Growing up in the agricultural town of Sebastopol, CA, she'd watch as nearby apple orchards were gradually replanted to vineyards. Between her 10-plus years of winemaking experience and her work using varietals from all over California, she's the perfect fit for Jade Mountain.
Jade Mountain 2010 Cabernet Sauvignon combines fruit from both Napa and Lake Counties, resulting in aromas that feature classic Napa characteristics (ripe blackberry, dark chocolate, violets and mocha). With a bright entry, the palate picks up red cherry and blueberry tones, punctuated by vanilla and cocoa; firm tannins hold the flavors through the finish. In the $15 range, this wine is a fan favorite—not over the top, but full-bodied enough to serve with hearty food (like this month's Raspberry-Glazed Rabbit Roulade).
—Richard Righton
Owner, 36 Handles and Relish Burger Bar